Simple 7 Spice Chicken
Jan 27, 2022, Updated May 06, 2023
Simple 7 Spice chicken yields deep golden color with mouthwatering flavor. Purchase excellent 7 Spice in my shop here.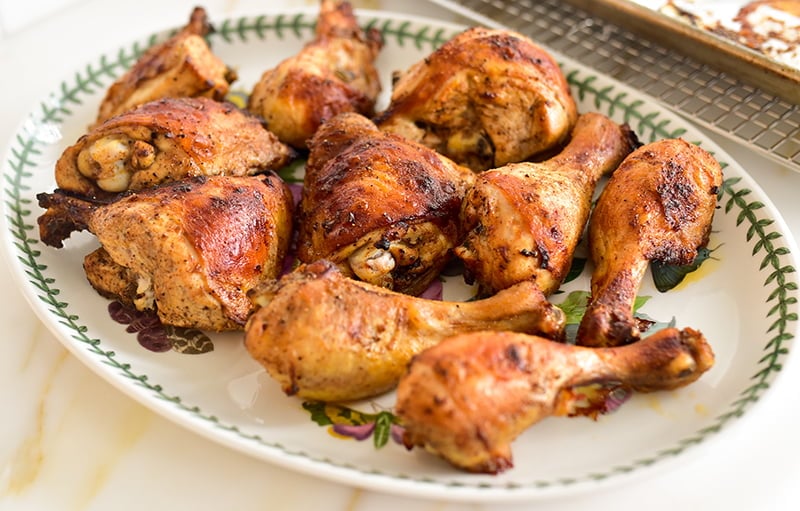 This Simple 7 Spice Chicken recipe came to life out of my correction of a chicken-rut. For years, for a lifetime, I have exclusively made my mom's oven fried chicken any time I'm roasting bone-in, skin-on chicken pieces. Call it a lack of creativity, call it 'we just love oven-fried.'
Then one Sunday this past fall I was making a big tunjura (pan) of meatballs. To go with, oven-fried chicken. Nothing says I love you quite like the double entrée.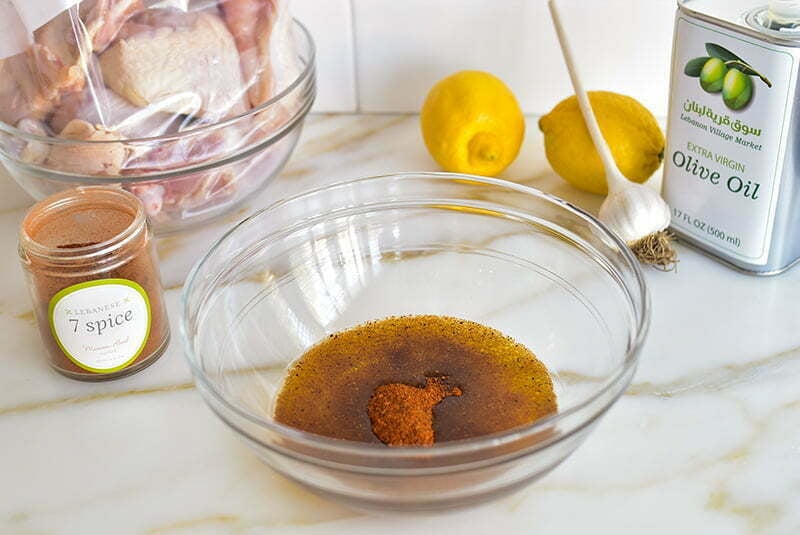 But me being me, I had taken on more than the hours in the day allowed for. When I realized there would not even time to dust the chicken with flour, I grabbed a couple of bottles of Club Lucky Italian salad dressing and tossed that with the chicken in a big zip top bag. Come dinner time, the I simply gave the chicken over to the sheet pan with no other prep necessary.
Would you believe that chicken stole the show? Meatballs were wonderful, but the chicken took on a golden lacquer that I had not seen from my oven before, with the oven-fried look being the only one in my repertoire.
No offense to the Club Lucky, but now I was on a mission to give my bone-in chicken pieces all of the love they deserved with Lebanese flavors. Simple marinades with spice+lemon+garlic and oil? Luscious, lacquered chicken. There is no more deeply Middle Eastern food flavor than in 7 Spice, which blends such an array of spices to fragrant, ultra-flavorful effect.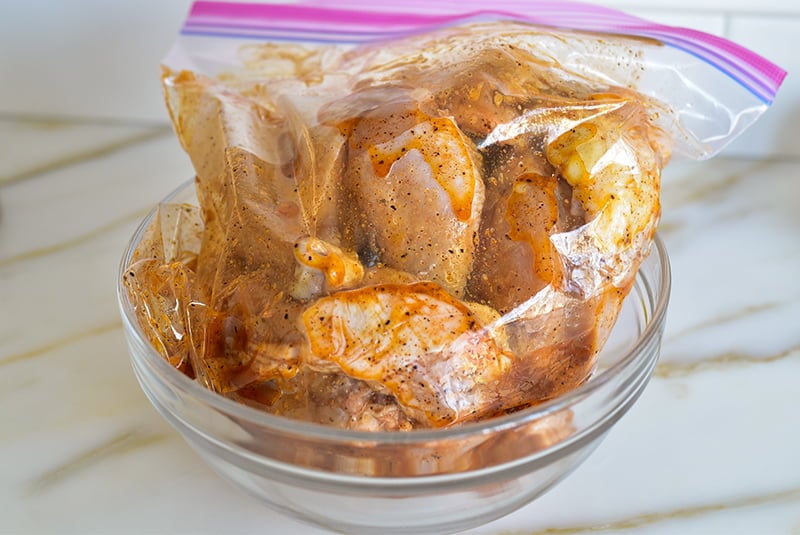 Make in the moment, or make-ahead
The marinade can be shaken up in a jar and kept in your fridge until chicken dinner is on the menu. I've marinated for as little as one hour to great effect, and maximized flavor at about 12 hours marinating time.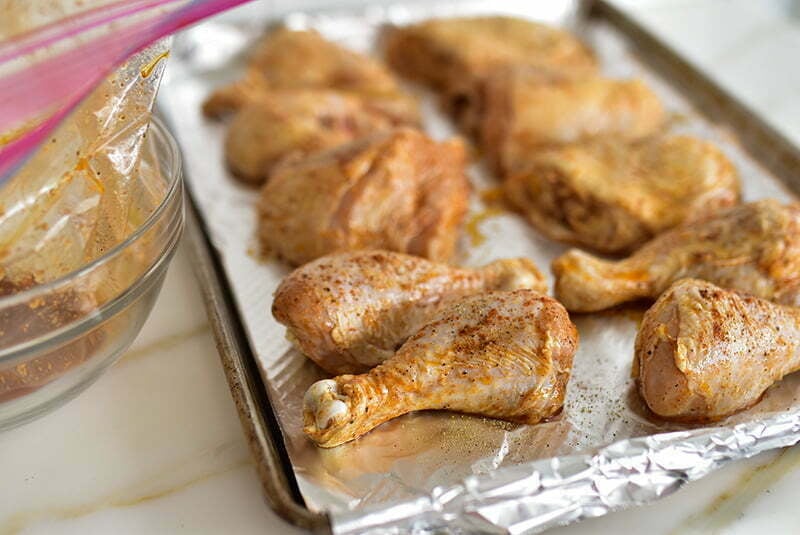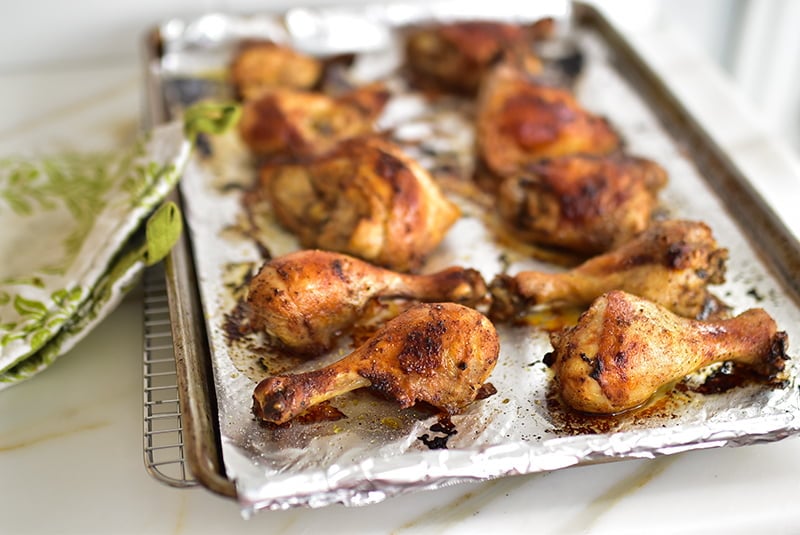 Sheet pan simple
I'd love to get away from foil but the non-stick remains a faithful companion in recipes like this one. Easy clean-up, no sticking. I also like to lift the chicken off the pan by using a rack in the sheet pan, but it's not a must. If your oven has a convection setting, use it here toward the end of roasting to encourage even more caramelization of the chicken.
Even those of us who cook all of the time can get into a recipe-rut–maybe even more so because sometimes it's great to just cook what you know. Dan says the Simple 7 Spice Chicken recipe can be a rut forever more as far as he's concerned. As for me, how about 7 Spice Chicken + kibbeh for my next double-entree?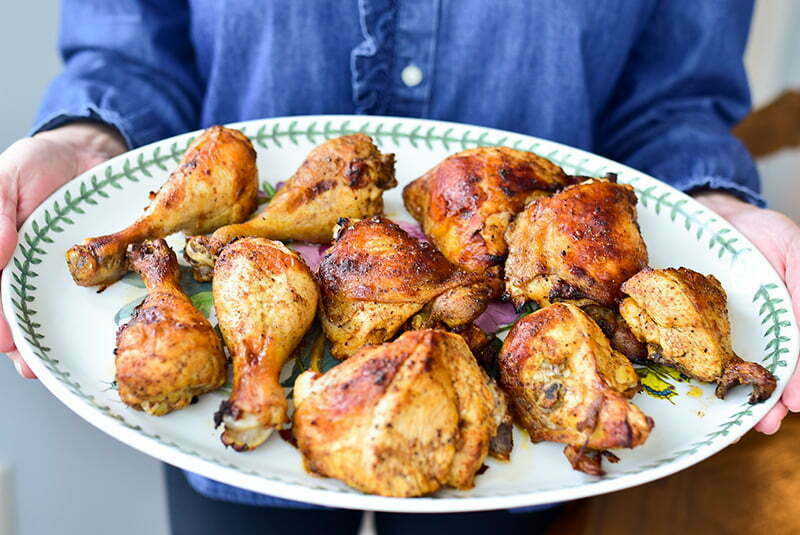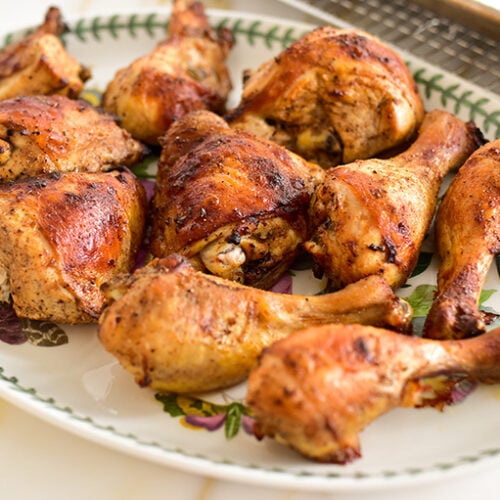 Simple 7 Spice Chicken
Simple 7 Spice chicken yields deep golden color with mouthwatering flavor. Increase the recipe easily with more chicken and more marinade (or decrease easily). Purchase excellent
Lebanese 7 Spice
in my shop
.
Ingredients
2

bone-in, skin on chicken breasts, cut in half cross-wise to make 4 pieces

6

chicken legs

4

chicken thighs

1/2

cup

extra virgin olive oil

Juice of 1 lemon

1

clove

garlic, miced or grated

2

tablespoons

Lebanese 7 Spice

1

teaspoon

kosher salt
Instructions
Heat the oven to 425°F. Combine all of the chicken pieces in a bowl or gallon zip top bag.

In a medium bowl, whisk the olive oil, lemon juice, garlic, 7 spice, and salt. Pour the marinade over the chicken pieces and turn them to coat. Refrigerate for one hour and up to 12 hours.

Line a sheet pan with non-stick foil. Transfer the marinated chicken pieces to the pan, leaving behind as much of the marinade as possible to prevent the pan from having too much liquid.

Roast the chicken for 45 minutes to an hour, checking the temperature of the pieces, until they reach 165°F. If your oven has a convection setting, turn that on for the last 20 minutes of roasting to encourage even more even browning. Serve the chicken immediately or make ahead, refrigerate, then reheat at 250° for 20 minutes.
Nutrition information is automatically calculated, so should only be used as an approximation.
Like this recipe? Leave a comment below!
(Visited 8,432 times, 1 visits today)