Lebanese Vegetable Soup with Chickpeas and Kale
Jan 07, 2016, Updated Sep 17, 2023
This vegetable soup with chickpeas and kale is hearty with sweet butternut squash, tomatoes, and a hit of cayenne. So warming, healthy, and simple to make–which we do, weekly! Vegan and gluten-free.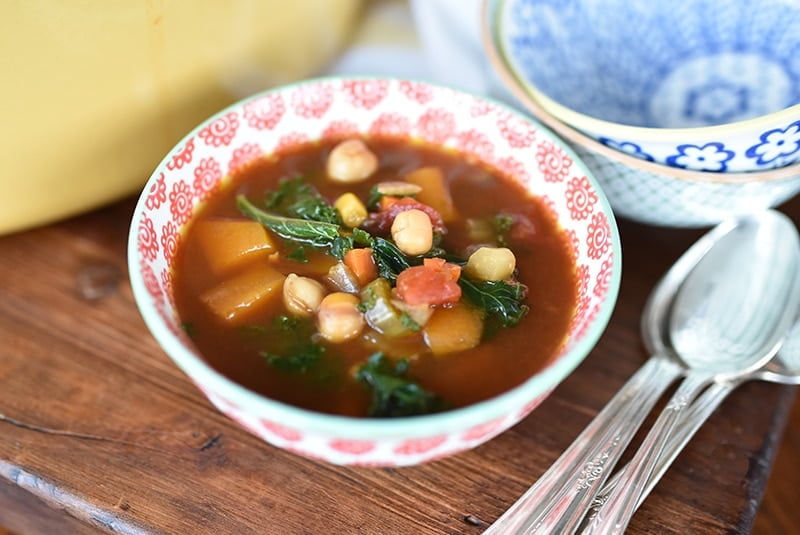 One frigid, snowy day last winter when Dan was down and out with a cold, his sister Trisha brought over a big tunjura (a big pot) of vegetable soup. It's the kind of soup that wouldn't typically get me to turn my head, thinking from the looks of it that it's just all about duty, and not so much about desire. If I saw this soup on a menu, I'd go for the other one. I know I sound like the children in the family, who I always try to talk out of their culinary hesitations.
I served Dan a huge bowl and decided I wasn't so hungry myself.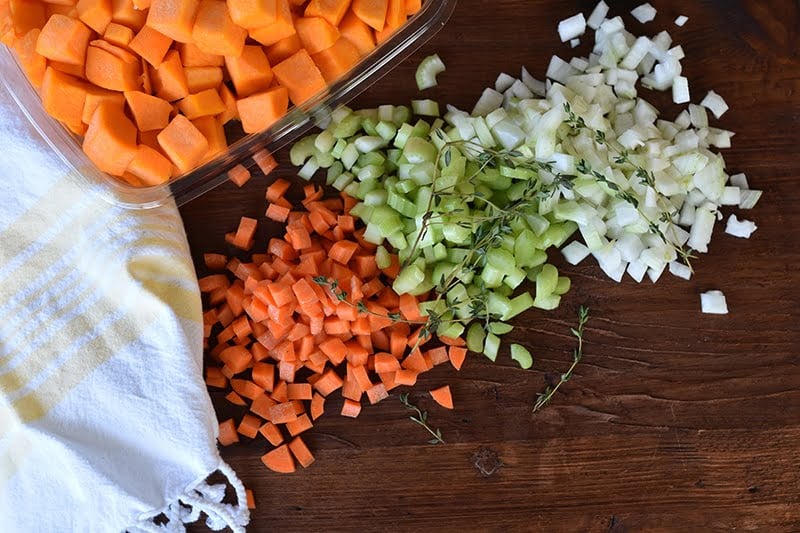 The next day, lunch came around and the soup was there. I thought I'd better eat a bowl to help me avoid catching Dan's pestilence, a duty to myself. I warmed up one ladle-full–that'd be plenty of what seemed like stew with all of the chickpeas and kale, the tomatoes and corn too. My own sister Peg will tell you that I am not partial to stew, pretty much ever. She knows this because it is among her favorites to make and eat, and she is offended that I don't feel the same.
But Trisha, she hit her stew/soup with cayenne, which contrasts perfectly with the sweetness of the butternut squash. I think she had even called it squash soup, which is almost always a cream-based pureed soup of the sort I am drawn to, but the sort that my constitution will not let me eat (at all). It was a refreshing change to see the squash as one element among many in a brothy, good-for-you base.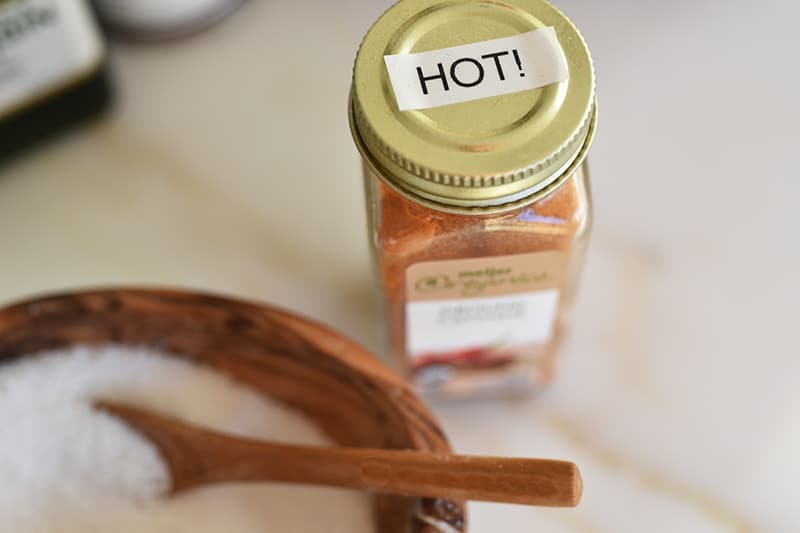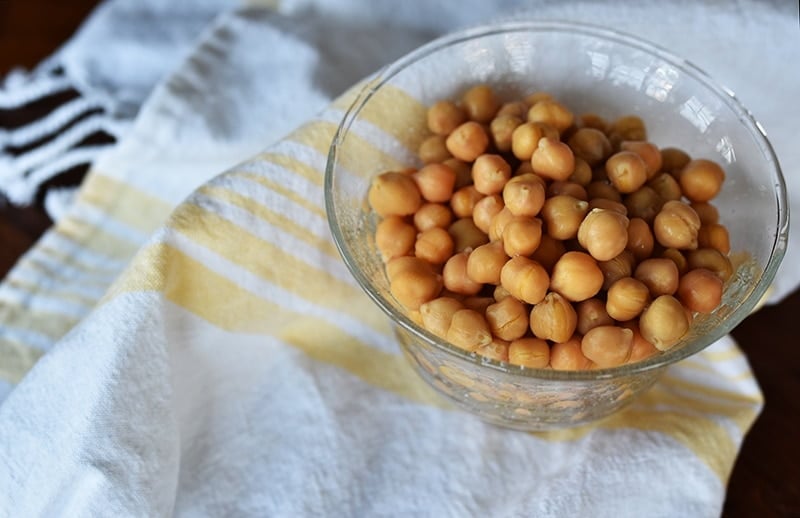 My first spoonful was lazy and indifferent, taken while I did something else. What I tasted was so excellent, I had to stop what I was doing and focus. With every bite my mind and taste buds were at work to figure out what was going on in there so I could recreate it. There was a hefty helping of chickpeas, and the pot was finished off with a shower of curly kale. The chickpeas gave me every right to consider this a Lebanese-style soup (that's how I am with ingredients: if one of our favorites is in there, then Lebanese it is. Call it selfish or creative or what you will. I call it claiming our own for our own…).
This soup-of-obligation turned out to be absolutely delectable soup, Lebanese soup!, a soup I finished off right then and there, much to Dan's disappointment when he came home that night thinking of a big bowl for himself.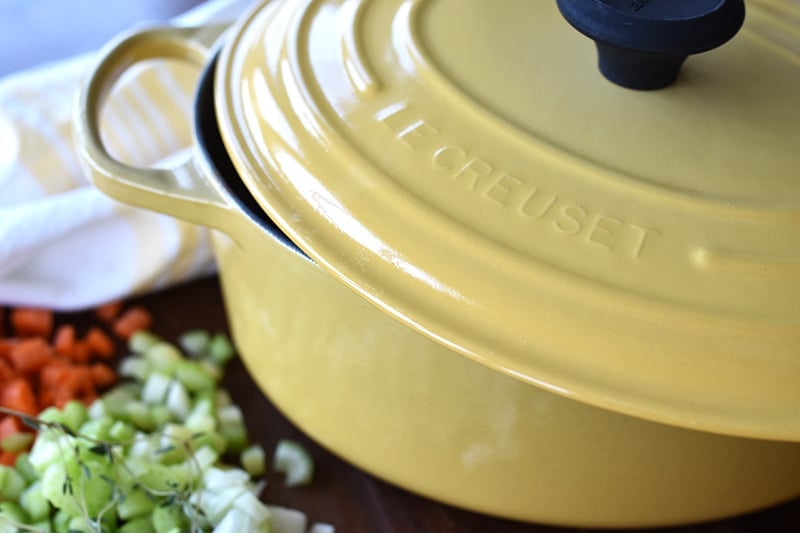 I should have known the soup would be this good. Trisha got the initial recipe from our sister-in-law Diane, another superb cook, and when food starts making the rounds in the family like that, you know there is a reason: it tastes great.
When I asked for the recipe, Trisha talked about the ease of it, how you toss in what you have on hand in the way of vegetables, and stalk your pantry and freezer for staples like diced tomatoes and corn. She had creamed corn on the shelf that day and used it, so that's what I always use now too. If your grocery sells diced fresh butternut squash, the soup practically makes itself.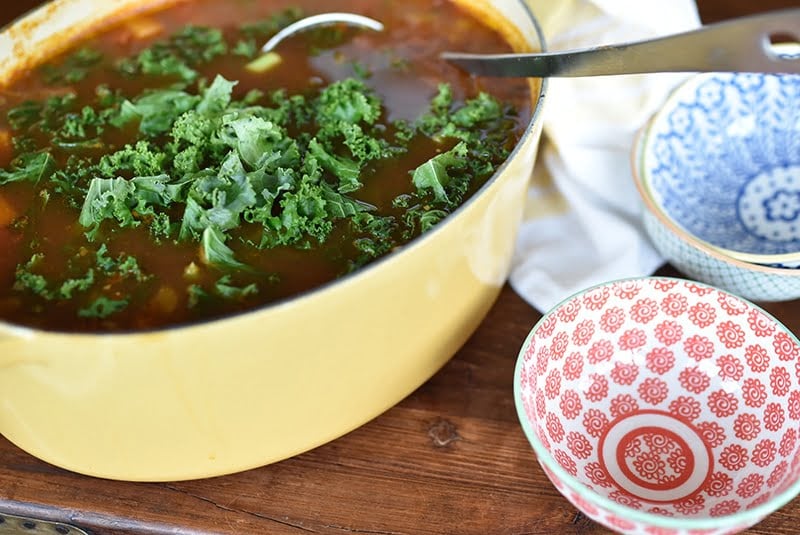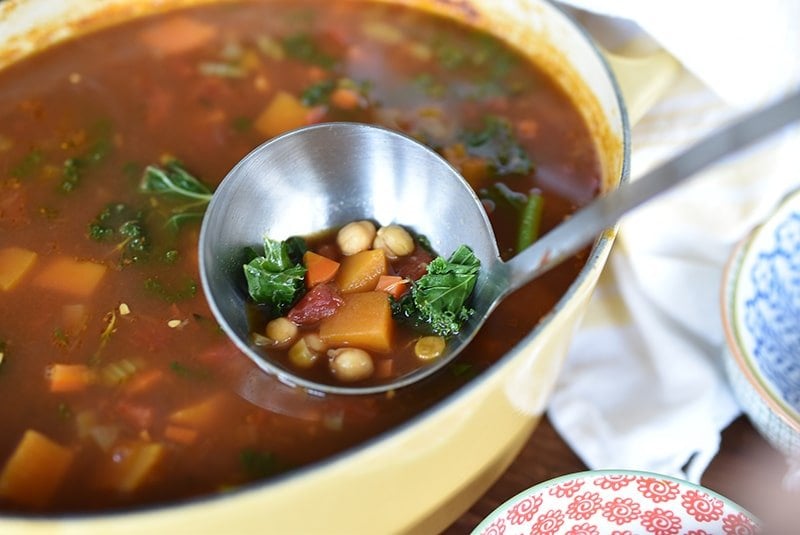 As for the kale, well, Dan has left every kale attempt I've made for him uneaten on the plate. He tries to hide it under a piece of pita.
But here in our Lebanese vegetable soup, the kale is so key to texture and goodness that I keep adding more every time I reheat the pot so there will be plenty of kale in every bowl. Dan says if kale can taste like that, he loves kale. It's like adding the chard to our Garlicky Lentil Soup—it takes everything up not one or two notches, but all the way from duty to delicious.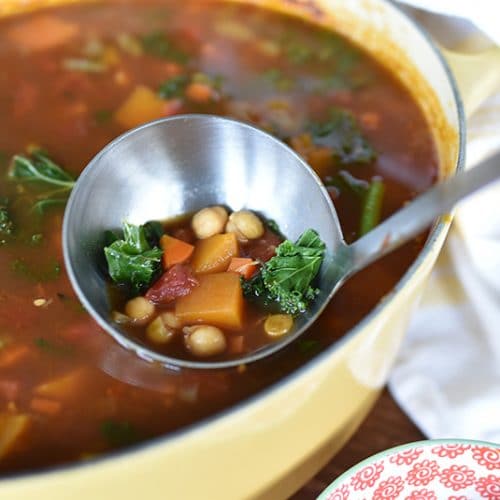 Vegetable Soup with Chickpeas and Kale
This soup is hearty, vegan, gluten-free, and simple to make. The sweet-heat of the butternut squash and cayenne are a perfect balance. The chickpeas and kale make the soup a great main dish, filling and satisfying.
Ingredients
2

tablespoons

extra virgin olive oil

1

small

yellow onion, diced

2

medium

carrots, diced

2

medium

celery stalks, diced

2

teaspoons

kosher salt, plus more as needed

2

cups

diced butternut squash

2

cups

or 1 16-20 oz. can chickpeas

2

cups

or 1 16-20 oz. can diced tomatoes

2

cups

or 1 16 oz. can corn or creamed corn

6

cups

vegetable or chicken stock

4

sprigs

fresh thyme

Few

grinds

black pepper

1/4

teaspoon

cayenne pepper

1

tablespoon

honey

5-6

cups

chopped kale
Instructions
In a large soup pot (5-quart or larger), heat the olive oil over medium heat. Add the onion, carrots, celery, a teaspoon of salt and stir to coat oil. Cover and cook, stirring occasionally, until the vegetables are softened but not browned.

Add the butternut squash. Cover and cook again briefly, stirring occasionally, until the squash is just beginning to soften (2 minutes). Add the chickpeas, tomatoes, corn, stock, and thyme. Season with black pepper, cayenned pepper, and the honey. Stir well, cover the pot, and simmer on medium low heat for about 20 minutes.

Taste and adjust seasonings as needed. Stir in the kale a few handfuls at a time, and cook for about 5 more minutes, or until the kale is softened. Pull out the thyme stems from the pot, and serve warm.
Nutrition information is automatically calculated, so should only be used as an approximation.
Like this recipe? Leave a comment below!
(Visited 17,208 times, 4 visits today)