Basil Zucchini Soup
May 31, 2014, Updated Sep 17, 2023
Basil zucchini soup is a favorite all year. Yes, we go off-seasonal on this one–so delicious and cheerful, a beautiful soup perfect for casual weeknight meals or elegant company dinners.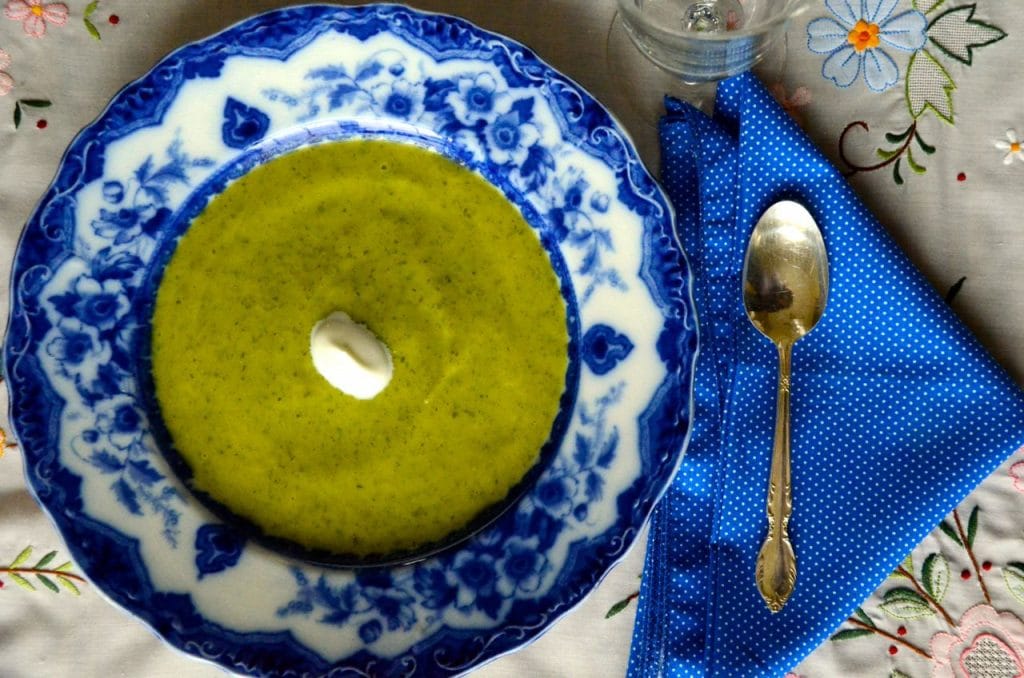 I get the chance to get to know some of you through your comments and emails, and sometimes when I run into you in person. New friends, in a steady stream, are a delicious fruit of the labor I never could have imagined when I first started blogging here.
My new friend Brian is a case in point. I first heard about him through a cousin who told me there was a great food person in Lansing reading my blog who wanted to meet and cook together. Then Brian invited me into his Foodie Friends group on Facebook, and turns out we know and love a lot of the same people. He ran a tea room next door to my Aunt Pat's antique shop years ago, and just like tea and antiques are a perfect match, they became fast friends too. And now they are neighbors, living on one of the most gracious neighborhood streets in Lansing, where the homes are vintage 1920s (and earlier) and the rolling greens of the Country Club of Lansing frame the scene. It's stepping ever-so-happily back in time to be there.

Early this spring Brian invited me to cook and eat with a group of his culinary friends, people he met on a French cooking adventure in Provence with Patricia Wells (what heaven). They wanted to make Lebanese food, pulling recipes from my blog and diving in like the adventurers they are.
Brian and Ken's home (Lansing's historic Harper House) is an idyll, a place that, like its owners, gives and gives and gives. Pretty much everything at Brian's can start with the word homemade. In the butler's kitchen there is a barrel of red wine vinegar being fed with remainders of bottles of wine, a pantry wall of spices curated from travels, honey from their home apiary, homemade sauerkraut and homegrown horseradish and–of course my favorite—homemade yogurt.

The giving doesn't stop there: in this home of all homes, the doors are opened for events that raise money for all kinds of good causes. Seems like there is so often a true connection between people who love to cook and, well, caring across the board.
Brian has been so great cooking so many of my recipes (including testing for my upcoming cookbook) that I was thrilled to receive a recipe of his to try in my own kitchen. Seems Patricia Wells was as delighted with Brian's culinary interests and his extra-wow soup as everyone else–she included his recipe for zucchini soup with fresh basil in The French Kitchen Cookbook.
You know how it is with the Lebanese: good friends aren't just good friends. They're cousins. They're family. Even Brian's blonde-blonde hair couldn't keep me from calling him cousin from here on out.
Basil Zucchini Soup
The flavor of this soup will knock your socks off! And it's had with such ease, owing to the basil being added at the very end, after the soup is cooked…a very simple soup to eat any day of the week, and good enough to serve at an elegant dinner party. The recipe is adapted from Patricia Wells' The French Kitchen Cookbook.
Ingredients
2

tablespoons

Extra virgin olive oil

2

medium

yellow onions, thinly sliced

2

pounds

zucchini, cut in 1-inch slices

4

cups

chicken or vegetable stock

Fine sea salt and black pepper, to taste

Big

handful

basil leaves

1/2

cup

heavy whipping cream, lightly whipped (unsweetened)
Instructions
In a stock pot or 8-quart pot, heat the olive oil over low heat until it is hot but not smoking. Add the sliced onions and sprinkle with a pinch of salt. Saute the onions for about 8 minutes, or until they are soft and translucent, but not browned, covering them and stirring occasionally.

Add the zucchini to the pot along with the chicken or vegetable stock and season with a pinch of salt and a few grinds of black pepper. Cover and cook for about 10 minutes, or until the zucchini is softened.

Remove the soup from the heat and allow it to cool, uncovered, for at least 15 minutes, stirring occasionally to release steam. Stir in the fresh basil leaves just before pureeing. In a blender, puree the soup in batches and return to a smaller, clean pot (a 3- to 4-quart pot). Or, use an immersion blender to puree the soup in its pot.

Taste and add more salt and pepper, if needed. Serve the soup heated through, room temperature, or chilled. Spoon a dollop of the lightly whipped cream in the center of each bowl just before serving.
Nutrition information is automatically calculated, so should only be used as an approximation.
Like this recipe? Leave a comment below!
(Visited 4,155 times, 1 visits today)