Fragrant Lebanese Chicken Soup Recipe
Oct 18, 2012, Updated Sep 17, 2023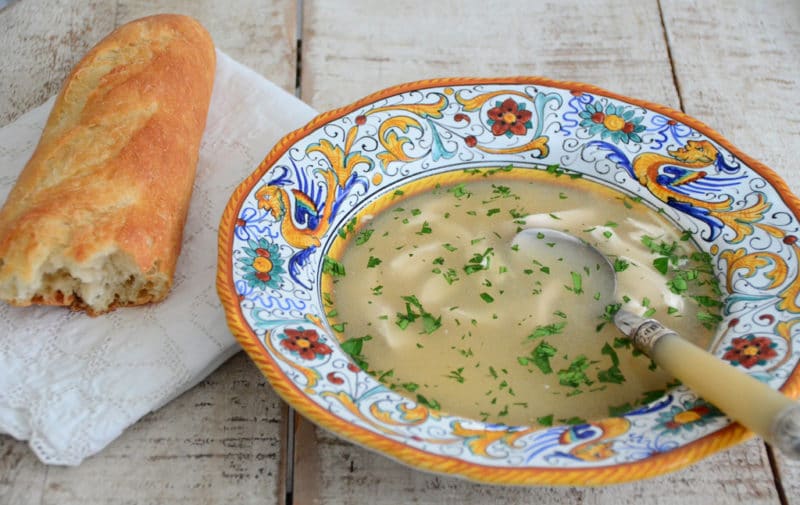 I know this is a food blog and that I'm a food person and that we all agree on how much we love to cook and eat. But I've got to admit: I haven't been feeling great lately, and it has to do with food. Can't eat much, don't feel like eating much, and when I do I wish I hadn't.
A telltale sign that I'm not 100% has taken place time and again when I've been downstate visiting and have ventured over to Woody's for a bite to eat. I usually have to have kibbeh in some form, and if it's Tuesday or Thursday, I have to have it raw. Lately though, no. I don't want the kibbeh and I don't want the hummus. I just want a soft, gentle bowl of Lebanese chicken soup. I'll buy a big container of my soup because I know that come tonight, and then again tomorrow, that's probably all I'm going to want to eat.
I'm afraid of sounding like I'm elderly before my time by complaining of my ailments, so let's just say I've had a few doctor's appointments and there's nothing wrong that's going to take me out of it any time soon, thanks God. I just have to listen to my own self when it says to eat soft, and take heed.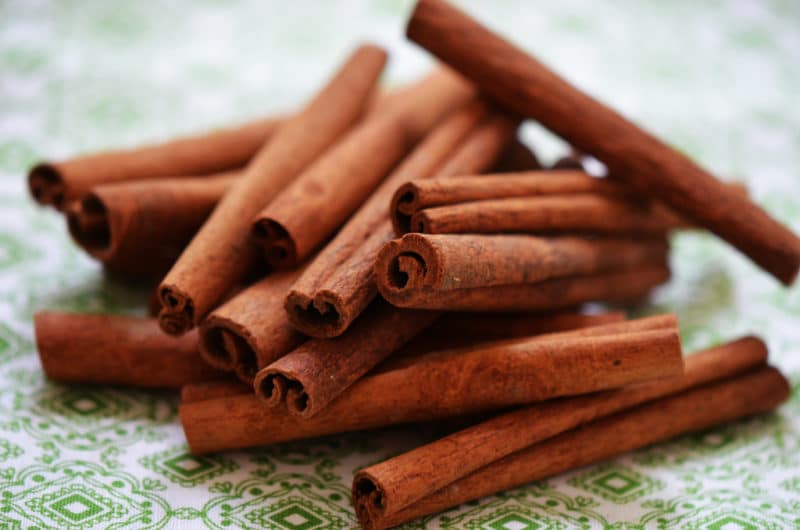 Chicken soup has never excited me much, but now that I'm eating more than my share of it, I've taken a renewed interest. My addiction to Woody's chicken soup got me thinking about making my own when Woody's is nowhere to be found up north here, and wondering what exactly goes into their special broth.
I went right up to Chuck at Woody's and said I know I taste our favorite flavor maker in there…I know I taste cinnamon. You got it, he said, good job. The "good job" told me I was going to have to guess, and figure it out for myself. But what else? He didn't say much. I've scoured my cookbooks and had other talks with other Lebanese cooks, and discovered that he didn't say much because the soup is always pretty simple, and differs slightly depending on whose making it.
The best chicken soups are for me purist in their make-up: I love a flavorful broth; some clean, lovely pieces of chicken; a few good noodles. That's it. No carrots or celery or anything else, though I like their flavor imparted from mirepoix. If I could get the owner of Jesperson's in Petoskey to reveal his chicken soup recipe, I'd be making that one with a cinnamon stick and a handful of parsley for Lebanese flavor. Of course I did ask once how he does it, and I got an awkward hesitation that I talked over to alleviate.
Lebanese chicken soup is fragrant with cinnamon, hefted up with little pieces of vermicelli, and finished with the super-fresh flavor of flat-leaf parsley. It's the kind of soup that's going to be your go-to all winter long—for warming, and healing, power.
Lebanese Chicken Soup
The beauty of this soup is in its simplicity. The flavor of the chicken shines through and is complemented with fragrant cinnamon. You can use orzo instead of the vermicelli, but don't skip out on the fresh parsley before serving, as it contributes such a lovely layer of fresh taste and color.
Ingredients
3-4

pounds

bone-in chicken pieces (breasts, thighs, legs or a mix)

1

large

onion, peeled and quartered

1

large

carrot, peeled and chopped in 2" pieces

1

stalk

celery, chopped in 2" pieces

2

cinnamon sticks

6

whole white peppercorns

6

allspice berries

2

bay leaves

5

cardamom pods

1

cup

cut vermicelli or angel hair pasta (1-inch pieces)

Salt and pepper, to taste

3

tablespoons

chopped fresh parsley
Instructions
In a large stock or soup pot, place the chicken, onion, carrot, celery, cinnamon sticks, peppercorns, allspice, cardamom, and bay leaves. Cover with cold water by 2 inches (about 9 cups). Bring just to a boil over high heat, but not a rolling boil (that will cloud the broth), then reduce heat to low (just hot enough to make slow, lazy bubbles). Skim the surface of the broth frequently with a spoon or skimming sieve frequently to remove all foam.

Simmer the broth, uncovered, for about two hours. Remove the chicken and set aside until it is cool enough to handle. Pour the broth through a fine mesh sieve and/or cheesecloth into another pot.

Add vermicelli to the broth and bring to a boil. and cook until the pasta is tender, about 8 minutes. Remove the chicken from the bones and shred into 1- to 2-inch pieces. Add the chicken to the pot and warm through.

Season to taste with salt and pepper. Serve in bowls with a pinch of parsley atop each bowl.
Nutrition
Calories:
365
kcal
|
Carbohydrates:
24
g
|
Protein:
26
g
|
Fat:
18
g
|
Saturated Fat:
5
g
|
Polyunsaturated Fat:
4
g
|
Monounsaturated Fat:
7
g
|
Trans Fat:
0.1
g
|
Cholesterol:
87
mg
|
Sodium:
84
mg
|
Potassium:
312
mg
|
Fiber:
2
g
|
Sugar:
1
g
|
Vitamin A:
293
IU
|
Vitamin C:
4
mg
|
Calcium:
35
mg
|
Iron:
2
mg
Nutrition information is automatically calculated, so should only be used as an approximation.
Like this recipe? Leave a comment below!
(Visited 19,563 times, 1 visits today)