Arugula, Avocado and Mujadara Platter
Sep 22, 2018, Updated Apr 30, 2023
An arugula, avocado and mujadara platter is a gorgeous way to serve mujadara, a beloved–yet humble-looking–lentil pilaf. Mujadara, along with arugula and avocado, is one of the healthiest, most delicious meals you can eat. Get the right lentils, bulgur, and other ingredients at MaureenAboodMarket.com.

Don't ever apologize for your food.
I wish I could claim this edict as my own, but it comes from our beloved Julia Child. She believed that no matter what happened in the kitchen, no matter how battered a dish may seem when presented to guests, no apology should ever be made. Her thinking was so perfectly spot-on: you are cooking for someone. That is all they need to know to feel honored and delighted to be at your table. Plus, a food apology does nothing but make the eaters feel they need to reassure the cook.
Now, the reasons why I love to serve mujadara with bright greens, tomatoes, and avocadoes began with my sheepishness at putting a pot of mujadara on the table for anyone who had never eaten it before.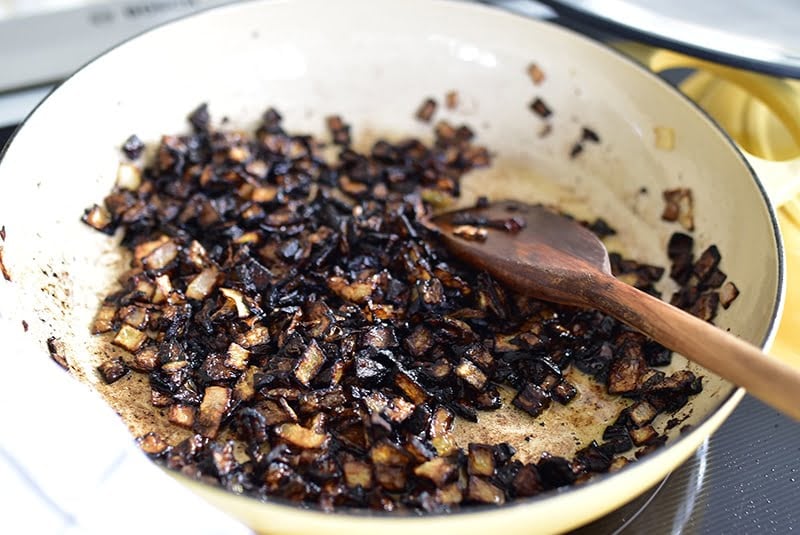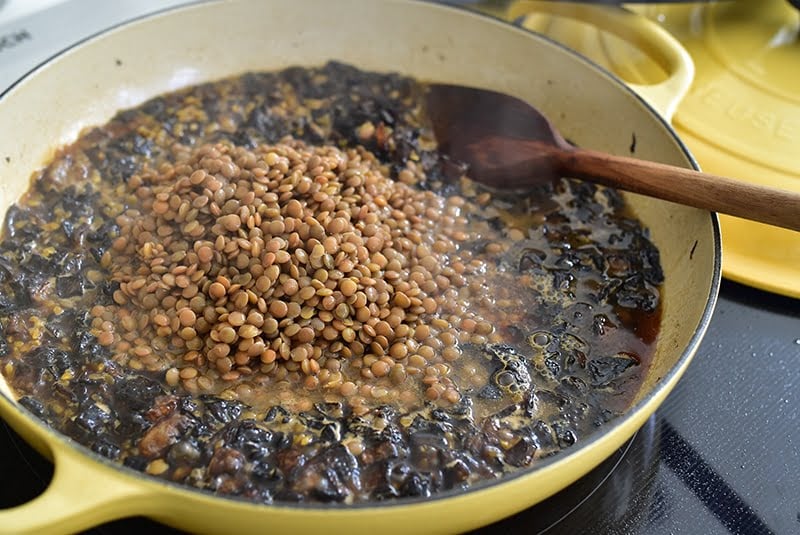 I'd start in with "I know mujadara may not look like much, but wait til you taste…." Or, "looks can be deceiving!" Or—Julia Child forbid: "Sorry for all of the blah brown, but…."
Since my favorite way to eat mujadara is with salad—any salad really, but especially malfouf (Lebanese slaw) or arugula—on top, I started to serve the mujadara with the salad bowl right next to it. If my mujadara pot was too heavy for me to carry both that and the salad bowl to the table at the same time, I'd enlist someone else to carry one or the other concurrently to the table. Like Silver Service at the Grand Hotel, a synchronicity, presented together for the sake of color.
Then it dawned on me that I could get the whole color coordination together on one big platter.
Salad served directly with the mujadara gilds our humble yet beloved pilaf so perfectly, and it's not solely to do with how this looks, even though the mujadara/salad serving platter was inspired by looks. This is very much how many of us love to eat our 'judra at all times, together with salad on the plate. Often with labneh, but sometimes just as it is, with all of the lemony goodness of the dressed salad.
I may not be able to serve every not-so-colorful dish in my repertoire on a salad (or can I? would be interesting to try!), but for certain I'm going to keep avoiding serving them, or any other dish, with an apology. A simple "bon appetit!" was good enough for Julia, and for me too.
,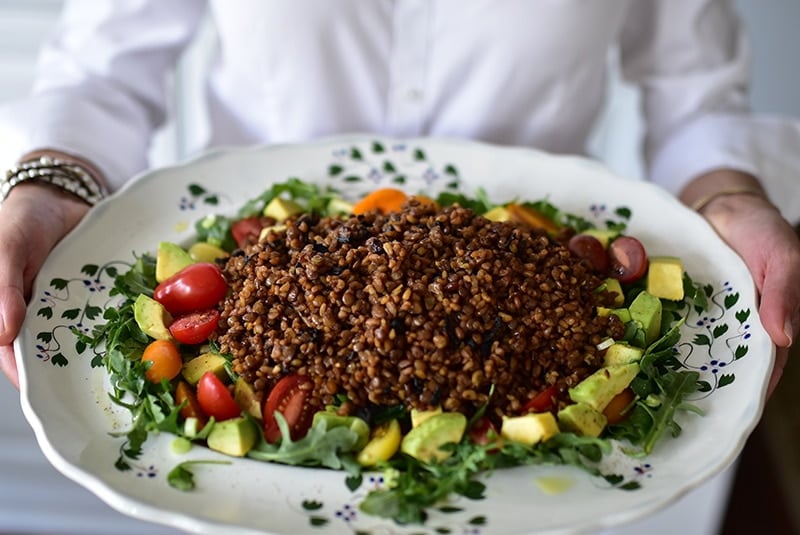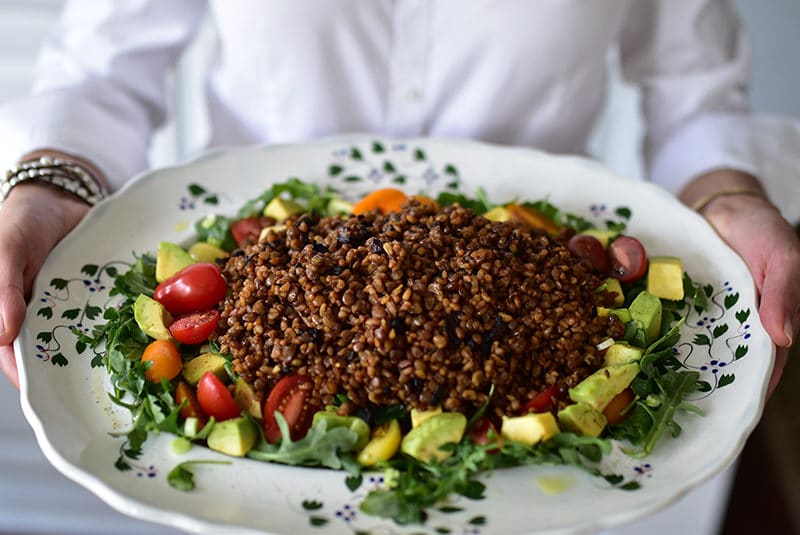 Arugula, Avocado and Mujadara Platter
The mujadara, a pilaf of lentils, onions, and bulgur or rice, can be served over the salad hot, warm, or room temperature. Serve this dish as a side or a main dish along with other roasted or steamed vegetables, pita or flatbread, and labneh.
Ingredients
For the mujadara:
1/4

cup

neutral oil, such as grapeseed

4

cups

diced yellow onion

1

cup

small brown lentils, sorted and rinsed

1

cup

coarse bulgur (#3) or long grain rice
For the salad:
Juice

of 1 lemon

1/4

cup

extra virgin olive oil

1/2

teaspoon

granulated garlic powder

1/2

teaspoon

kosher salt

Few grinds

black pepper

5-6

cups

baby arugula

2

scallions

thinly sliced

1

large

or 2 smaller avocado, diced

1

cup

cherry tomatoes, halved
Instructions
First, par-cook the lentils. Place the lentils in a small saucepan with 2 cups of water and a pinch of salt. Bring to boil over high heat. Reduce heat and simmer until lentils are par-cooked, 7-10 minutes. Remove from heat. Be careful not to overcook here; the idea is to par-cook the lentils.

In a large, heavy sauté or sauce pan (with a lid), heat the canola oil over medium high heat. Add the onions and cook until deep golden brown, about 20 minutes, stirring frequently to avoid burning, though some charring will occur in order to get them all browned and that's just fine. Sprinkle with a pinch of salt as the onions cook.

Take the onions off the heat and add 2 cups of water. Place back on the heat and bring to a boil, then reduce heat and simmer for 5 minutes. The liquid will take on the deep golden color of the onions and the onions will continue to soften.

Add the bulgur or rice and par-cooked lentils (and their liquid) to the onion mixture. Cover and bring to a boil. Sprinkle with a pinch of salt and pepper. Reduce heat to low and cook until the liquid has been absorbed and the rice and lentils are cooked through, about 20 minutes. The texture of the rice and lentils is somewhat al dente. Take care not to overcook or the mixture will become mushy. Remove from heat and season to taste with salt and pepper, and drizzle with olive oil.

For the salad, make the vinaigrette by whisking the lemon juice, olive oil, garlic powder, salt and pepper in a small bowl. Toss the arugula and scallions with just over half of the vinaigrette. Dress the tomatoes and avocado separately with the vinaigrette.

Arrange the arugula on a platter, and place the tomatoes and avocadoes around the perimeter. Spoon just over half of the cooled mujadara in the center of the platter and save the other half to eat later, or serve it alongside–just don't overwhelm the salad with so much mujadara that you can't see the salad!

Drizzle olive oil over the mujadara (again; it will absorb and be delicious). Serve immediately.
Nutrition information is automatically calculated, so should only be used as an approximation.
Like this recipe? Leave a comment below!
(Visited 10,302 times, 1 visits today)