Rhubarb Squares
May 26, 2017, Updated Jan 04, 2023
This rhubarb cake's gorgeous batter yields a light, moist texture with yogurt or sour cream in the mix–a perfect pairing with the rhubarb. Serve the rhubarb squares directly from the pan.

We've been down this path before.
I could just direct you to this post, and suffice it to say "ditto."
This time, it was cake that got me. Not nearly so bad as the camera, but still. It's that I wanted to bake a special cake. I was recently at the French Pastry School in Chicago learning "luscious layer cakes," and with a plan for my dear friends to come for dinner, and all of them having spring birthdays, I thought it'd be a good time to bake a luscious layer cake.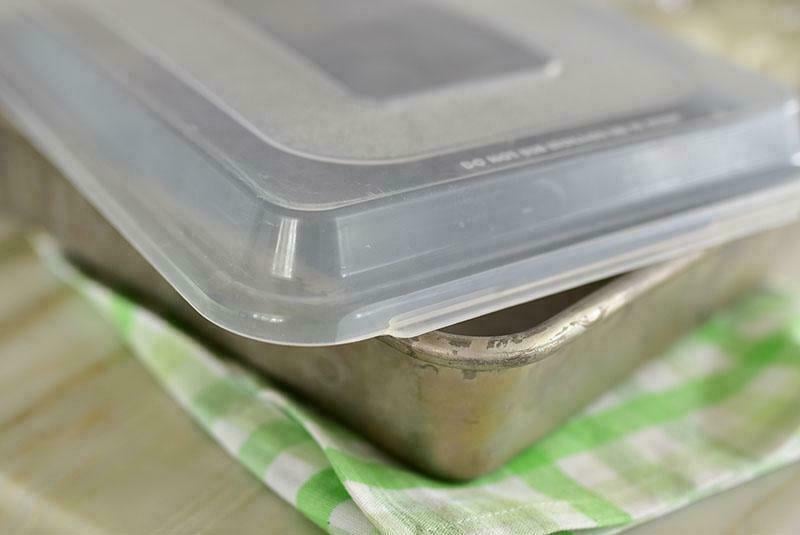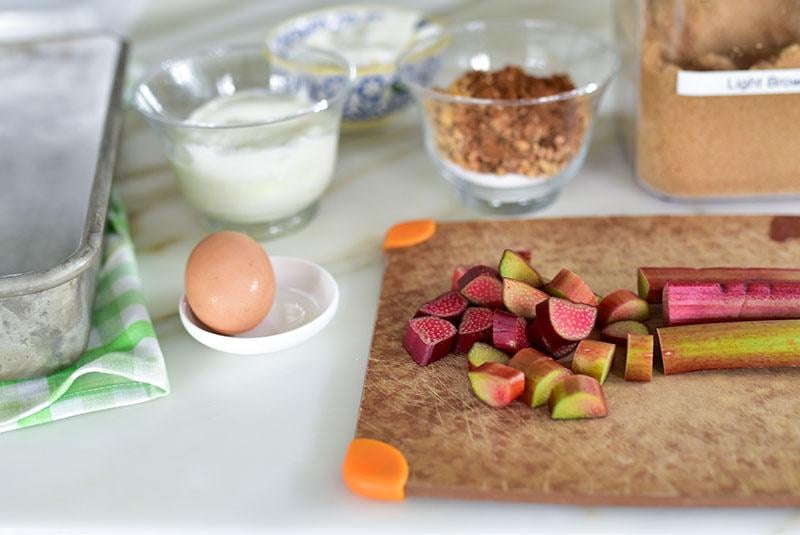 When Dan asked me which recipe from the class I was going to use, I said none. None of those. I want to come up with my own cake! He thought that was nice, but wouldn't it be easier to just replicate what I'd just done? Not to mention the time, with all of the other things going on in the mix these days. Better yet, how about pulling one of the cakes from the class out of freezer and serving that?
With those terrific suggestions, I instead dove into my cake books, of which I have a couple-three. So many options! I do love my options, especially in the kitchen. So much so that sometimes I leave my options open right up until I turn on the mixer.
This is not good. Because I tip-toe through the grocery store not according to a well-thought-out list, but according to the several options in my head that I'd like the liberty to decide to make when I get home. Strawberry mousse cake! Find some unflavored gelatin, just in case I try that one. Chocolate cake layered with whipped cream and fruit! Need more cocoa powder + cream. Oh, and that blackberry buttercream I saw, that looked a-mazing. Grab some blackberries just in case.
You see?
I landed on a double chocolate cake with strawberry mousse filling, frosted with (stabilized) whipped cream. The cake was this one and I still love it dearly. The strawberry mousse made from fresh strawberry juice was promising, but turned out so runny that it was a total fail for a cake filling. Even a deep freeze wouldn't coax it into thickness.
The problem with all of this is not so much the trying and failing, as it is the timing. The bake-off was taking place within the hour before my friends were to walk through the door. The fact that I had baked the cake first thing in the morning and made the strawberry juice before noon too didn't matter one bit.
I thought I had plenty of time to get it all done. I was mistaken.
So I became like the bakers in the last minutes of the Great British Baking Show, with failed mousse in the freezer and no frosting to speak of. I'd look at the camera and say in my English accent, trying to hold back tears, "I thought I had so much time…."
I grabbed the leftover cooked berries from the berry juicing and used them to fill each layer of the cake, then coated the cake in whipped cream and topped it all with a crown of strawberries. All the while it's truly pushing the 6 p.m. arrival time and I'm not spiffed up yet, with Dan walking in from work and heading for his gym bag to scram while the ladies sup. He's wide-eyed at my frenzy and laughing, hard, because he's seen this number before. He shouts "See ya, Too Much Maureen!" as the door closed behind him.
One of the great take aways from a book I read recently about M.F.K. Fisher was how she hosted her friends: she prepared her food very early on, and it didn't matter to her if the chicken was room temperature when it was served. What mattered was that she was relaxed with a glass of wine when her friends arrived, and not in the kitchen doing a lot of last minute cooking. She reminds me of my sister Peggy, who is in biblical terms the Mary, while I am the Martha. When I read M.F.K.'s way, I thought, yes! I'm doing that more often!
Then, all of the above. On the upside, for someone who loves to entertain, there is always another opportunity to get it right. And I don't mean baking the cake again until it's perfect, which of course I've been known to do. I mean, taking the road less traveled for Too Much Maureen.
Enter slow and easy summertime, and its kickoff Memorial Day weekend. There will be good food, and cake, but this time of the sort that comes together quickly and easily, with a rhubarb-studded batter that is more gorgeous and luscious than any elaborate pastry I've ever done. The cake is ultra-moist and bakes up beautifully in a simple, down-home 13x9x2 pan. and gets served from there too. It comes along to a friend's house that much more nicely if that pan has a lid.
Mine is baked and ready for a weekend of family and friends. And so am I.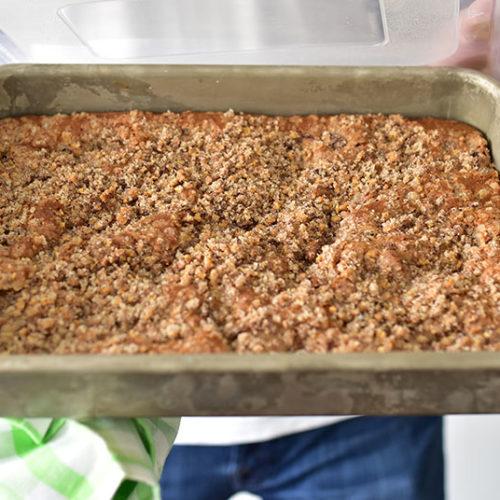 Rhubarb Squares
This cake comes from my sister Peg via one of our favorite cookbooks, Recipes from a Very Small Island. The batter is of the highest order, and the cake a light, moist texture (I substitute the sour cream with yogurt). Don't let the bit of shortening scare you off. Assuming none of us eat very much of it in general, a little in your cake here won't hurt! The rhubarb makes a perfect tart addition the brown sugar sweetness of the cake.
Ingredients
2

tablespoons

unsalted butter—one for greasing the pan and one melted, for the topping

1/2

cup

granulated sugar

1/2

cup

toasted walnuts, finely chopped

1

teaspoon

cinnamon

1 1/2

cups

light brown sugar, packed

1/2

cup

solid vegetable shortening

1

large

egg

2

cups

unbleached, all-purpose flour

1

teaspoon

baking soda

1/2

teaspoon

kosher salt

1

cup

plain, whole milk yogurt or sour cream

1/2

pound

rhubarb, chopped (about 3 stalks, or 1 ½ cups chopped)
Instructions
Preheat the oven to 350 degrees F. Grease and flour a 13x9x2-inch pan with one tablespoon of the butter.

In a small bowl, combine the tablespoon of melted butter, granulated sugar, walnuts, and cinnamon to form a crumble. Set aside.

In a stand mixer fitted with the paddle attachment, or using a hand mixer, beat the brown sugar, shortening, and egg on medium speed until light and creamed.

In another bowl, whisk the flour, baking soda and salt.

With the mixer on low speed, alternate adding the yogurt and the flour mixture in a few additions each, beating until a thick batter forms.

Using a spatula, fold in the chopped rhubarb. Scrape the batter into the prepared baking pan and spread the batter evenly in the pan. Top evenly with the nut crumble.

Bake for 40 to 50 minutes, or until the cake is golden brown and a toothpick inserted in the center comes out clean. Cool completely and serve in squares directly from the pan.
Nutrition information is automatically calculated, so should only be used as an approximation.
Like this recipe? Leave a comment below!