Sauteed Spinach with Toasted Pine Nuts
Mar 22, 2017, Updated Jan 04, 2023
Whether I'm baking the baklawa, or browning the butter, or toasting the nuts, the question is always there.
That question: how dark should the baklawa/butter/nuts be?
Actually, this isn't my question at all. It's the question of those around me.
(Dan.)
For me, Deep Golden Brown (DGB) is a given. It's a fundamental need that I crave both as a cook and as an eater. DGB is umami, is caramel, is toast, is crust. Is everything.
This is the Maillard Reaction, described for me for the first time in culinary school to my great delight. This is it! This is why I love me my deep golden brown so very, very much.
It never occurred to me that anyone would prefer a lighter touch. At first Dan, master of restraint, said very little. Then, a soft "careful, that's starting to burn." Then the truth of the matter, brought to fruition by a nearly bDGB (burned DGB) of a baklawa, came out. The man wanted his DGB to be kinder, gentler, paler.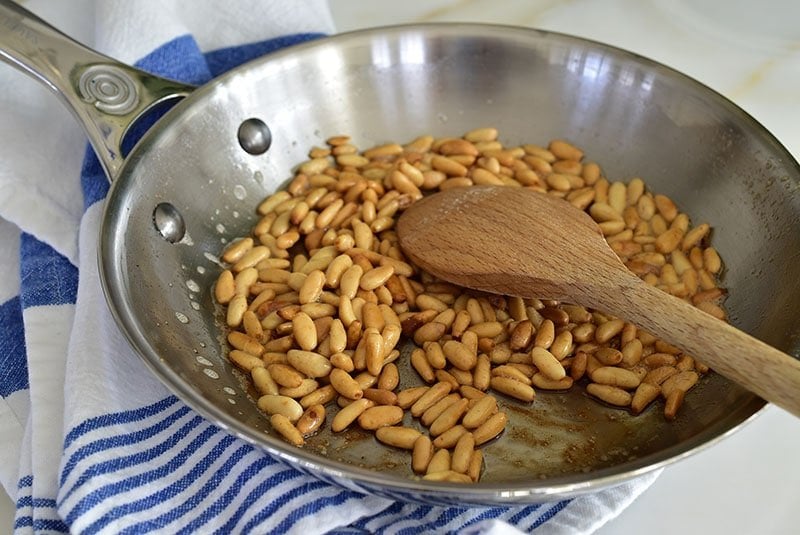 What cook doesn't want to please her eaters, and not just herself?
I now take it as a healthy challenge to strike the balance, just enough golden. The pine nuts are the perfect playground for the toasting challenge, because they take the color and flavor so well and so visually. And can burn in a heartbeat.
There are very few, if any, recipes in which I'd use raw, untoasted pine nuts. Without the toasting, pine nuts are denied their full potential! But they are delicate, precious little things, and not just because they cost some coin. They're so pale in their skinless-ness that we can see exactly how brown they are every step of the toasting way (unlike an almond, or a walnut, with that naturally and deceptively golden skin).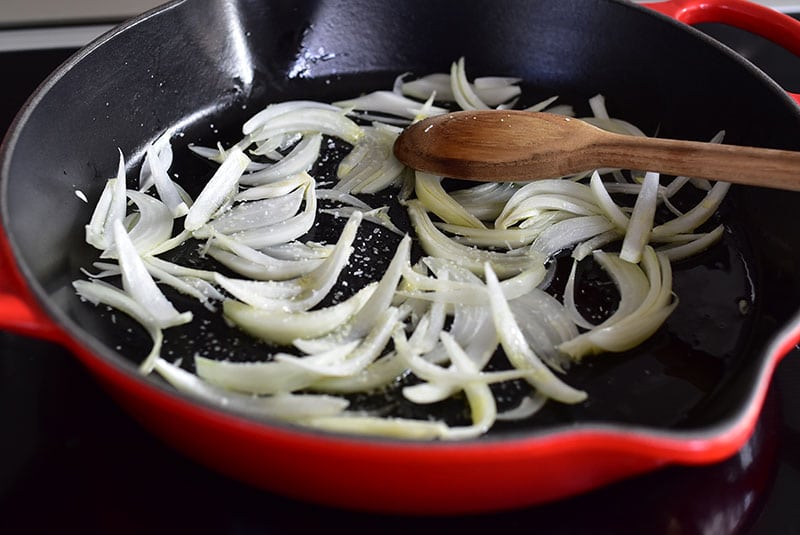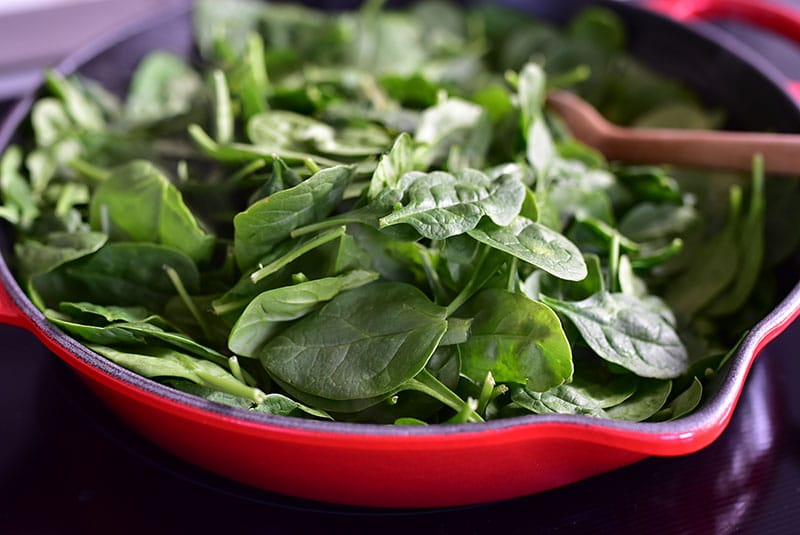 For the pine nuts (same for slivered almonds), I toast in a skillet rather than the oven. Either way you've absolutely got to stay on them, no multitasking allowed.
There in the skillet you have total control, encouraging their golden destiny with a pat of butter and a dusting of salt in the manner the Lebanese are famous for ("fried" nuts, our heaven-treatment for nuts of all sorts).
Nuts like this are the flavor maker we adore for vegetables and salads and pilafs (hushweh, here we are). Keep a whole package of toasted nuts at the ready in the freezer, taken as far into DGB as you–or someone you love–likes. Then toss them, for example, into a pan of spinach and onions that are kindly, gently cooked. But far from pale.
Sauteed Spinach with Toasted Pine Nuts
Ingredients
1 tablespoon butter
1/2 cup [url href="https://maureenaboodmarket.com/collections/preserves/products/extra-large-pine-nuts?variant=30104866753″ target="_blank"]pine nuts, the biggest and best you can find[/url]
Kosher salt
3 tablespoons extra-virgin olive oil
1 large sweet onion, sliced in half-moons
1 clove garlic, minced, or 1 teaspoon granulated garlic powder
1 lb. baby spinach
Juice of 1 lemon
Instructions
In a medium frying pan, melt the butter over medium heat. Add the pine nuts and stir them to coat with the butter. Continue cooking, stirring frequently, until the nuts are golden. Dust with a healthy pinch of salt and set aside.
In a large saute pan, heat the olive oil over medium heat. Add the onions with a pinch of salt and cook, stirring occasionally, until they are soft and translucent but not browned, about 15 minutes. Add the fresh garlic if using, and cook very briefly just until fragrant, less than a minute.
Fill the pan with as much spinach as will fit and stir, adding more spinach as it wilts. Cook just until the spinach is wilted but still bright green.
Remove the pan from the heat and stir in the lemon juice, a little at a time to your taste. Season with more salt and garlic powder if using.
Stir in the pine nuts and serve immediately.
Save