Olive Oil Cake
Jan 07, 2022, Updated Jan 19, 2023
Olive oil cake is ultra-tender and moist, with added richness from yogurt in the mix.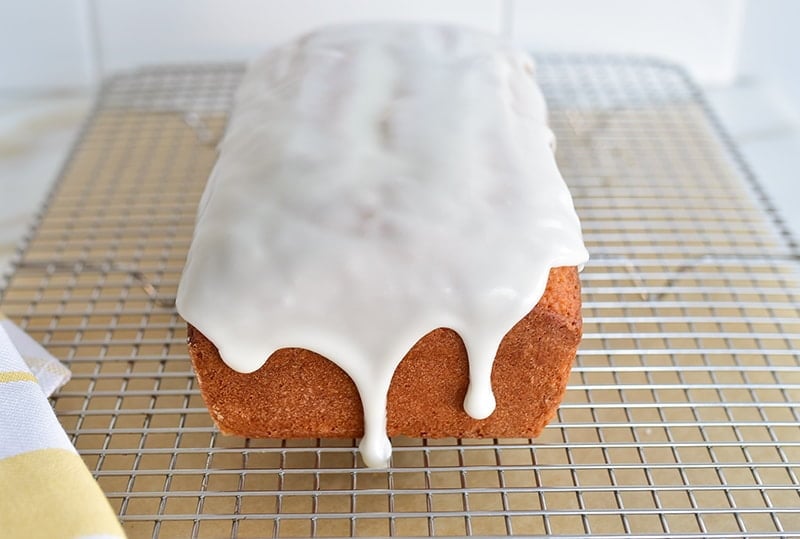 Why bake a cake with olive oil, you ask?
I have asked same. Cakes, even our standard cake mixes, often call for oil in the mix. The reason: oil makes for a tender, moist crumb. Typically oil-based cake recipes call for neutral oil, vegetable or seed oil (canola, safflower, etc.).
Olive oil is a terrific addition for adding its own notes, a complexity, to the flavor of the cake. With chocolate olive oil cakes, that complexity may not be quite as noticeable, yet still a terrific combo given the bitter and complex flavor notes in chocolate.
Another important ingredient. Or two.
My olive oil cake is meant to allow the flavor of the oil to shine through. To my thinking that means keeping other flavorings subtle, and rounding out the richness with yogurt, one of my favorite cake ingredients. The acid in the yogurt does its job perfectly, adding even more moisture and tenderness. For yet another layer of brightness, a shower of lemon zest woken up with a swift rubbing together with the sugar is a perfect compliment. Discovery: even your dry lemons that have sat out on the counter too long can zest just fine into your cake….
With Sugar on Top.
Many olive oil cake recipes are very plain, in a round cake pan ending with a dusting of confectioners' sugar.  A round cake suggests something more, something party-esque. This is one reason why I use a loaf pan for my olive oil cake. This cake in all of its tender deliciousness is in the tea-cake category, a slice with a cup in the afternoon or after an easy dinner or when a friend stops in to say hi hi.
I wanted simple out of my EVOO cake recipe (no mixer), especially in a January post-holiday moment, but plain I just can't do (see this, this, this, etc.).
Enter the glaze topping. A thick, shiny shellac of a glaze is so easy to stir up with confectioners' sugar and yogurt. A whisper of orange blossom water.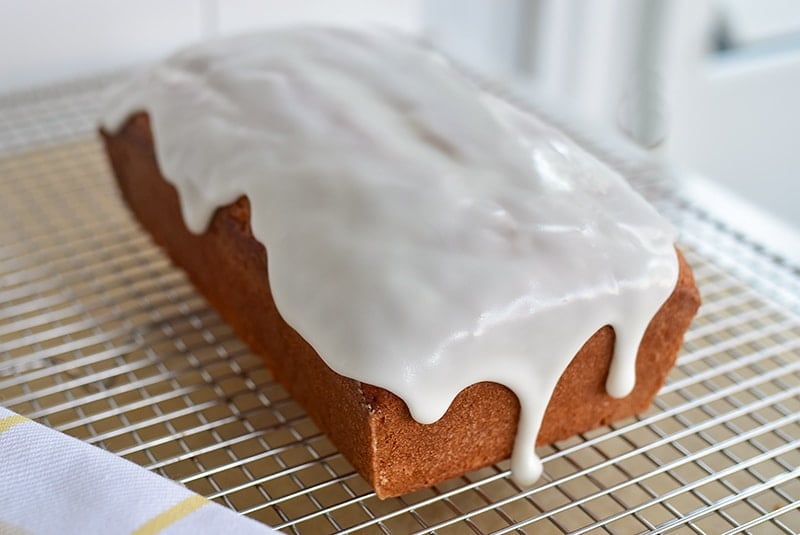 Tips
You're making this cake often and want to change it up? Try orange or lime zest in place of lemon. Or use vanilla extract, orange blossom or rose water instead of citrus.
Same goes for the glaze: flavor to your heart's content with vanilla, lemon, orange, lime. Or top with a dusting of chopped pistachio for festive color and flavor.
This cake serves as a wonderful shortcake with fruit compotes of any kind, or as the cake layers in a trifle.
To make ahead, freeze the unglazed cake well-wrapped, and top the thawed cake with the glaze before serving.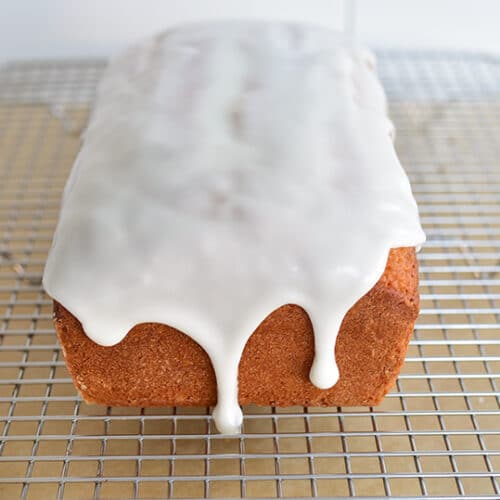 Olive Oil Cake
High quality extra virgin olive oil is a must for this cake, which relies on the oil for subtle, fabulous flavor. Whole milk labneh (or Greek yogurt) can be replaced with lower fat content or with plain yogurt.
Ingredients
For the cake:
1/2

cup

extra virgin olive oil, plus more to coat the pan

1 1/2

cups

unbleached, all-purpose flour, plus more to coat the pan

2

teaspoons

baking powder

1/2

teaspoon

salt

1

cup

granulated sugar

Zest

of two lemons

2

large

eggs

3/4

cup

whole milk labneh
Instructions
Position an oven rack to the center of the oven and heat to 350°F. Use a paper towel or napkin to coat an 8-inch loaf pan with a couple of drops of olive oil. Coat the pan with flour, knocking out any excess.

In a small bowl, whisk the flour, baking powder, and salt.

In a medium bowl, rub the sugar and lemon zest with your fingers to release the beautiful lemon flavor. Whisk in the olive oil, eggs, and labneh.

Fold in the dry ingredients until combined. The batter will be lumpy.

Spread evenly in the prepared loaf pan and bake until deep golden brown, about 50 minutes.

Meanwhile, make the glaze. Whisk the confectioners' sugar and labneh until combined. Add the orange blossom water. Adjust adding more confectioners' sugar or labneh to create a thick, pourable glaze.

Cool the cake in the pan for 15 minutes, then remove the cake to a rack set over a piece of parchment that will catch any glaze drippings. When the cake is completely cooled, spoon the glaze over top. Allow the glaze to harden briefly before serving.
Nutrition information is automatically calculated, so should only be used as an approximation.
Like this recipe? Leave a comment below!
(Visited 2,364 times, 1 visits today)