Mixed Nut Rice Pilaf, Lebanese Hushweh
Oct 16, 2019, Updated May 06, 2023
This Mixed Nut Rice Pilaf is a version of the classic Lebanese dish, hushweh, and our weekly go-to. The "fried" or toasted nuts are a salty, incredibly flavorful topping to the rice, which is packed with savory beef and chicken. Everyone loves this dish for its deliciousness and ease, a winner.
It's true that I make certain same dishes often, weekly. I'm not this cook: Sunday is roast, Monday is spaghetti, Tuesday is meatloaf, etc. (P.S., I don't make meatloaf. Ever. And I like it. I just don't make). But I do enjoy a routine dish or two that I can put together with my eyes closed and that I know everyone will like, no matter who comes walking in.
But within the ease of the consistent making of a dish is that need, that desire to improve upon it. To learn. To grow.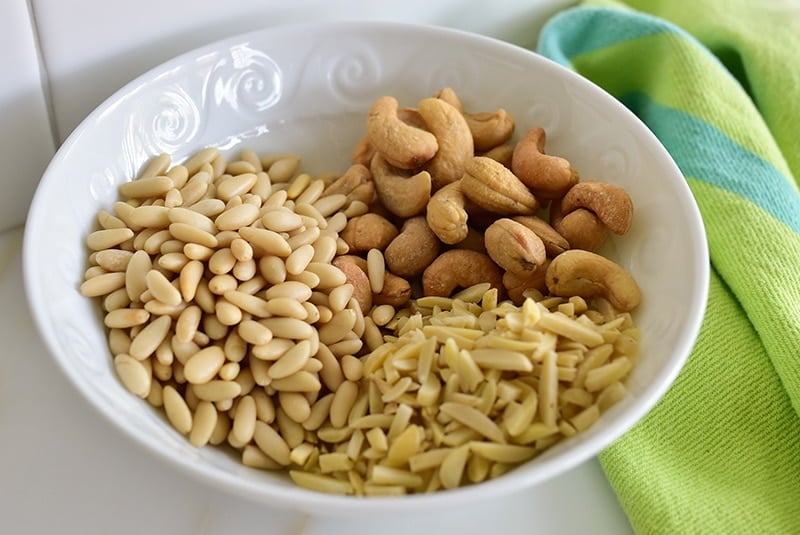 Our favorite routine-dish is hushweh. This rice pilaf dish with ground beef and chicken is a classic in Lebanese cuisine, with a flavor so deeply savory and easy on the eater (and cook), that we make ours for Sunday supper, sick days, and what-the-heck-should-we-make-for-dinner days alike.
The word itself means "stuffing." I have yet to experience our hushweh stuffed in a bird, though I understand this is done still in some kitchens here and there (meaning here in the U.S., and there in Lebanon). The drippings from the chicken must impart a similar umami richness as they do in my roasted chicken fattoush.
Hushweh is the dish that inspired my first serious piece of published food writing (in the Washington Post, here), an ode to my father and even more so to the generous, loving and hospitable ways of the Lebanese.
The finest hushweh I ever laid eyes on was brought to our home when Sitto passed away. It came from her family who are owners of Beirut Bakery in Detroit (note to self: you can order their food, frozen, for your parties and whatnot…it's fabulous). Their massive pilaf was topped with such a stunning layer of toasted nuts that one could not look away. I never forgot this and think of it every single time I make my hushweh nuts, always adding another handful to the pan of buttery, toasting goodness. Because, why not?
Also, once I heard an off-hand comment from our friend Greg Abraham, noting that in his family, they'll put on a big mix of their favorite nuts. After that, my nut-loving taste buds were wanting to nut-up my Hushweh. Then, after trying the hushweh Greg's brother made, I experienced a moistness that had nothing to do with mushiness. I saw Chuck was pouring on a bit of chicken stock after the Hushweh was said and done (but before the addition of the toasted nuts).
I don't mind saying that I've turned out a mushy hushweh or two in my day. Sometimes there are very basic culinary rules that escape one's mind. Here: how about rinsing the rice, Maureen? There is plenty of starch on the rice that can cause a mush. Sittos/grandmothers/aunts/whoever makes a lot of rice know this: rinse that rice.
Once I started rinsing, my hushweh was far less prone to mush. Also, I've been holding back on the liquid by a lot. I save that final ½ cup to add to the hushweh once it's fully cooked and done, if it seems at all dry.
Now that I have upped my hushweh game, I have to hold myself back from reaching for the hushweh pot more than once a week. Wouldn't want to get into a rut. Or, maybe I would….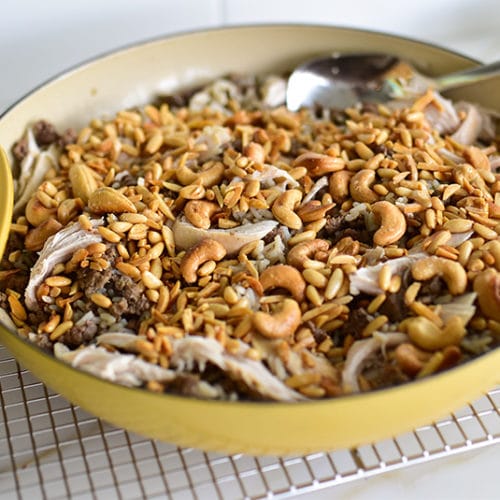 Mixed Nut Rice Pilaf, Lebanese Hushweh
A very favorite here, and soon to be there too, I suspect. Use any combination of nuts you love. Hushweh reheats beautifully on the stove or in the microwave; just sprinkle with a bit of water or broth before reheating. For the shredded chicken, roast a whole chicken, or bone-in or skinless breasts. A grocery-store roasted chicken is also a fast option. Serve the hushweh with a green salad and a dollop of labneh (Greek yogurt).
Ingredients
For the Mixed Nuts:
2

tablespoons

salted butter

1/2

cup

pine nuts

1/2

cup

roasted, salted cashews (raw is also fine)

1/2

cup

slivered almonds

1/2

teaspoon

kosher salt
For the Rice Pilaf:
2

tablespoons

extra virgin olive oil

1

cup

long grain white rice

1

pound

ground beef

1

teaspoon

cinnamon

1

teaspoon

kosher salt

Few grinds

Black pepper

1 1/2

cups

chicken stock, plus more for finishing, if needed

2 – 3

cups

warm cooked chicken meat, shredded into bite-size pieces
Instructions
In a dutch oven or skillet with a lid, melt the butter over medium heat. Add the nuts. When the butter foams up, leave the nuts undisturbed for a minute or two so the nuts will toast in the foamy butter. Then stir constantly until the nuts are golden. Transfer the nuts to a bowl and add a teaspoon of salt while they are hot, and stir to combine. Set aside. And try not to eat them all.

In a medium bowl, cover the rice by several inches with cool water. Rinse, and repeat several times until the water runs fairly clear. Set aside.

In the same pan, heat the olive oil over medium heat. Add the ground beef, breaking it up into small pieces with the side of a large spoon as it browns. Season the meat with cinnamon, salt, and pepper. Add the rice and chicken stock, stir to combine, cover and bring to a boil. Reduce the heat to medium low and simmer, covered, for about 20 minutes, or until the rice is cooked. Do not stir while the rice is cooking. Remove the lid toward the end of cooking to allow steam to escape.

Add the pulled chicken pieces to the hot rice mixture and combine. If needed, stir in a touch more chicken broth to moisten. Top with all of the toasted nuts, and serve immediately.
Nutrition information is automatically calculated, so should only be used as an approximation.
Like this recipe? Leave a comment below!
(Visited 23,003 times, 1 visits today)