Green Beans with Onions and Pomegranate
Jun 12, 2020, Updated May 02, 2023
Green Beans and onions and pomegranate are gently sweetened with pomegranate molasses (find it here). This dish is at home at summer cookouts as it is on the holiday buffet.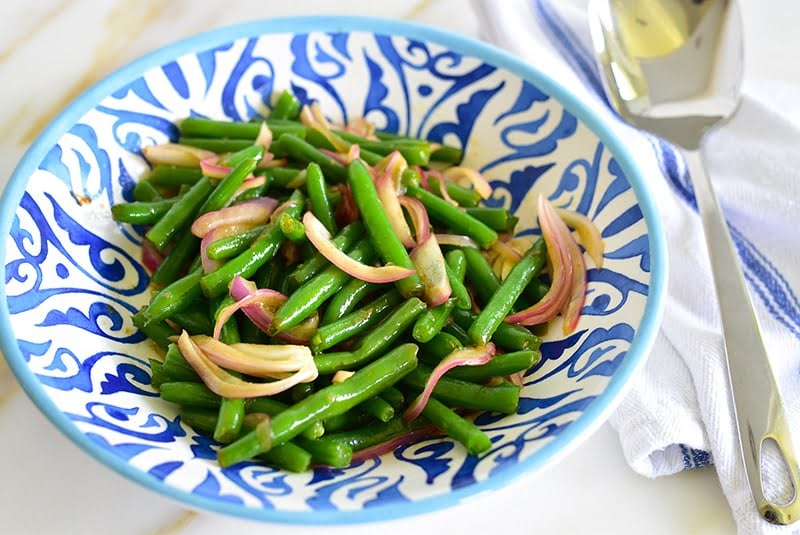 For how tiny the country of Lebanon is (a little smaller than Connecticut), the diaspora of the Lebanese outside of Lebanon seems to be absolutely ginormous.
I was talking with a new friend up north recently, and when Lebanese cuisine came up (is it any surprise that most roads lead there in my conversations?), she said HEY!, my husband's Lebanese! She proceeded to send me recipes from his MOTHER. These are what I consider treasure trove, the stuff of legacy-joy, more shiny even than every solid gold charm on the bracelet Aunt Hilda gave me before she died.
Included among the recipes was one for flat bread. Which this not-Lebanese friend was already baking and no doubt mastering. I won't go there right now other than to say, I'm on fire for the bread and you WILL hear mor from me on this. So much you'll ask me to stop.
A simple green bean recipe flashed glittery before my eyes too. Pomegranate molasses, lemon, and garlic marinate onions, and the onions flavor the vinaigrette as they marinate. Then all of it is tossed with crisp-cooked green beans. We've eaten the bean dish as a lunchtime main, and also alongside barbeque. Winner!
Another friend in on the recipe swap made the bean recipe using mulberry syrup and snap peas. Sweeter, fabulous. Don't you love how flexible a dish like this can be?
I have a great tip here for cooking your green beans (or snap peas or any green vegetable). This way is especially helpful when you have many things going on at once in your kitchen.
Bring your salted water to a boil. Add your beans/snaps/etc. Remove the pot from the heat. The beans will cook very slowly, so you have more time to check them and they are less likely to overcook. I relate this method to Ina Garten's low-and-slow method for roasting a whole tenderloin. At 325 degrees, the tenderloin will cook to perfection (which for us is just a tich longer than medium rare) and is not likely to overcook because the heat is not so strong, and the slow way gives you leeway. I've never overcooked a tenderloin since doing it this way. Never overcooked a bean or green veg cooking them off the heat, either….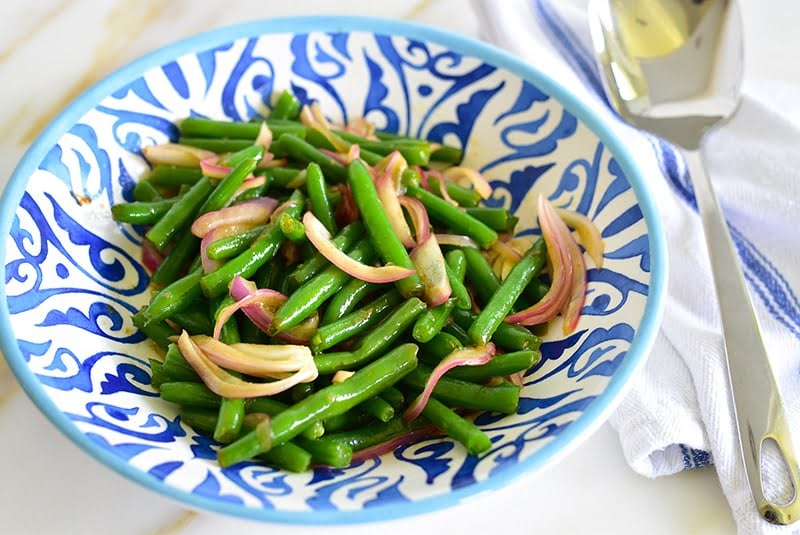 Green Beans with Onions and Pomegranate
To make this dish in advance, wait until just before serving to combine the beans and onions. Both can be kept refrigerated for a couple ofdays in advance. Mulberry syrup is also delicious here in place of the pomegranate molasses. Find them both here.
Ingredients
2

tablespoons

pomegranate molasses

Juice of 1/2 lemon

3

tablespoons

extra virgin olive oil

1

teaspoon

kosher salt, plus more for the beans

2

cloves

garlic, minced or grated

Few grinds

black pepper

1

small

red onion, thinly sliced

1

pound

green beans, trimmed and cut in 2-inch pieces
Instructions
In a small bowl, whisk the pomegranate molasses, lemon juice, olive oil, salt, pepper, and garlic until well combined. Add the sliced onion and stir to coat entirely with the vinaigrette. Cover and marinate for 1hour.

In a medium saucepan, bring plenty of water with a tablespoon or so of salt to a boil. Add the beans and remove the pan from the heat. Allow the beans to cook in the hot water until they are bright and crisp, about 10 minutes. Drain.

In a serving dish, toss the beans with the onions and vinaigrette. Taste, and adjust seasonings as desired. Serve immediately.
Nutrition information is automatically calculated, so should only be used as an approximation.
Like this recipe? Leave a comment below!
(Visited 3,926 times, 1 visits today)