Asparagus Pickles with Grape Leaves
Asparagus pickles with grape leaves in the jar go extra-crisp! The grape leaves deliver tannins that impart more crunch. These are refrigerator pickles, quick and easy. So delicious for your cocktail hour or on the buffet.
This recipe is as much about the humble grape leaf as it is about the grand pickled asparagus. I have heard over the years that the addition of a grape leaf to the pickle jar, upon pickling, will impart a crunchier end result.
But the idea went in one ear and out the other, probably because when we grape leaf, it's always about this massive project of rolling at least a hundred leaves for a big family dinner, usually a holiday. Beyond that, I tend to ignore grape leaves to the degree that I'm pretty certain I've hurt Dan's feelings. He loves them so.
A text from my friend Lisa recently asking me if I use the grape leaf in pickling got me going. Her asparagus pickling project, from 20 pounds, yielded greatness. And she wondered if the addition of a leaf in each jar, as she heard, would do as prescribed for pickle-crunch.
As is often the case when a teacher at heart is asked a question for which she does not have the answer, I set to it: Grape leaves release tannins that provide the crunch we want and need in our pickle jar. This would be the perfect excuse for me to pluck just a few of the low, tender leaves from the vines I spied on our running path and see if it's worth our while.
I'm like an eagle eye for the vines (you can be too; see here). A hunter always in search of her treasure no matter where I am. We come by this honestly, those of us who grew up with the Sittos and the mamas on constant lookout.
Besides, this would give me the perfect reason to employ the case of beautiful Weck asparagus pickling jars I bought a long time ago. They sit in my pantry patiently awaiting use.
The asparagus pickles are a simple style, as mine most often are. Refrigerator pickles. I'm just a lazy pickler in that I enjoy making small batches. We eat them up, then I make more with whatever next vegetable is seasonable.
Results: crisp! Very crunchy! I consider this especially great for asparagus, because the long stalk can get so wilty under brine. But this recipe, the brine and the grape leaf and other inclusions, works for other vegetables too.
P.S. The leaf in the jar, along with fresh dill sprigs, looks so beautiful, so pro. This is how I feel about the mixed pickle jar too, a profusion of pretty. You'll be happy to have the jar sitting out as you gather with everyone. And you will be double happy to hand off a pretty jar to a friend.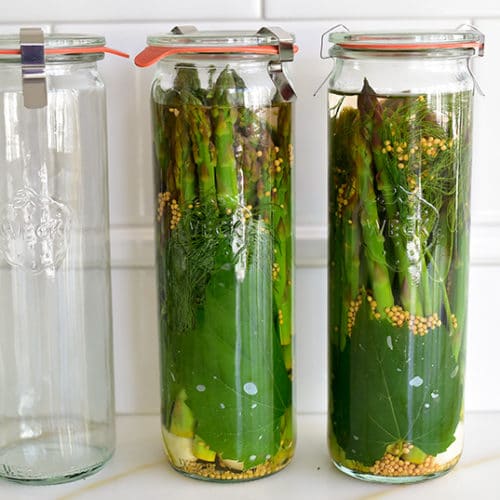 Aparagus Pickles with Grape Leaves
The grape leaf imparts added crunch to the pickles. This recipe works for other vegetables, too. These are refrigerator pickles, not to be kept at room temperature. Allow the pickles to cure in the refrigerator for about a week for great flavor. Use any jars tall enough to accomodate the height of your asparagus. Asparagus pickle jars are especially pretty.
Ingredients
2

pounds

long, thicker asparagus

2

cups

water

1/3

cup

apple cider vinegar (white wine vinegar or standard vinegar are also fine)

1

tablespoon

kosher salt

2

tablespoons

sugar (or honey)

4

cloves

garlic, peeled

4

small

fresh grape leaves

2

sprigs

fresh dill

1

teaspoon

mustard seeds
Instructions
To blanch the asparagus, bring a large pot of water to boil.

Meanwhile, stack the asparagus on a cutting board and evenly cut the stems about 2 inches from the bottom. Discard cut stems.

Fill a large bowl with ice and water, stirring to separate the ice cubes. Place this near the pot of boiling water, as the asparagus will go directly from blanching into this ice bath.

Using a spider or large tongs, dip several spears of asparagus into the boiling water and hold there for 15 seconds and not longer! Repeat with the rest of the asparagus, leaving all of them in the ice bath together while the brine is made.

To make the brine, combine the water, vinegar, salt, and sugar. Bring the mixture a boil over medium heat, stirring until the salt and sugar begin to dissolve. Remove from the heat and stir until dissolved. Let the mixture cool; you can pour the brine into a glass measuring cup or a metal bowl to speed up the cooling.

Remove the asparagus from the ice bath to a board to drain.

Place two grapeleaves in the each jar with vein-side facing in. Add two garlic cloves to each jar. Carefull fill each jar tightly with asparagus, tips at the top of the jar. Tuck a dill spear into the outer edge of each jar so it's visible. Add 1/2 teaspoon of mustard seeds to each jar.

Using a funnel if you have one, pour the brine into the jars, half in each jar. Put the lid on the jars and refrigerate for about a week before serving. If you eat them sooner, they'll still be delicious!
Nutrition information is automatically calculated, so should only be used as an approximation.
Like this recipe? Leave a comment below!
(Visited 2,640 times, 1 visits today)