5 Lebanese Thanksgiving Salads
Nov 07, 2022, Updated Sep 26, 2023
Any one of these 5 Lebanese Thanksgiving salads will be delicious alongside the turkey and trimmings–and any night of the week for their flavor, nutrition, and simplicity.
Lebanese Fattoush Salad
I could eat this salad every single day and still want more! See how it's done in my video, right here! Get the Fattoush Kit for the vinaigrette here! Find the recipe for the pita chips here. You can add cucumbers and any other vegetables you have on hand to this salad. The more the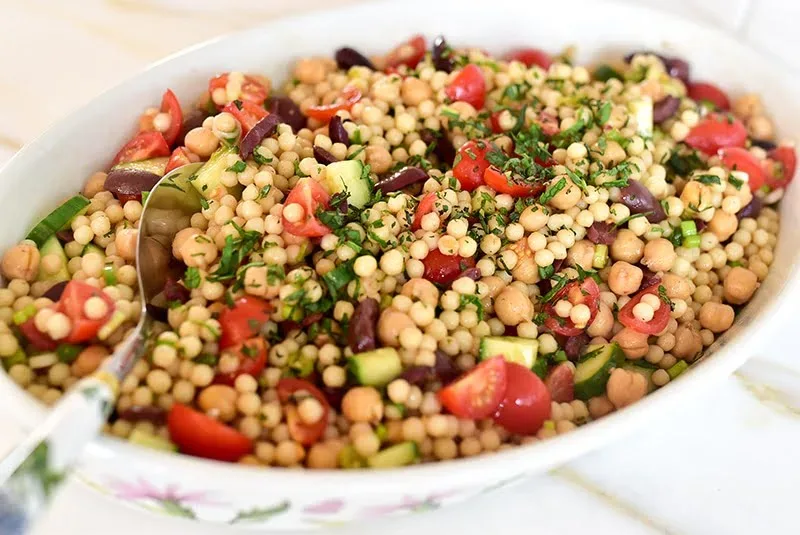 Lebanese Couscous Salad
Think of this as a kind of pasta salad, with large Lebanese couscous as the star! The variety of fresh vegetables add so much color, flavor and texture. And those chickpeas! They pack protein, fiber, and a flavor we love. This salad is excellent for cookouts, holiday gatherings, and everyday meals at home. Make a batch and enjoy for several days, a great lunch or snack as well as a side dish people go crazy over! The couscous can be made a day in advance and chilled (drained).
Caprese Salad with Pomegranate and Mint
Caprese salad with pomegranate and mint is a flavor explosion. The pomegranate molasses, like balsamic vinegar, lends a sweet-tart note to ripe tomatoes. I figure it was because we had such a cold and unforgiving winter last year (polar vortex, lest we've forgotten), but when the leaves made a full appearance last spring, I felt
Avocado Tabbouleh, the original chopped salad!
This Lebanese chopped salad is a labor of love! SO worth it! I use a blend of parsley and mint as the foundation of this salad, along with diced tomato, sliced green onion, cucumber, and my special twist: avocado! Be sure to select firm-ripe avocados that aren't too soft for this recipe. Serve the salad in little lettuce cups, Lebanese-style.
Lebanese Village Salad
Lebanese Village Salad is a chopped vegetable salad. The ingredients are so flexible! Mine contains a special twist with chopped apple and a honey vinaigrette. At the top of the traditional Lebanese salad list is the Village Salad. This chopped salad typically includes cucumber, tomato, and onion. From there, the palette is as varied as
(Visited 1,014 times, 1 visits today)