Za'atar Swirl Bread
Oct 02, 2019, Updated Jan 19, 2023
Za'atar Swirl Bread showcases the fabulous flavor of za'atar in a delicate bread enriched with eggs and olive oil. The method to the glorious twisted loaves is straightforward and very doable!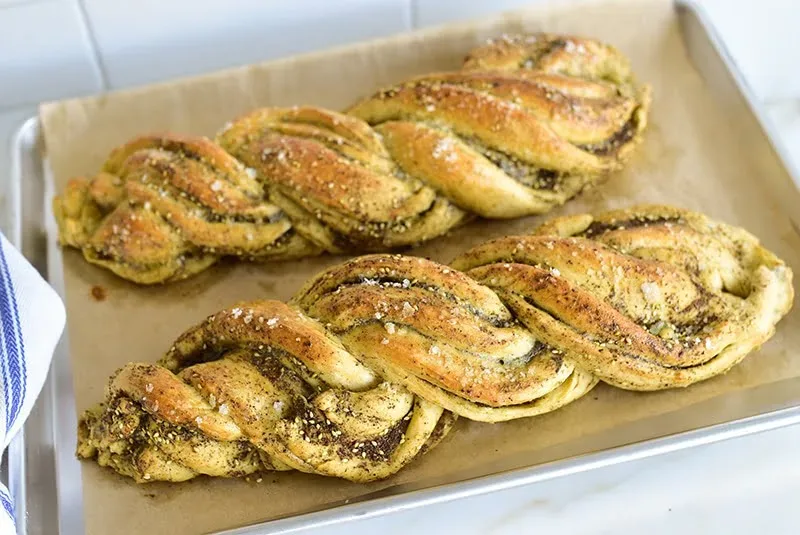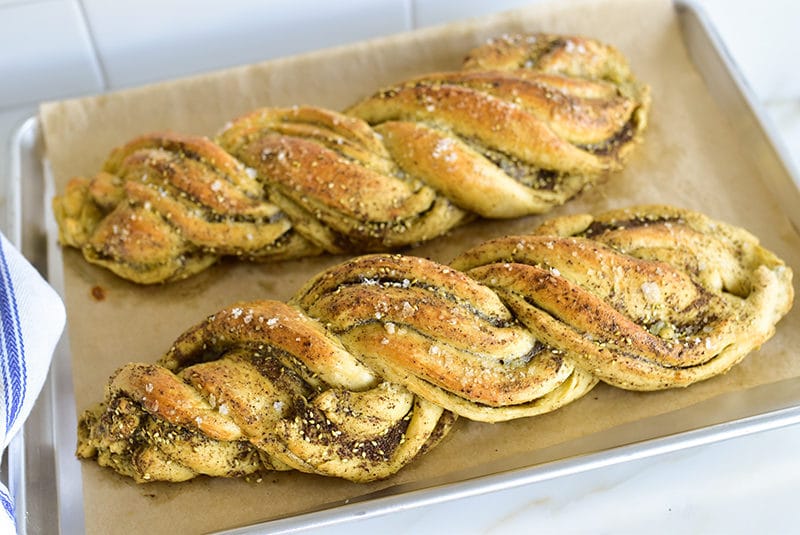 Dan, upon tasting za'atar swirl bread:
This bread has it ALL.
(chews a big bite)
This bread has flavor. I can taste the za'atar. I can crunch the salt.
(another big bite)
The bread has texture. It's so soft. Yet substantial. With a crisp exterior.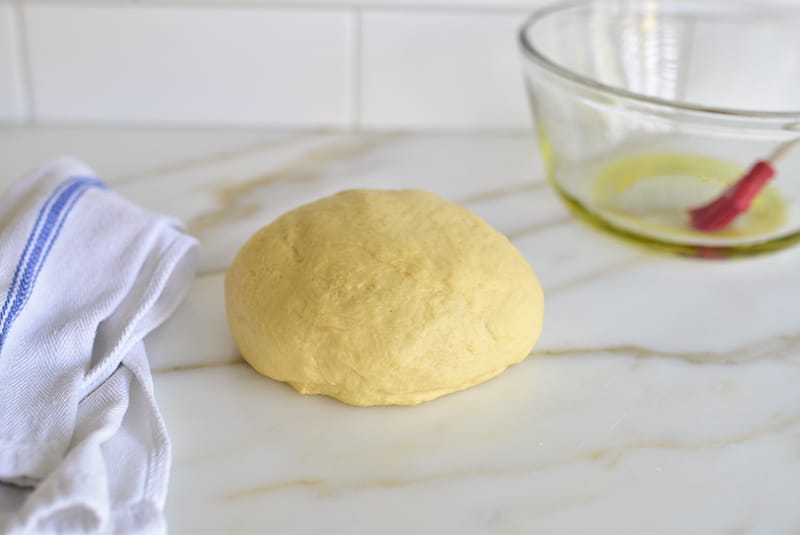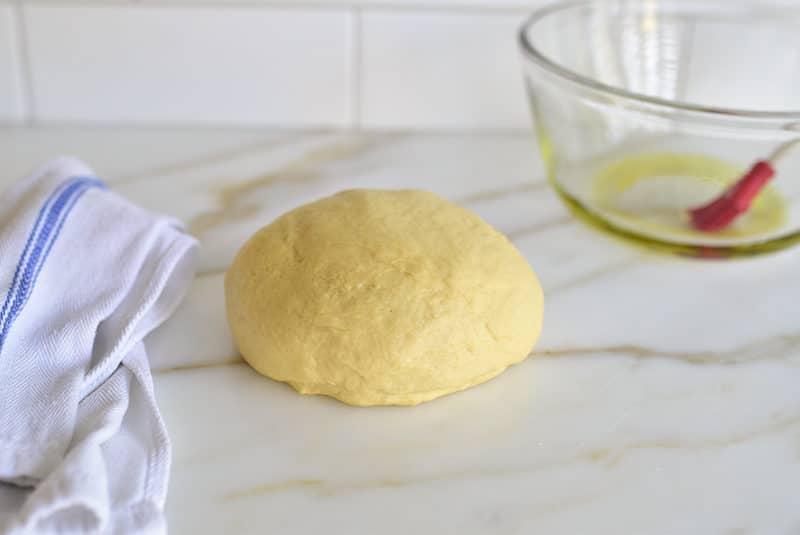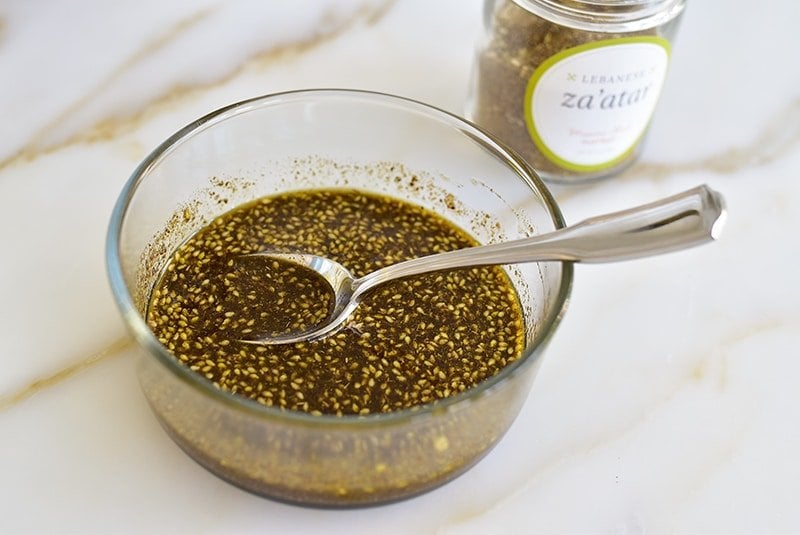 Maureen, upon hearing his remarks (and seeing them: he stood in the kitchen with his hands speaking with the words):
Well that makes my day!
Dan:
Your day? Makes my day more.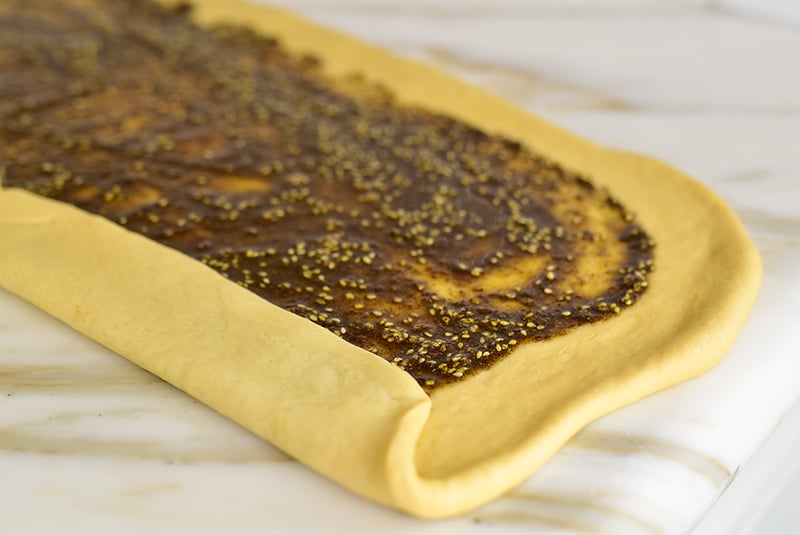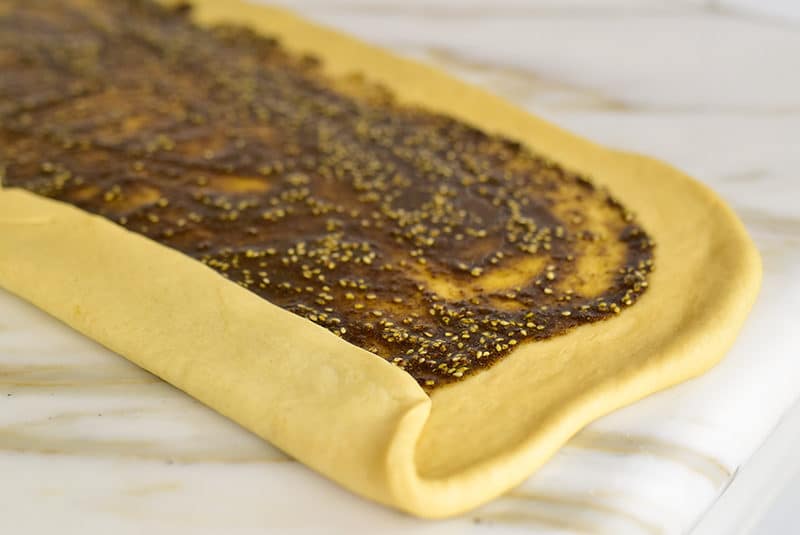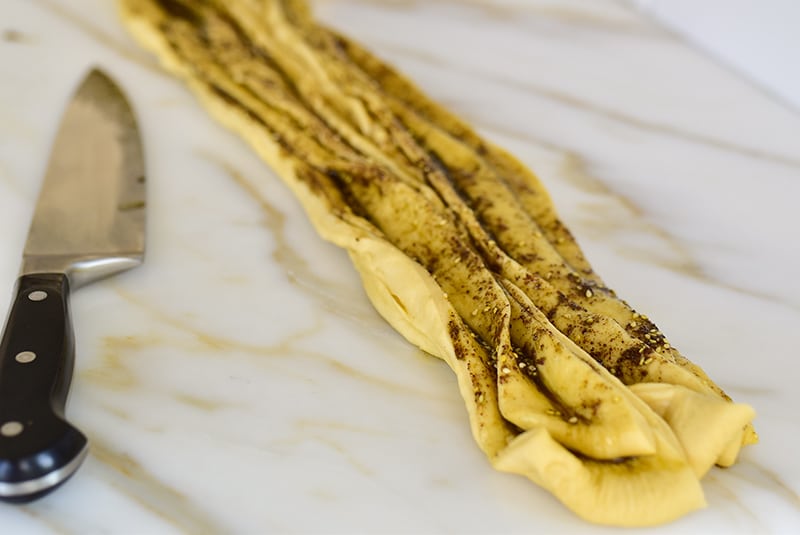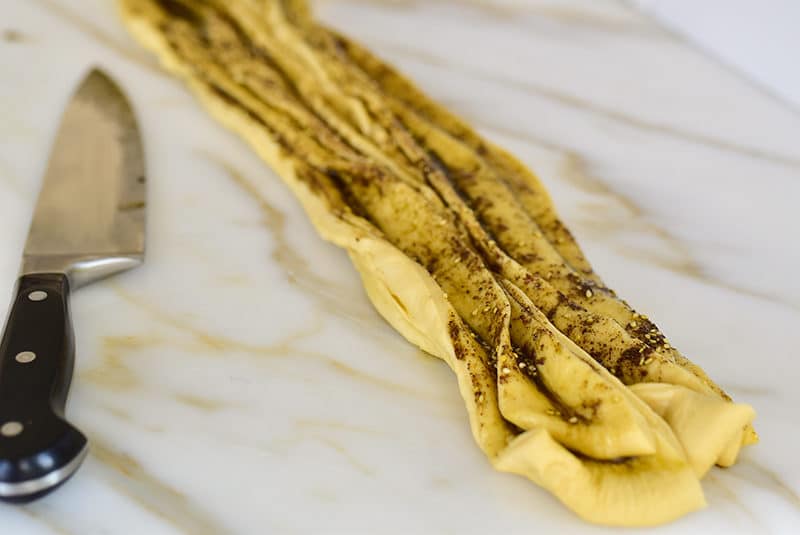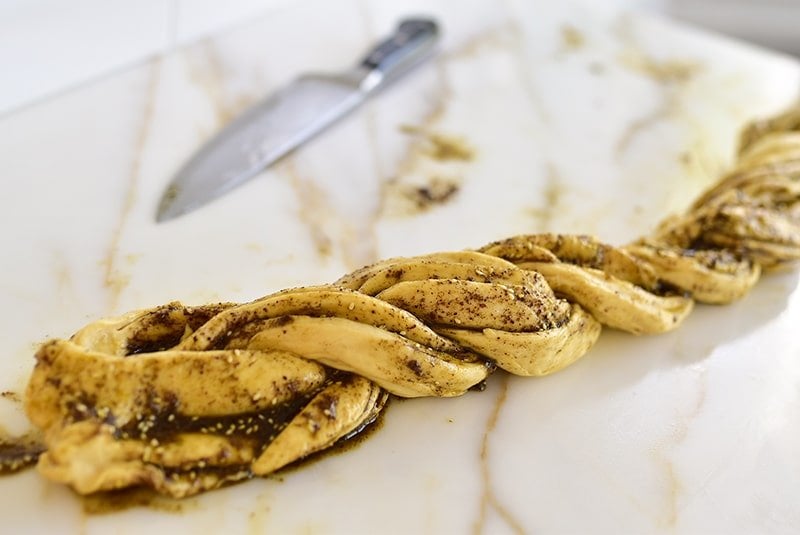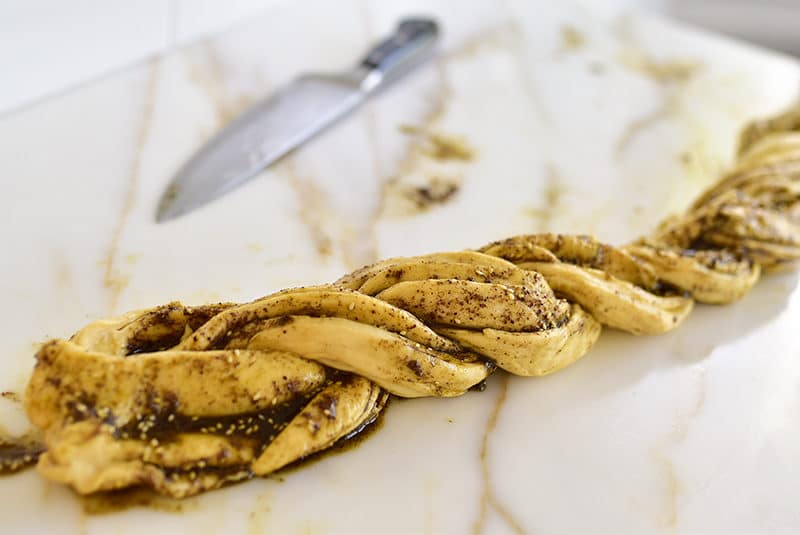 So. If you want a beautiful bread that has it ALL, here you go.
Za'atar, the Lebanese spice blend of wild thyme, sumac, and sesame seeds (pronounced ZAH-tuh; find a great one here), is mixed with oil, then spread on enriched dough (oil, eggs).
The dough is rolled up with the za'atar filling, then cut along its tremendous length, then twisted and split in half to form two gorgeous loaves (don't worry, there's ample instruction on how-to–and you sure can). I looked to my Christmas Breakfast Wreath bread as a starting point, but no wreath, and no sweet.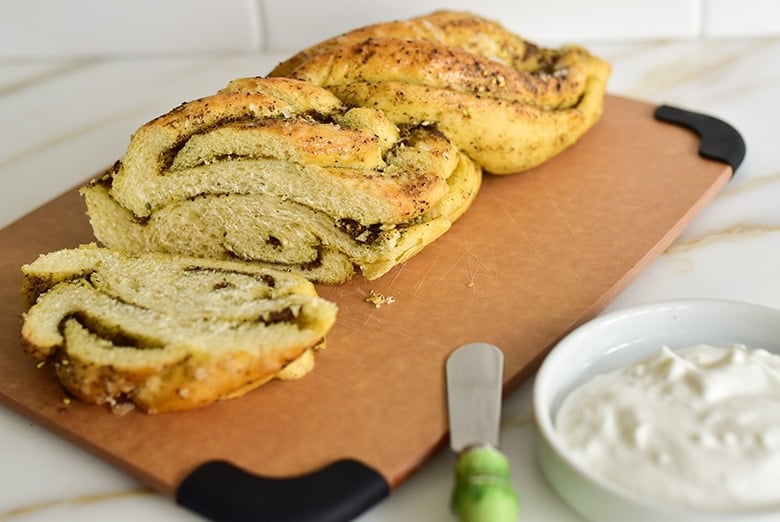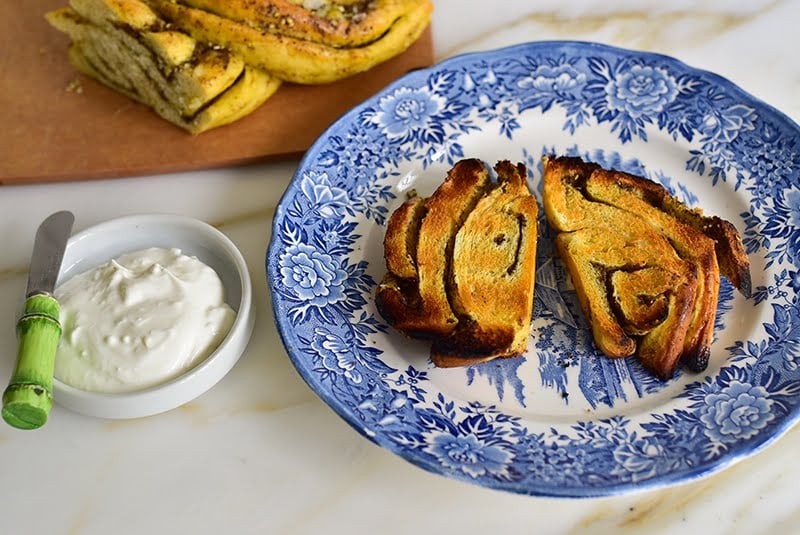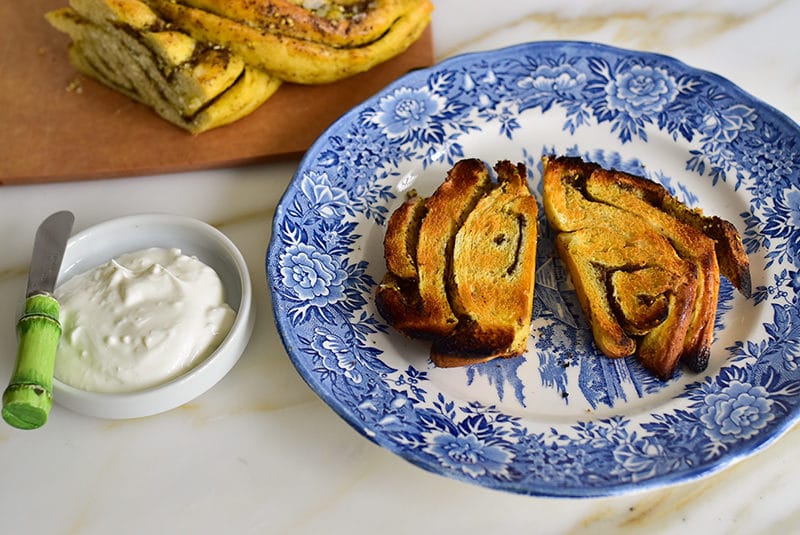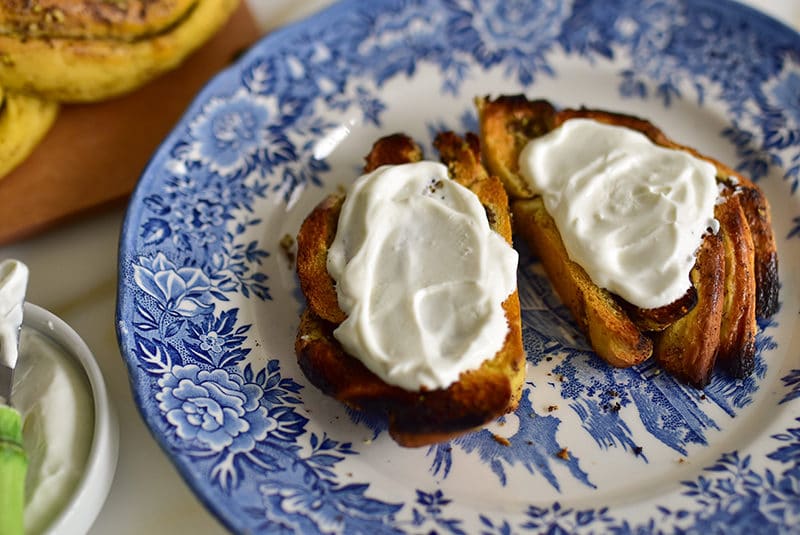 The final egg wash is for browning but also to adhere crunchy flakes of sea salt to the top, for even more flavor and texture.
Za'atar Twist Bread slices will dunk happily into all of the warm soups and stews to come in the months ahead.
Thick slices also toast to perfection for breakfast, where za'atar is very much at home. Slather with labneh. Day is made.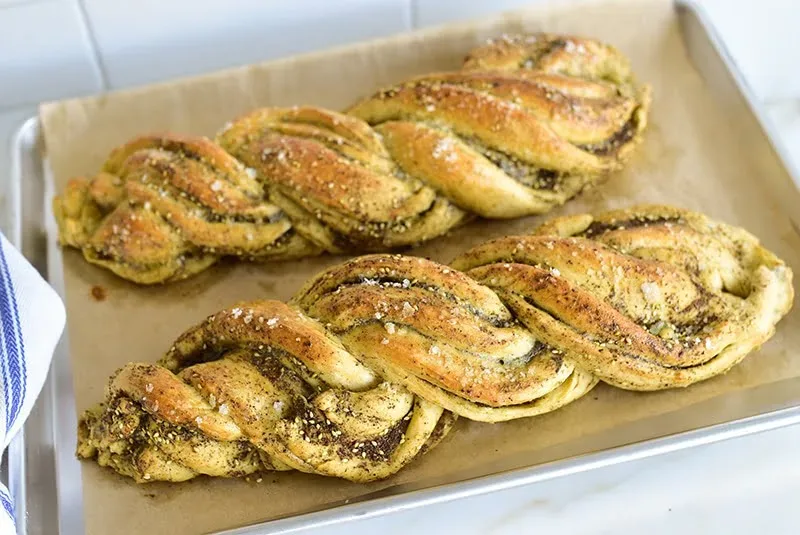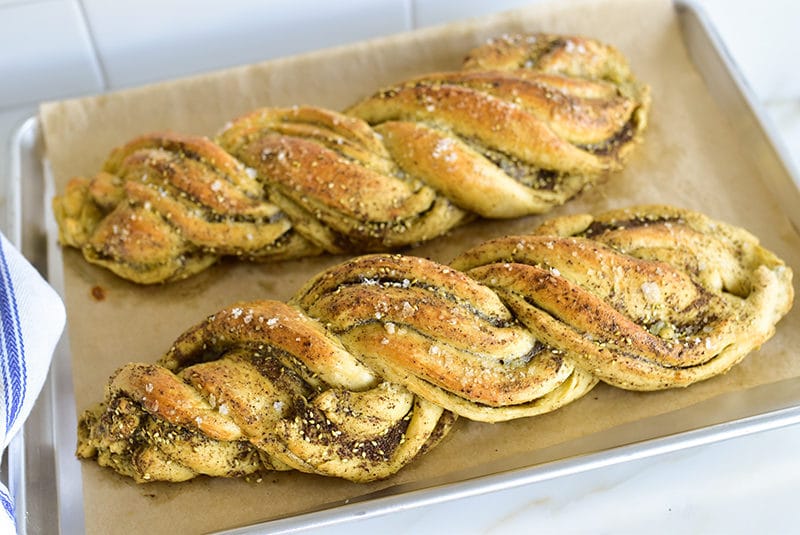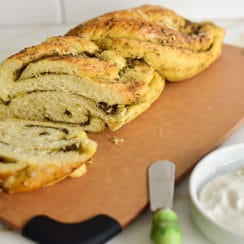 Za'atar Swirl Bread
An enriched, soft bread swirled with a filling of za'atar and olive oil makes excellent toast, a beautiful presentation at any table, and a lovely gift. The recipe makes two loaves, so you'll have one to share. Be sure to wrap well and freeze the bread if not eating within a day.
Ingredients
For the dough:
1

packet

active dry yeast, or 2 1/4 teaspoons

3/4

cup

warm water, about 105 degrees

1

tablespoon

granulated sugar

2

large

eggs, room temperature

1/4

cup

extra virgin olive oil

3 1/2

cups

unbleached, all-purpose flour

2

teaspoons

kosher salt
For the egg wash + finishing:
Instructions
In a large mixing bowl (in a stand mixer or by hand), dissolve the yeast and sugar in the water until it is creamy and foaming, about 10 minutes. Blend in the olive and eggs with a spoon or the hook attachment in the stand mixer. Mix in two cups of the flour, one cup at a time, along with the 2 teaspoons salt. Beat or work with your hands for 2 minutes. Slowly add the remaining flour ½ cup at a time until you have a soft dough that is only
slightly sticky.

Knead the dough until smooth on a lightly floured work surface and knead, adding flour to keep the dough from sticking, 5 to 10 minutes. Even if you're using the stand mixer to start, do this by hand to enjoy the full experience of this wonderful dough. Place in a clean large, lightly oiled mixing bowl. Cover with plastic wrap and let it rise in a warm place until doubled in bulk, about 90 minutes.

In a small bowl, stir the za'atar and olive oil.

When dough has doubled in size, turn it out onto a large, lightly floured work surface. Taking control of the dough and using a measuring tape, roll the dough into a 9×30-inch rectangle. Spoon the za'atar filling over the dough and spread to about an inch around the perimeter, leaving that perimeter clean.

Starting along a long side, tightly roll up the dough, pinching the edge against loaf to seal it. With a sharp knife, cut the roll in half lengthwise. Gently turn the halves so the cut sides are facing up, and then loosely twist the halves around each other, keeping the cut sides up. Pinch the center of the long twist to separate the twist into two even lengths. Pinch all of the ends of the loaves to hold the twists together.

Line a baking sheet with parchment or non-stick baking mat. Carefully transfer the ropes to the baking sheet by picking up portions and moving them gently a bit at a time. Leave as much space as possible between the loaves. Brush the tops of the loaves with the beaten egg. Let them rise again, lightly covered, in a warm place until puffy, about 45 minutes.

Preheat the oven to 350°F. Brush the loaves again with the egg wash, and this time sprinkle the tops evenly with the sea salt. Bake the loaves until they are light golden brown in spots, about 25 minutes.

Cut into slices and serve warm.
Nutrition information is automatically calculated, so should only be used as an approximation.
Like this recipe? Leave a comment below!
(Visited 14,565 times, 1 visits today)