Za'atar Roasted Pumpkin Seeds
Oct 18, 2015, Updated Apr 30, 2023
Roasted pumpkin seeds are addictively good as they are, but adding a dusting of Lebanese za'atar spice takes them over the top! These are good for adults and kids alike. Make plenty.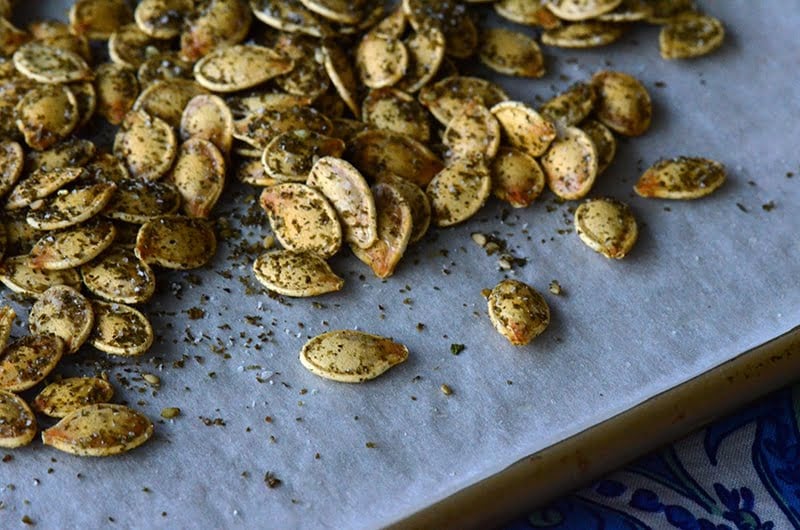 I stopped buying pumpkins years ago when I moved to Chicago. They were always so pricey there, ridiculously so. And then there was the transport issue: if you walk it home, you better pick a small, lightweight one, and then you lose half the fun. If you cab it home, you've now made the humble squash even more rarefied.
When I came back to Michigan, the whole childhood thrill of the pumpkin season buoyed up my world again, and I became enamored with everything about them.
Well, almost everything. Nothing deadens my appetite quite like the whole pumpkin-spice delirium that is increasingly taking over this time of year. I'm just waiting for a pumpkin flavored smart water to show its face any time now. Once I was gifted with a large set of pumpkin spice, pumpkin orange candles that were so not my thing that I "forgot" them in the hotel room where I was staying at the time of the gifting.
Before you think I'm not even remotely American for my pumpkin-spice shunning, I do eat and sometimes make pumpkin pie. But then I'll only have a bite, ensconced deep in a puff of whipped cream. Probably the best pumpkin treat I've had were my own little pumpkin bundts, but that was admittedly about the chocolate glaze more than anything else. (Oh okay, they're pumpkin-y delicious!)
What I always loved about pumpkins had nothing to do with eating the flesh, but instead scooping out the seeds and roasting them while I carved a simple face to make a lantern. I remember the roasted seeds being completely addictive, and also feeling a little disappointed that a ginormous pumpkin only yielded about a cup or two of seeds.
Even though I've been back in the land of pumpkins strewn across the farm-market lawn, and not having to haul them home on the El or in a cab, for the last few years, I haven't actually carved one up since I was really really young. And then I wasn't the one doing the carving. When I pulled one of the big 'ole pumpkins from the front porch and went after it with my very sharp Shun knife recently, I was surprised how thick and how difficult it was to carve. I thought how clever I'd be saying what a breeze it is to carve a pumpkin when you use a very sharp knife, and I'm sure it helps, but way beyond that—it takes elbow grease. No doubt you parents of small children and other pumpkin-lovers have been carving up beauties year after year like many do, using carving kits that make it much easier.
However you get into your pumpkin, no matter–just get in there and get those seeds. There's no pumpkin spice or pumpkin anything that outdoes the scent and taste of a freshly-roasted pumpkin seed. These babies are nothing, NOTHING like the chalky-white, insanely salty pumpkin seeds sold in little bags at the gas station. Those make me sad, because I know what pumpkin seeds are meant to be.
That is: pulled from a (reasonably priced) pumpkin with your own gooey hand, rinsed and dried and coated with olive oil, then roasted low and slow until they're toasty in every way.
Then, just because we are who we are, toss a big handful of za'atar over them and a liberal dusting of salt.
Now we're talking pumpkin spice, Lebanese-style.
Za'atar Roasted Pumpkin Seeds
Just make as many as you can, because you're going to want more!

Instructions
Heat the oven to 325 degrees F. Using a sharp knife (and taking care!), cut the top off of the pumpkin. Pull out as many seeds as possible and place them in a large bowl. Fill the bowl with cold water to cover the seeds. Agitate the seeds with your hands until the stringy pumpkin releases from the seeds. The seeds will float to the top.

Scoop the seeds into another bowl, leaving the stringy water behind. Cover the seeds with water again and agitate them. Remove the seeds from the water with a slotted spoon and spread them out on a clean kitchen towel or paper towels. Pat the seeds as dry as possible.

In a clean bowl, mix the pumpkin seeds with the olive oil and salt. Line a sheet pan with parchment paper. Spread the pumpkin seeds evenly on the sheet pan. Roast in the oven for about 15 minutes, and stir the seeds. Roast for another 15 to 20 minutes, or until the seeds are light golden brown and crisp.

Return the warm roasted seeds to the bowl and sprinkle with za'atar to taste. Taste and add more salt and za'atar as needed. Serve immediately or store the cooled seeds in an airtight container for at least one week.
Nutrition information is automatically calculated, so should only be used as an approximation.
Like this recipe? Leave a comment below!
Save
(Visited 6,652 times, 1 visits today)