Za'atar Fried Chicken and my cookbook photo shoot
Aug 15, 2014, Updated Jan 04, 2023
When I take photos for Rose Water and Orange Blossoms, there are so many things to consider: the light, the lens, the plate, the background surface and the backdrop. And of course, the food itself. I run around the kitchen and down the stairs to get it all together, then hope the sun doesn't fall to a place where its light through the window becomes too bright or too dim, and all is lost until tomorrow…when the food may no longer be photo-ready.
Last week, I witnessed all of this action on a grand scale in the studio of photographer Jason Varney in Philadelphia. Jason and a crew of artistic wizards cooked, styled, propped, directed, and photographed more than 60 photos for Rose Water and Orange Blossoms, the cookbook (to be released spring 2015 by Running Press). I end that sentence with a period, but every sentence in this post, and every sentence I write about the book, should really be punctuated with a whole slew of exclamation points, for how excited I am to see this book coming to life!
The experience is…surreal?…watching such talented pros go at my recipes to show them off in all of their beautiful glory.
The styling process is much as you might imagine it to be: the food is glossed and dusted and tweezered to be sure the mint lays just so or the spoon looks naturally well-used after a dip in the mujadara.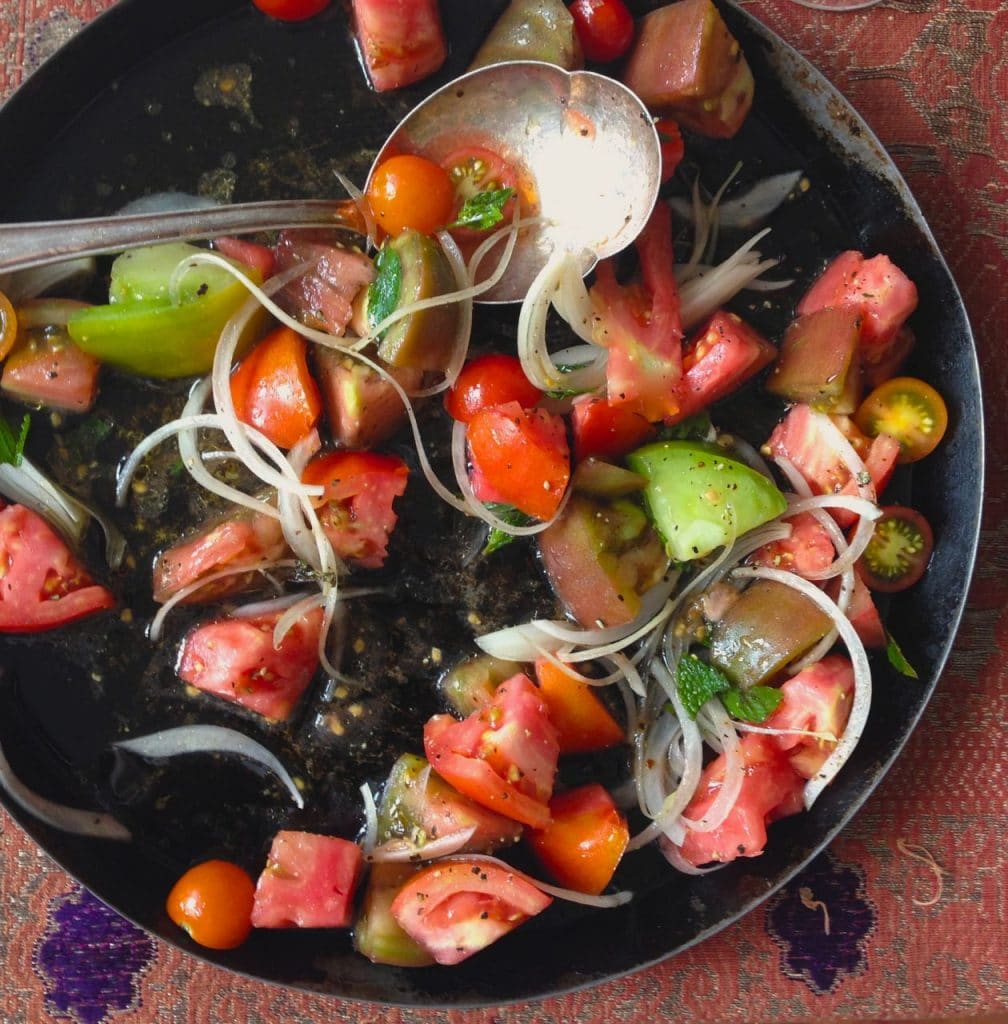 Of course, I didn't mind hearing all of them rave about the Lebanese deliciousness every time they tasted it (the fig and the apricot jams were a hit, and a crazy-good cake with warm orange blossom caramel too; can't wait to share that one in the book), and I've been bragging all week back home about how they raved about this and they raved about that, in true Aunt Hilda-style. My Aunt Hilda basked in the light of every awe-struck eater of her food, and she taught me to appreciate the same.
I was happy to realize that just like a writer in her kitchen and at her desk Up North in Michigan, photographers and stylists and art directors get pretty hungry doing their work. And Philadelphia, my friends, delivered. The wrap meal Jason hosted at Zahav, an Isreali gem of a favorite in the city, put me over the top with a line-up that'll make you weep, including an outrageously smooth hummus and a lacquered roasted lamb that silenced the table. This was an epic feast, as Jason said. Almost as SICK as the photo he took of our lifft, our pink pickled turnips. That one was so SICK, he said it might just be the sexiest, best photo he'd taken all year. Which is saying a lot, because it seems to me every photo Jason takes is the best photo ever, with light and composition and that special something  that comes from great artists. So that makes me very SICK happy, dude!
The final day of the shoot was rescued from my own melancholy at leaving, at the thing being finished, by the lunch Jason ordered. He and our art director Josh had been talking about it all week, za'atar chicken that comes with a side (or a box, as the case may be) of the best donuts you can eat. That's a fantasia of flavor that I couldn't stop devouring, even after vowing the night before, after our epic feast, never to eat again.
I flaunted the za'atar chicken and donuts all over my Instagram, Facebook, and Twitter worlds (join me there!), and shot texts to the family left and right. It didn't take long after I got home to serve up a plate of my own version of za'atar fried chicken, albeit without the donuts this time. I use a lot more za'atar than Federal Donuts does, to get even more of that za'atar-lovin' flavor. The result is nothing short of all that we want from our fresh and classic Lebanese recipes, and all that is promised to deliver from my cookbook: superb…stupendous…and seriously sick.
Za'atar Oven-Fried Chicken
If you want to really go crazy here, fry a batch of Lebanese donuts to eat along with your chicken… For the chicken, click over to my Mom's recipe for oven-fried chicken, and simply rock it out with a heavy dusting of za'atar when it comes out of the oven. You could also add some za'atar to the dredging flour mix, a tablespoon or so. I also added a pinch of cayenne to the mix.
(Visited 2,069 times, 1 visits today)