Toasted Bulgur Pilaf with Zucchini. Never too much.
Mar 13, 2015, Updated Jan 04, 2023
Think of bulgur pilaf the same way you do rice pilaf–except so much healthier with all of the protein and fiber in bulgur. Use coarse bulgur, known as "#3," for pilafs like this Toasted Bulgur Pilaf with Zucchini. It's never too much! Find the perfect bulgur in my shop here.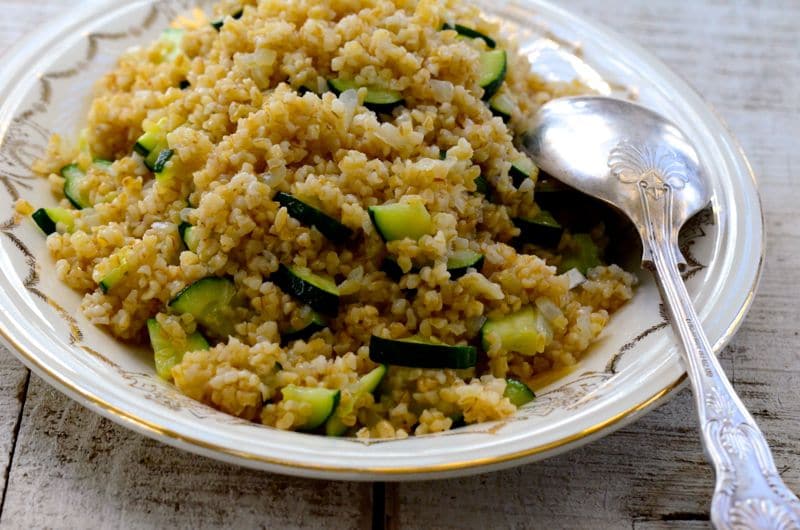 It's true that I grew up in a big Lebanese family, fulfilling my daily role in the preparation (and let's not forget: clean up) of many a large Lebanese recipe.
With that, there came a time when the grass in any smaller family's yard looked ever so green, much greener than at home where there were far too many little feet tamping down the lawn for kickball, far too many forks in the sink and plates on the drain board.
I remember having dinner at my friend Cindy's house as a kid, where there were two daughters only, and the salad on the table was in a reasonable-sized, a normal-sized, bowl—not a gargantuan wood bowl like ours, a bowl so big my mom could have bathed two kids at once in it after dinner. I liked the physical smallness of Cindy's world, a place where I first fell in love with her miniatures, tiny treasures we fussed over in her tiny little bedroom (which was her own, her very own, not shared).
Cindy, on the other hand, would pine for my house, that loud Lebanese place. It got so that we agreed we'd swap, and instead of having a regular sleepover she would head to my house and I would head to hers for the night, each of us ensconced in our own definitions of the ideal family. (We never did do it)
A similar sense emerged when I headed out to San Francisco for culinary school. I was living on my own for the first time in a lot of years, making everything small-batch and feasting on books like Judith Jones' The Pleasures of Cooking for One. I kept the solitary spirit alive when I moved back to Michigan after that, Up North on my own.
This last year has brought the circle back to its big, huge Lebanese beginnings, to a place where no matter how much food I cook, it will get eaten by any number of the (mostly) men who now populate my kitchen and my life. They feast on it gratefully, as though it is the finest food they've ever eaten, no matter what I place before them—a cook's dream.
Sometimes I ask Dan if I should roast the second chicken too, or if my amount of salad is enough. He's never done anything but nod me into making more food, because more is better, and more means that more of the people we love might be showing up and slowing down to sit together and eat.
When I was talking to Aunt Louise recently about her incredibly good Lebanese bulgur wheat dish with koosa (or zucchini), I asked her how many cups she makes at a time. I was already well into my batch of one small, reasonable cup.
Two cups, she said. Usually more. Because really, you can never have too much.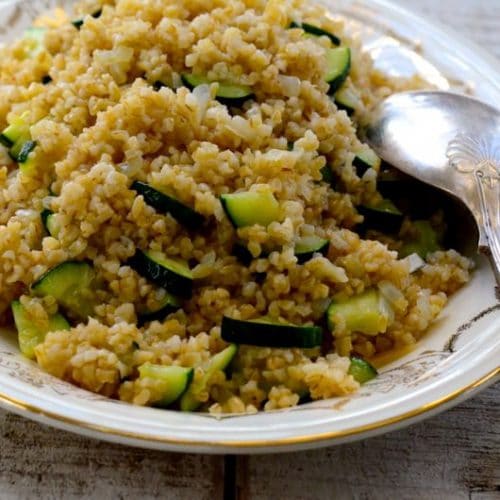 Toasted Bulgur Pilaf.
Bulgur pilaf is made the same as rice, with the same rule of thumb of liquid (water, vegetable stock, chicken stock) to bulgur being 2 to 1. Consider bulgur pilaf your playground! Add chickpeas, and most vegetables sauteed will be good here too.
Ingredients
2

medium

zucchini

1

small

sweet onion, diced

3

tablespoons

olive oil

2

cups

coarse bulgur

4

cups

chicken or vegetable stock

1

cinnamon stick

Salt and pepper, to taste
Instructions
Slice the zucchini lengthwise into 4 spears, then cut those into 1/4 inch wedges.

In a medium sauté pan, heat 2 tablespoons of olive oil over medium heat. Add the bulgur and stir until it is lightly toasted and fragrant, and the bulgur begins to show small specs of white, about 3 minutes. Pour in the chicken stock, tuck in the cinnamon stick, add a pinch of salt, and bring to a boil. Reduce the heat and cook, covered, over medium low heat until the stock is absorbed, about 20 minutes.

Meanwhile, cook the zucchini and onion. Melt the remaining tablespoon of olive oil in a sauté pan over medium heat. Add the onion with a pinch of salt and cook, stirring regularly, until it is translucent but not browned. Add the zucchini with a pinch of salt and cook, continuing to stir, until it is bright in color and soft, about 10 minutes total.

When the bulgur is done, remove the lid and let it sit for a few minutes to release some steam and dampness. Remove the cinnamon stick and stir in the zucchini and onion. Taste and adjust the seasoning, then serveimmediately.
Nutrition information is automatically calculated, so should only be used as an approximation.
Like this recipe? Leave a comment below!
(Visited 16,894 times, 3 visits today)