Three Layer Coconut Cake Recipe
May 02, 2014, Updated Mar 09, 2023
Tender, moist, bursting with coconut flavor: here is everything we are looking for in a three layer coconut cake recipe. Get the tips and tricks for making this gorgeous cake perfectly every time.
I've had cake on the brain lately. Maybe that's because I've been trying not to eat cake, and so all I can think about is eating cake. But also, around here it's cake season (to everything there is a season).
There are First Communions in spring, which my grandmother Alice Abowd always graced with her specialty cakes. There was a piped cross cake, and a coconut lamb whose molds we still have (perfect for my nephew's Communion cake this week). There used to be spring cake-walks at our parish carnival, too. You'd walk the circle until the music stopped playing and if you were standing on the number drawn from a hat, you won a cake. Brilliant.

And there is Mother's Day, a cake-worthy event if there ever was one. One particular Mother's Day probably 15 years ago, maybe more but I can't go there, my sister and I headed back to Michigan from Chicago to celebrate with Mom. Dad was with us back then, and my brother was in Michigan too. We loaded the car with over-the-top treats, including a big bucket filled with the most gorgeous roses I'd ever seen. They were a perfect shade of fuchsia and the underside of the petals was chalky pink; they blossomed into big, loose ruffles that filled both hands put together around them. I'd seen a few of the roses in the floral display at Treasure Island grocery store, and asked what they were, and could they get me several dozen? I swore I would never forget the name of that rose, so that I could always ask for it by name (and now: name forgotten).
There was also a Mother's Day cake whose name was never forgotten. It was a tall, three-layered, handcrafted beauty steadied on the floor in the back of the car in a big blue box from Tiffany. A stately coconut cake was worthy of that box. But this coconut cake? I'd rather forget it and remember the roses. But nobody will let me.

Imagine the white tower of a cake on the kitchen table at home, a proud display of daughterly love on Mother's Day. Here was a confection of the highest order. Beautiful inside too, layers of meringue icing that stood firm and grand. We sliced into the cake immediately, all formalities and any right-before-dinner hesitancy aside.
The table was pretty quiet as we forked up the thick bites. I looked up from mine and caught my brother and sister mouthing something to each other. What? I said, What what!!

They threw down their forks, I kid you not, and told me in the dramatic terms they are experts at that my cake was inedibly dry. And flavorless. Dry, flavorless, and what's for dinner anyway?
Fine. I agreed. It was not a good cake. It was a vain cake, pretty to look at with no character underneath it all. I was so irritated at Martha Stewart for giving me such a fail that I still fear a misfire every time I try something of hers (but then there were these, and the world was set straight). It's something none of us can forget, not unlike that one time when I was a kid and got so irritated by all of the sibling harassment that I threw the TV remote at my brother (I'm sorry, I really am), and still today we're both stunned that I did it. Same with the cake. That stunningly bad display of bait-and-switch, of looks pretty/tastes bad still comes up, and its haunting has made me less of a cake baker than I would otherwise be, I'm sure of it.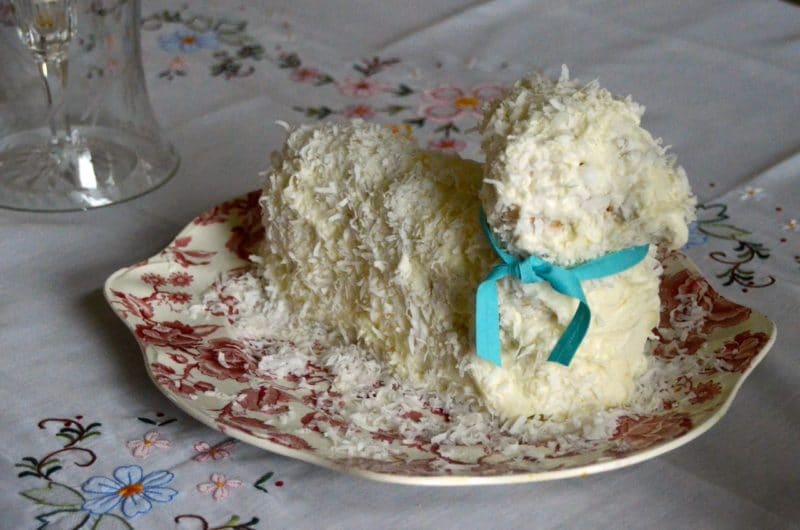 So here you go. I'm done running from the coconut cake, or any white cake for that matter. Done accepting that they taste bad (often of raw flour, or something like that). I've tried many if not all of the approaches to a coconut cake, and this one is a winner for its deep coconut flavor and, of course, its moistness (if that means accepting a scoop of shortening, so be it). I feel certain Grandma Abowd would approve for her lamb cake, certain I'd pick this one if my number came up in a cake-walk, and positive I've finally made good on a cake worthy of spring cake season.
Three Layer Coconut Cake
The unsweetened coconut is a perfect way to impart more coconut flavor to the cake without more sugar, but sweetened flaked coconut is a fine substitute. The orange blossom simplesyrup adds moistness to the cake and a layer of flavor that enhances the coconut beautifully.
Ingredients
For the Cake:
1

cup

unsalted butter, softened, plus more for coating pans

1/2

cup

vegetable shortening

3

cups

granulated sugar

3

cups

unbleached, all-purpose flour

2

teaspoons

baking powder

1/4

teaspoon

salt

5

large

eggs, room temperature

1/2

cup

buttermilk, room temperature

1/2

cup

unsweetened coconut milk, room temperature

2

tablespoons

coconut extract or flavoring
For the Buttercream:
3

ounces

cream cheese, softened

1 1/2

cups

(3 sticks) unsalted butter, softened

1

tablespoon

coconut extract

6

cups

confectioners' sugar

4-5

tablespoons

unsweetened coconut milk

2

cups

desiccated shredded coconut (unsweetened coconut)
Instructions
For the cake:
Preheat the oven to 350°F and place a rack in the center position. Coat 3 9-inch cake pans with butter and line the bottoms with parchment circles.

In a stand mixer fitted with the paddle attachment, cream the butter and shortening on high speed until they are light and fluffy. On medium-low speed, add the sugar one cup at a time. Once the sugar is incorporated, increase the speed and beat until the mixture is light and fluffy again, about 3 minutes.

Crack the eggs into a bowl, then add them one at a time to the butter mixture, beating to incorporate each egg before adding the next one.

In a medium bowl, whisk together the flour, baking powder, and salt. In a glass measuring cup, combine the buttermilk, coconut milk, and coconut extract. On low speed, alternate adding the flour mixture and the buttermilk mixture into the batter in several additions, beginning and ending with the dry ingredients. Stop to scrape down the sides of the bowl as you go, and beat just until each is incorporated.

Divide the batter evenly among the three cake pans and smooth the batter into each pan. Bake the cakes for 25 to 30 minutes, or until they are golden, spring back lightly when touched in the center, and a toothpick inserted in the center comes out clean.

While the cakes bake, make the simple syrup: In a small saucepan, bring the sugar, water, and lemon juice to a boil. Reduce the heat and simmer five minutes. Add the orange blossom water and set aside.

When the cakes are done baking, cool in their pans for 10 minutes, then remove the cakes and cool on wire racks. When the cakes are completely cooled, brush the tops and sides with orange blossom simple syrup.
For the Buttercream:
Beat the cream cheese and butter in the bowl of a stand mixer fitted with the paddle attachment, or a large bowl using hand beaters, until smooth. Beat in the coconut extract. Sift in the confectioners' sugar one cup at a time, incorporating on low speed and adding a tablespoon of coconut milk after every cup or two. Beat the buttercream until it is smooth and light.

To assemble the cake, place one layer of cake on a serving platter or cake stand, placing the squared-off cake edge side down. Top it with about a cup of buttercream and spread evenly to the edges. Center the second layer on top of the first layer with buttercream, and top with another cup of buttercream, spreading it evenly to the edges. Center the third cake layer on top, placing the squared-off cake edge side up, and spread the buttercream evenly over the top. Frost the sides of the cake. Sprinkle the coconut over the top and sides of the cake in small handfuls (it's messy, but that's okay; just brush the excess coconut from the rim of the cake platter before serving). Serve the cake immediately, or chill and serve within a day or two.

Pat the the coconut onto the top and sides of the cake in small handfuls (it's messy, but that's okay; just brush the excess coconut from the rim of the cake platter before serving). Serve the cake immediately, or chill and serve within a day or two after bringing back to room temperature.
Nutrition information is automatically calculated, so should only be used as an approximation.
Like this recipe? Leave a comment below!
(Visited 4,236 times, 1 visits today)