Technique: How to slow roast tomatoes
Sep 05, 2012, Updated Jan 02, 2015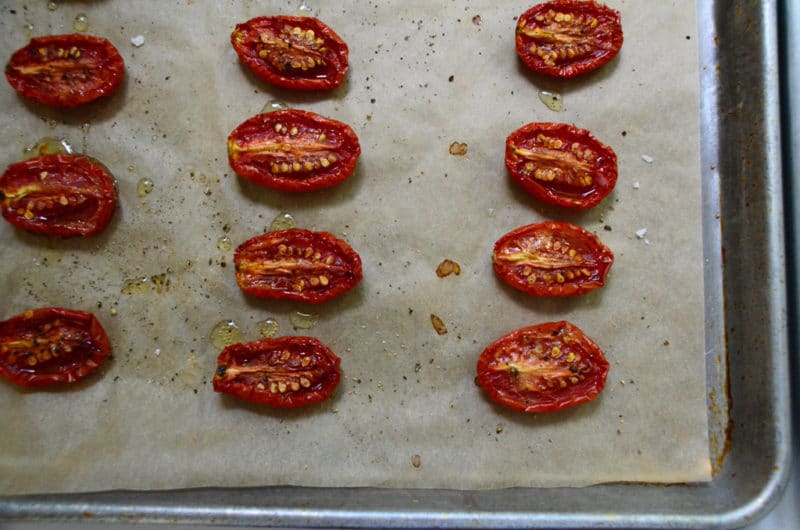 The slow roasting of tomatoes is something that I've admired for some time…but never did myself until recently. I remember the role of the tomatoes at a particular lunch at a little café on Washington and Fillmore Streets in San Francisco, just a half-block from my house. It was the day before I was leaving to head back to the Midwest, to Michigan. I loved the feeling of my friends, my culinary school friends, showing up at my open front door (it was wide open to the temperate California morning) and calling out to me that they were here, and let's go!
We walked across the street to Chouquet's, on the corner (I can't tell you how distressed I am that I had to Google search the name of the restaurant…am I forgetting my details so soon? Please no). We sat outside and ate delicious food, which you can do in San Francisco without going very far in any direction, and talked all the while about delicious food. There is nothing so satisfying as being in the company of those who love to think and talk about food as much as you do. Each one rattled off what she had been cooking over the past week and over the past couple of months since school ended. The standout for me were Bev's roasted tomatoes. She went on and on about how good, how simple, how intense the flavors become.
I've been wanting to make them ever since. The cooling weather in tandem with the tomato profusion makes this the perfect time to rev up the oven again and remember how sweet it is to tend to it for a few hours. These tomatoes taste so intense, so jammy, you don't need to do anything with them other than get them into your mouth as fast as you can. But they also make fabulous toppings for chicken and fish, and appetizers like the one we'll make tomorrow.
Roasted Tomatoes
The beauty here is that you can season them with any herbs you like—rosemary, thyme, sage. I used no herbs, just a sprinkling of salt and pepper, with sun gold orange and little roma tomatoes.
Small tomatoes: cherry, grape, sun gold, or small roma
Extra Virgin Olive Oil
Salt and pepper
Line two heavy sheet pans with parchment paper. Slice the tomatoes in half using your tomato knife. Place them on the sheet pans and drizzle or brush with olive oil. Season lightly with salt and pepper. Arrange two shelves in the center of the oven. Turn the oven on to 275 degrees (no need to preheat when roasting like this). Roast the tomatoes for about three hours. At an hour and a half, rotate the sheets. Store the tomatoes in the refrigerator topped with more olive oil.
(Visited 2,122 times, 1 visits today)