Savory Phyllo Galette with Labneh, Tomatoes, and Olives
Dec 29, 2018, Updated Apr 30, 2023
This savory phyllo galette — crisp, buttery phyllo with creamy labneh, seared tomatoes, and briny olives — is gorgeous showpiece to serve as an appetizer, or as a centerpiece for a light meal along with a salad.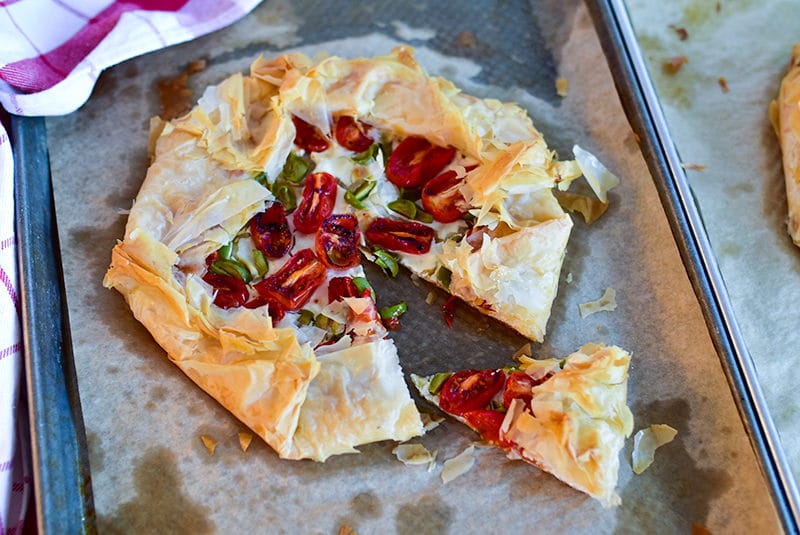 It's true that when Aunt Rita told me her quick-make method for baklawa, I was a fast and easy convert to her way. The win has to do with speed, especially when we're spinning out lots of pans of baklawa at the holidays.
One of my cousins, when she heard about the method a few years back, protested that she in fact really enjoys buttering the layers one by one. It's soothing, she said. Stress-relieving. And fun!
Agreed, agreed, agreed. I'll butter the layers for the baklawa fingers, and I'll butter the layers for other phyllo recipes, and I'll be so content doing it.
Case in point: My savory phyllo galette, one of my very favorite recipes from my cookbook that was so much fun to develop, and that I hope readers find. Layers of phyllo and clarified butter make a rustic galette. The "rustic" takes some of the scary out of working with delicate phyllo dough, because of the free-form shape and the only 8 sheets of phyllo used for each galette. You can't really mess it up.
The galette is gorgeous showpiece to serve as an appetizer, or as a centerpiece for a light meal along with a salad. Here is an instance where beauty and deliciousness intersect, which we know in pastry isn't always the case. Crisp, buttery phyllo with creamy labneh, seared tomatoes, and briny olives—toppings are flexible, as long as they are fairly dry, like sautéed red peppers.
Use up more of the phyllo from the packet by doubling the recipe and making two, since that phyllo is only good for the brief few minutes you have once the sleeve is opened.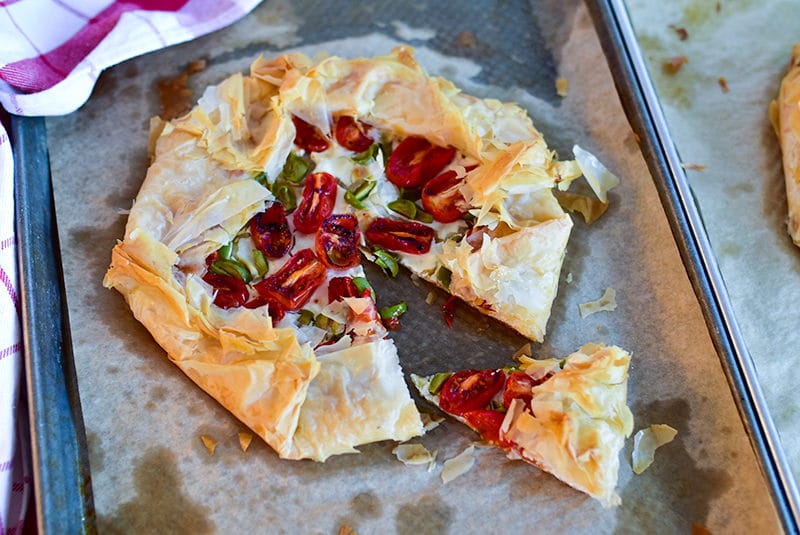 I have no shortcuts for this buttered phyllo experience, but none are needed. The galette pulls together swiftly, but takes just enough butter-brushing to soothe, stress-relieve, and all-around delight both cook and lucky eaters.
Savory Phyllo Galette with Labneh, Tomatoes and Olives
This galette makes a glorious appetizer cut into small wedges, and can be served warm or at room temperature. To make ahead by a day, store the cooled galette in the refrigerator, then warm in a low oven for a few minutes before serving. Double the recipe and make two, so you can use up more of the phyllo from the opened sleeve. Phyllo dough typically comes in two sizes: 9×14-inch sheets or 14×18-inch sheets. For this recipe, the smaller sized sheet is preferable. If you have the larger phyllo, simply trim the long side down a few inches so that there isn't too much phyllo dough around the edges of the galette.
Ingredients
3/4

cup

labneh

1

clove

garlic, minced or grated

1/4

teaspoon

kosher salt, plus more for finishing

1

tablespoon

extra virgin olive oil

1

cup

cherry tomatoes, halved

8

sheets

phyllo dough

1/2

cup

clarified butter

5

pitted

olives, such as kalamata or castelvatrano

1

tablespoon

chopped fresh herbs, such as chives, mint, or basil
Instructions
Preheat the oven to 375°F and line a heavy sheet pan with parchment paper.

In a small bowl, combine the labneh, garlic and salt. Set aside.

In a large sauté pan, heat the olive oil over medium heat. Sear the tomatoes cut-side down for about five minutes, or until the tomatoes are caramelized and golden brown. Using tongs, gently place the tomatoes on a plate. Set aside.

If you're using 14×18″ phyllo, trim the long side of one stack by a few inches. Cover the opened phyllo dough immediately with plastic wrap and a clean kitchen towel to prevent it from drying out as you work (quickly!). Place one sheet of phyllo on the prepared sheet pan and dab with a thin coat of butter. The butter need not coat every bit of the phyllo perfectly. Place another sheet of phyllo on top of the buttered sheet, but turned a half-turn so that the edges hangs over the straight side of the first sheet. Brush with butter, and repeat with the remaining sheets of phyllo, turning each one a half-turn as it is placed over the last sheet.

Spoon the labeh into the center of the buttered phyllo stack and spread to a 10-inch circle. Arrange the tomatoes, cut-side up, in concentric circles on top of the labneh. Scatter the sliced olives over the tomatoes.

Fold the phyllo edges up over the labneh, tomatoes, and olives to form a rustic 3-inch edge around the top. Dab the phyllo edges generously with the remaining butter.

Bake the tart until the phyllo is golden brown, 25-30 minutes. Drizzle with olive oil and top with herbs. Cool for a few minutes before cutting in wedges.
Nutrition information is automatically calculated, so should only be used as an approximation.
Like this recipe? Leave a comment below!