Peppermint Chocolate Brownies
Dec 02, 2022, Updated May 07, 2023
Peppermint chocolate brownies have those flavors that satisfy like no other. My Peppermint Chocolate Brownies are a family favorite for the layers of chewy brownie, cool mint buttercream, and perfectly smooth chocolate top layer. Like an Andes Mint, taken all the way to the top level!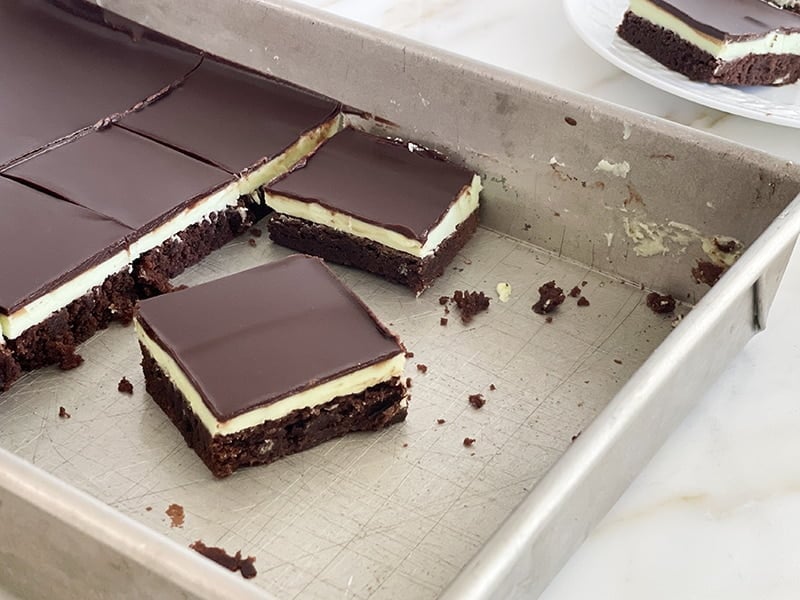 I have taken some heat for being a one trick pony when it comes to certain things, especially my summer ice cream cone. No matter how much I peruse and taste the offerings, my order remains: Mint Chip. The Lebanese in me has to have mint often, daily I'd say, and usually that's in the form of the dried or fresh mint herb that finds its way into much of our cooking.
The mint chocolate sweet is always on my radar, a comfort to the soul as much as it is a soother to the body too. I recall some very quiet times when I was teaching English at Saint Mary's for a semester. I had a music box magnet on the refrigerator that I played too often (hey, there was no phone device so looooong ago…). And a sweet I indulged every night: mint chocolate covered oreo-type cookie, called Mystic Mint cookies.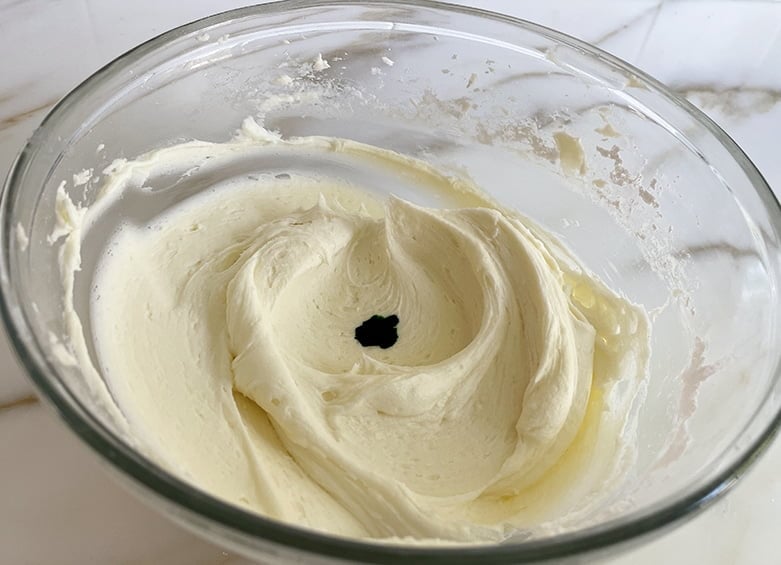 The Layers, Explained
You understand where this is headed. Last year I got after a Chocolate Peppermint Ghraybeh butter cookie that is not only delicious, it's so pretty. And now: the layered Mint Brownie. In the same tradition as my Mom's Chocolate Buttercream -topped brownies, this is buttercream, minted. With brownie layer beneath and smooth chocolate layer above.
Just as the unwavering Mint Chip ice cream choice garners some scrutiny, so too does the thickness of the mint buttercream layer of the Peppermint Chocolate Brownies. My crew assessed the layer as I made these all summer long and they still want a thinner mint layer, very thin indeed. I agree it's not as rich, but I'll tell you the lush flavor factor of my thicker layer is eye-popping good. The people in our circles who say they're not big on mint went for brownie after brownie with the "best ever eaten" comments coming at it. Ahh, the joy of a recipe developer.
Being the visual creature I am, the mint layer plays better for me if it's green. A dot of green food coloring gets us there with ease.
The brownie itself does not go mint but it could, with drops of peppermint extract. To save time, a boxed brownie mix does fine.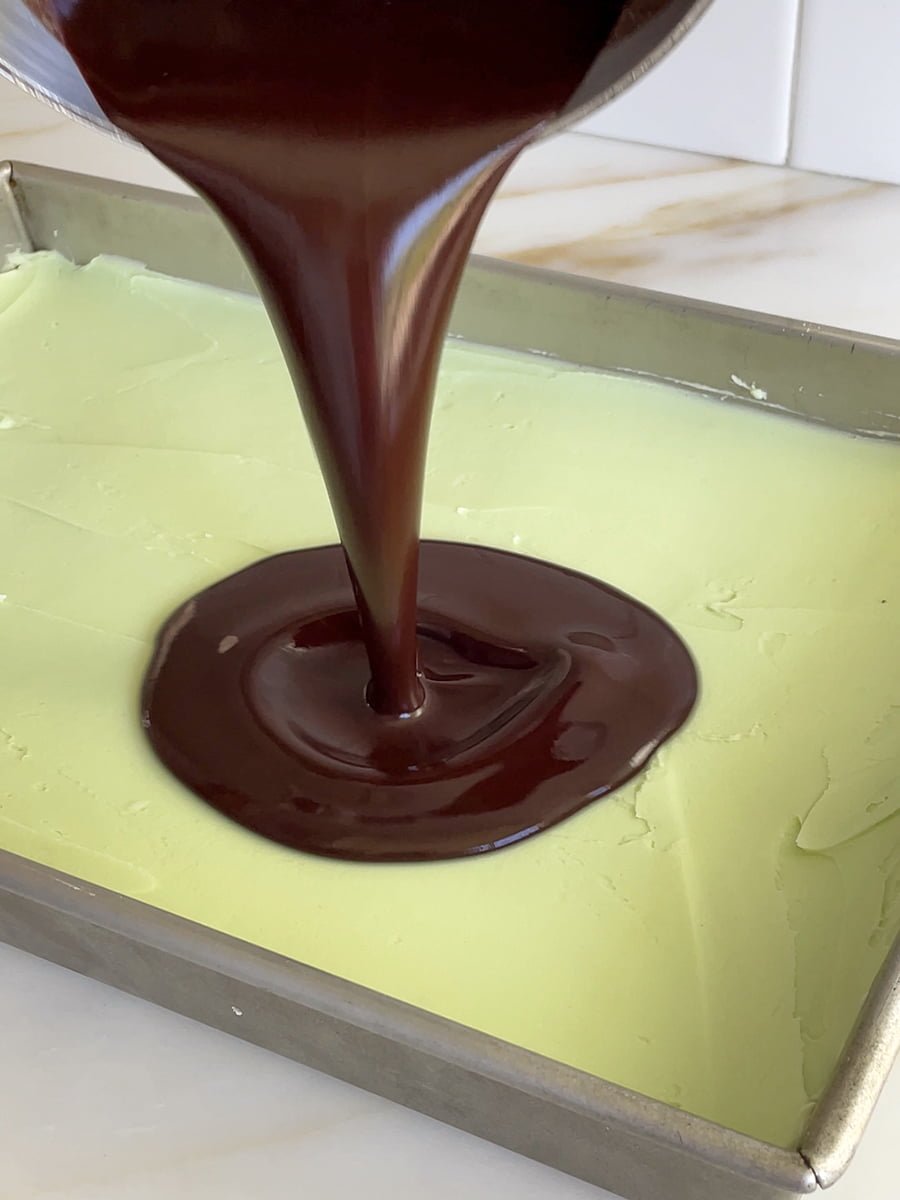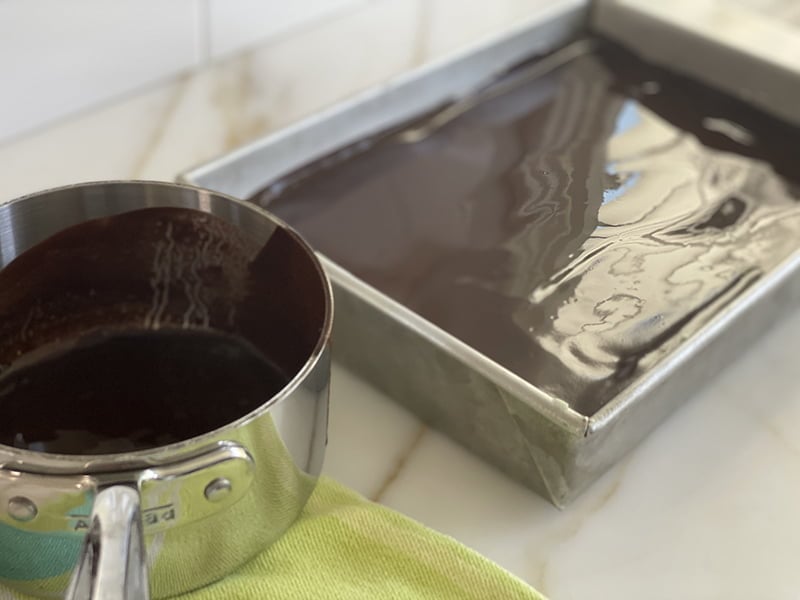 The Chill Factor.
The real time involved with this recipe is in the cooling off periods. The brownie must be totally cool before spreading the mint buttercream over top. Then, to get the flat liquid chocolate layer to lay down properly, once the buttercream layer is spread on top, the pan is best chilled to solidify. The glossy, buttery melted chocolate layer pours like a dream over the cold buttercream. This needs to cut clean, so I keep the pan chilled until ready to cut and serve.
As for the clean cutting, a sharp knife and tall glass of hot water are our friends. Simply dip the knife in the water before every cut (first dry off, then cut).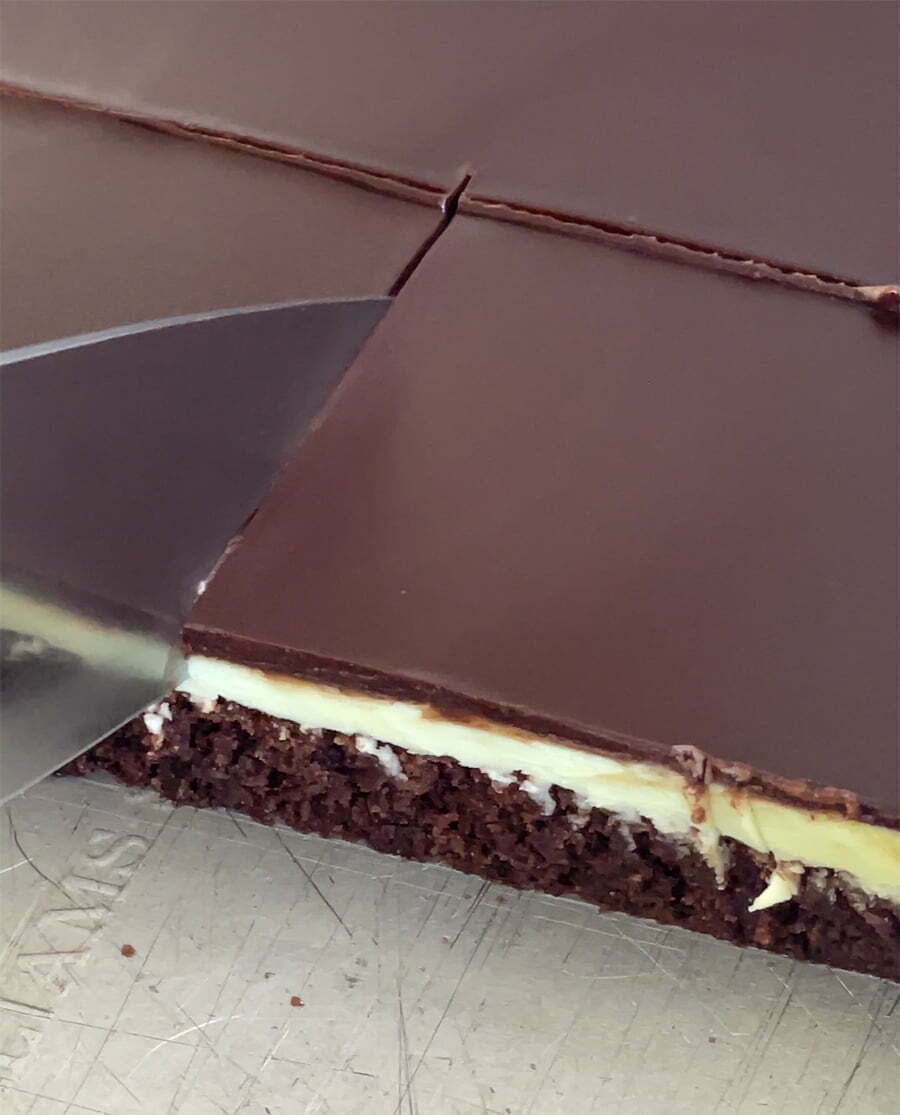 Choose Your Own Mint.
My mint in all things Lebanese food is spearmint. This to me is Lebanese na'na and the flavor I need.
Yet when it comes to sweets, especially choco-mint, it's peppermint and peppermint only.
But your own mint favorite will work wonderfully here; it's all a matter of extracts. "Mint" extract seems to yield a "wintermint" flavor neither spearmint nor peppermint. I love wintergreen mint, only for gum. Find Spearmint extract or Peppermint extract to get those specific mint flavors.
This is a year-round recipe!
What says Christmas treat better than peppermint? And yet, what is more cooling in summer than mint goodness (Mint Chip! Mint Brownie!)? Easy to master and once there, this one will become a favorite.
More Mint Sweets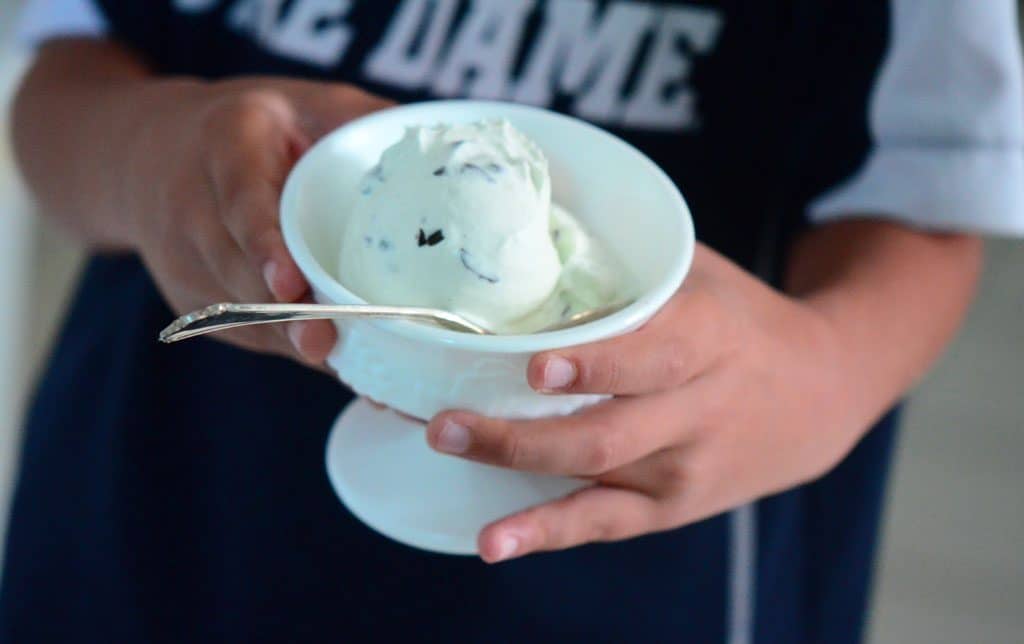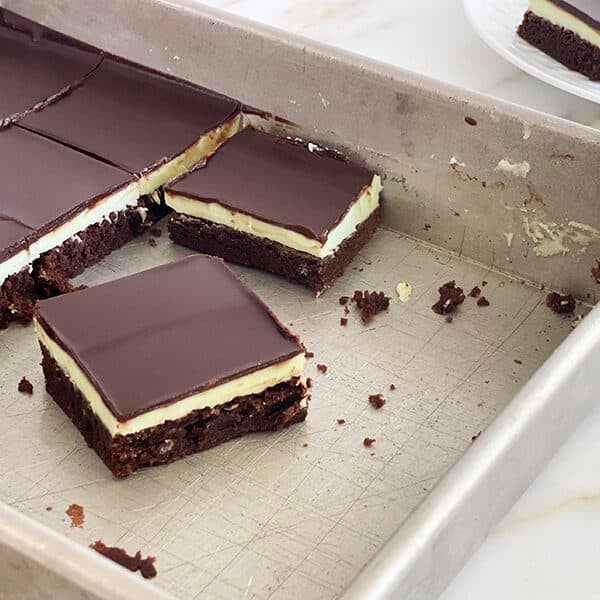 Peppermint Chocolate Brownies
Few flavors satisfy this Lebanese girl's sweet tooth quite like chocolate and mint. My Peppermint Chocolate Brownies are a family favorite for the layers of chewy brownie, cool mint buttercream, and perfectly smooth chocolate top layer. Like and Andes Mint, taken all the way to the top level! These are rich, so they are nice cut in small 1-inch bites as well.
Ingredients
Brownies
1

cup

(8 oz.) unsalted butter

1

cup

chocolate chips (semi-sweet or 60%)

2

cups

granulated sugar

1

tablespoon

instant espresso powder

4

large

eggs

2/3

cup

all-purpose flour

1/2

teaspoon

kosher salt

1/4

cup

unsweetened cocoa powder
Peppermint Buttercream Layer
1/2

cup

unsalted butter, softened

2

cups

confectioners' sugar

1

tablespoon

milk (any fat percentage)

2

teaspoons

peppermint extract

1

drop

green food coloring
Smooth Chocolate Top Layer
1/2

cup

(4 oz) unsalted butter

1

cup

chocolate chips (semi-sweet or 60%)
Instructions
Brownies
Place an oven rack in the center position and heat the oven to 350°F. Grease the bottom only of a 13x9x2-inch baking pan. Set aside.

In a medium saucepan over medium heat, melt the butter and chocolate, stirring occasionally, about 5 minutes. Remove from the heat and whisk in the granulated sugar and espresso powder.

Add the eggs, one at a time, whisking until smooth after each addition. Stir in the flour, salt, and cocoa powder until combined. Pour into the prepared pan and bake until the edges begin to pull away and a toothpick inserted in the middle of the pan yields just a few moist crumbs, about 35 minutes. Cool completely.
Peppermint Buttercream Layer
In a medium bowl or stand mixer fitted with the paddle attachment, beat the butter on medium speed until smooth, about 2 minutes. Add the confectioners sugar and beat very slowly at first to moisten, then on medium until combined. Stop and add 1 tablespoon milk, then beat again to incorporate. Add the peppermint extract and green food coloring and beat again until well-combined.

Spread the buttercream evenly over the cooled brownies. Smooth the top (an an offset spatula makes this easy). Refrigerate.
Chocolate Top Layer
In a small saucepan over medium heat, melt the butter and chocolate chips until melted and smooth, stirring occasionally. Pour over the chilled mint layer and spread evenly (again a clean offset spatula does the job well).

Chill at least one hour and up to 5 days.

To clean cut the brownies, set up a tall glass full of hot water and a paper towel. Use a sharp knife to make one swift cut at a time, dipping the knife in the hot water and wiping clean with the paper towel after each cut.

Store the brownies in the refrigerator to hold their shape. Delicious cold or room temperature.
Nutrition information is automatically calculated, so should only be used as an approximation.
Like this recipe? Leave a comment below!
(Visited 1,777 times, 1 visits today)