Lebanese-Style Chili
Oct 25, 2022, Updated Jan 27, 2023
Lebanese-style chili gets its fabulous flavor from 7 Spice blend (find it here) together with chili powder. Our favorite legume–chickpeas!–is front and center. Finish with a dollop of labneh and a shower of fresh mint.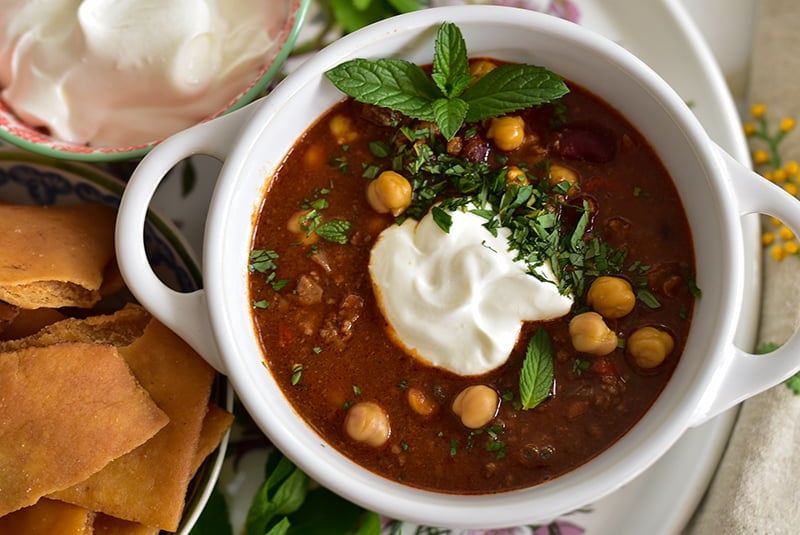 My family is probably not unusual with our fervent conversations in the category of who-makes-what-best. One such conversation about chili–methods, ingredients, flavor, cook time, you name it–led us to the most retold memories in Abood family history: the great chili cook-off activities of the mid-2000s.
There was more than one chili cook-off, yet they were all the same. Everyone was tasked with bringing a pot of their best recipe, of course. Well, almost everyone: I decided that taste-testing would be my forté instead of cooking (oh the heat I've taken for this). Each chili was assigned a number so that no one would vote according to favorite people and the chili could stand on its own.
There was a white chicken chili in the house (Ruth!), and several tomato-based chili pots plus one that seemed to be neither. No tomato, or very little, and definitely no chicken. That one was, how shall we say it, spice-forward? One of the standard-looking chilis was oddly sweet and yet spicy hot with no beans. The question was asked of it: are you chili or spaghetti sauce?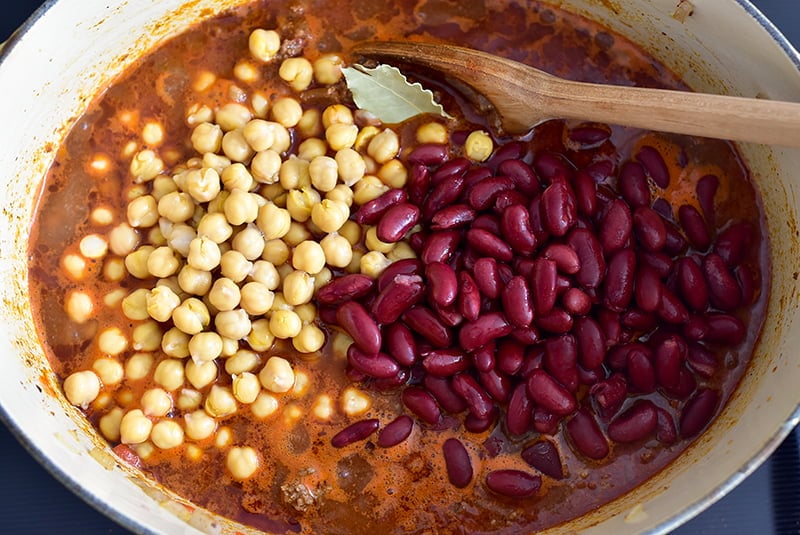 I don't want to upset the SEO Gods by telling too long of a story here, so I'll cut to the chase to say that in one cook-off Mom and Aunt Peg voted for Tom's sweet-heat chili (no surprise; first son + their Abowd sweet tooth). Many voted white chicken chili the winner. Also in the win-win category was a chili whose seasoning was revealed to be a pouch of McCormick chili spice. The scandal!
I'm concerned that when the gang gets a hold of my Lebanese-style chili, they're going to give me some trouble about using the 7 Spice blend because it's a blend and I didn't stand over the chili mixing in my array like a scientist. To that I say: shush. When you taste the warm spice heaven that is the flavor of 7 Spice mixed with chili powder, you will be on my team.
Of course you can mix and blend as you stand over your pot of chili, to the tune of the many spices that make 7 Spice so darn good and so darn that flavor of Middle Eastern food.
The other keys to Lebanese flavor here include sweet-heat balance, using pomegranate molasses. The tartness of this syrup is a good thing, with just a whisper of sweet. Also key: the chickpeas, our favorite in the bean category. I use a second bean always, and here it's kidney beans. But you'll decide, I know, on which beans you like best.
Then, the finish . . . chopped fresh mint and a generous dollop of labneh (thickened yogurt). Good pita chips on the side. Now we are in the winner's circle with everyone's vote!! The prize is simple: a bowl full, with a table full, together, talking who-makes-what-best and laughing the night away, Lebanese-style.
Substitutions and Tips.
This recipe uses ground beef or lamb. You can use ground chicken, ground turkey, or plant-based protein instead!
Any type of bean will be delicious here: black beans, northern beans, cannellini. Cook them from dry or use canned beans; just be sure to drain and rinse those. Have you tried Rancho Gordo beans yet? My friend Steve there has led the charge in wonderful and interesting heirloom beans, doing good things for your cooking and the world.
Chili recipes scale up with ease! For a larger crowd, simply grab a bigger pot (or make it in two) and double or triple the quantity (or more!).
Slow-cooker friendly. Simply do same as the recipe described, but in your slow-cooker.
Lebanese-style chili is a great make-ahead recipe. Cool down your pot then refrigerate until you're ready to serve, up to four days. Reheat slowly over medium heat, and add more beef broth or water (1/2 cup at a time, taking care not to use too much) to loosen the mixture. Taste and adjust seasonings if needed.
Find great pita chips if possible! Great pita chips don't typically come in a bag. They are in a clam-shell clear box. Or make your own from fresh pita bread using this recipe.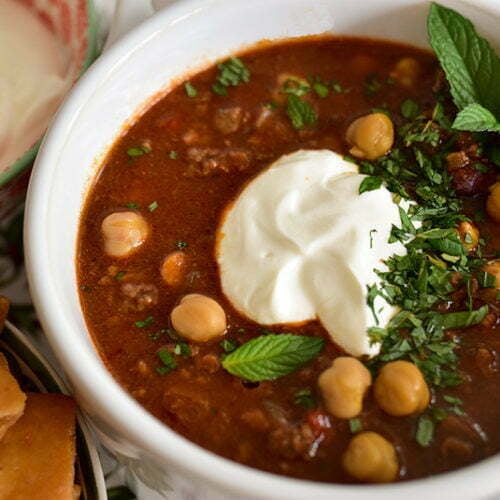 Lebanese-style Chili
Lebanese-style chili gets its fabulous flavor from 7 Spice blend (find it here) together with chili powder. Our favorite legume–chickpeas!–is front and center. Finish with a dollop of labneh and a shower of fresh mint. Serve with good pita chips.
Ingredients
2

tablespoons

extra virgin olive oil

1

medium

yellow onion, finely diced

1

red bell pepper, finely diced

2

teaspoons

salt

1

pound

lean ground beef or lamb

2

teaspoons

7 Spice (or baharat, or a blend of cinnamon, paprika, ground clove, black pepper, cumin, nutmet, cardamom)

1

tablespoon

chili powder

1/2

teaspoon

garlic powder

2-3

cups

beef broth

15

oz.

tomato puree

1

tablespoon

pomegranate molasses

16 oz.

cooked chickpeas, from dry or canned (drained and rinsed)

16 oz.

cooked red kidney beans, from dry or canned (drained and rinsed)

1

bay leaf

1

cup

labneh

30

fresh mint leaves, finely chopped
Instructions
In a large pot, heat the olive oil over medium heat to shimmering but not smoking. Add the diced onion and red bell pepper and stir to coat. Season with 1 teaspoon of the salt.

Cook the onion and pepper, stirring occasionally, until soft but not browned. Add the ground beef or lamb and stir, breaking the meat up into small bits. Season with the 7 Spice or the other spice alternates, chili powder, and garlic powder. Stir well to combine and cook until the meat is lightly browned all over.

Add the beef broth, tomato puree, and pomegranate molasses and stir to combine. Add the chickpeas and kidney beans and stir to combine. Nestle the bay leaf into the chili. Increase the heat to medium high and bring to a boil.

Cover the pot, reduce the heat to medium low, and simmer for about 2 hours. Serve immediately, or to serve within a few days, cool the pot off and refrigerate, reheating on medium heat and adding more beef broth to loosen the mixture.

Ladle the chili into warmed bowls, then top each bowl with a dollop of labneh and a pinch of fresh mint.
Nutrition information is automatically calculated, so should only be used as an approximation.
Like this recipe? Leave a comment below!