Falafel discovery!
Mar 13, 2014, Updated Oct 02, 2023
This is my original story post about falafel! Get my recipe for Authentic Lebanese Falafel.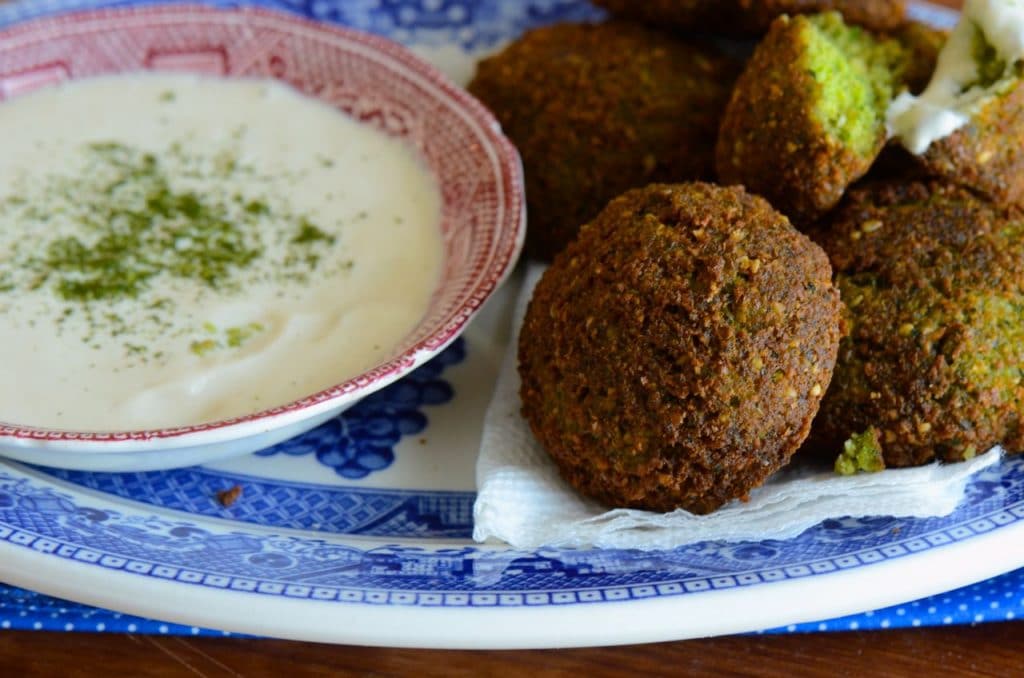 I'd like to get right to the heart of why, other than perhaps one or two bites, I had never eaten Lebanese falafel before I made my own, from scratch.
In a word: cumin.
I . . . don't like it.
At all.
I think this is something one is born with, like the taste for or against cilantro (which I love). Either your taste buds receive cumin with warm welcome, or they are reminded of something else, akin to perspiration?, every time cumin walks in the room. That's not a criticism, by the way, of the friends of cumin. Much of the world, including me, enjoys stinky cheese, after all.
My mama has never used cumin; I can say with confidence our spices have never rubbed shoulders with it. She is not alone. No food in our extended family, in either Abowd or Abood branches, is made with cumin. Some say cumin use is aligned with your religious affiliation in Lebanon, Muslims into it and Christians not. I will say though that my brother Richard champions the camun, the cumin, just a dash in his kibbeh, which he got from his days living in the environs of Detroit and which is the subject of incessant family banter. If you are a cousin reading here and you use cumin, all I can do is shake my head. Kids these days.
Commercial falafel, or Lebanese falafel you make at home from a commercial mix, tastes to me of one singular flavor. I didn't really even understand what falafel was composed of, and didn't ever try to, because I thought it inherently had to taste the way it tasted. Of cumin.
When I wrote the proposal for my cookbook, I listed homemade falafel with tahini sauce as one of the recipes I'd include. I was curious how I was going to play that one out, since I had no love for the dish and certainly had never made it before. But it sounded good, and at that point, that's what mattered. When it came time to develop the recipe, I nearly crossed it off before even giving it a second look. How can I offer something I genuinely don't like and still be sincere about it?
I persevered, and was richly rewarded (my life's mantra, in a falafel nutshell).
The pleasure of developing a recipe is that you are in charge (well, the ingredients are in charge, then you), and you get to decide what's what. Falafel is fritter made from a crumble of soaked, not cooked, dry chickpeas and fava beans. Some versions leave out the favas but I wouldn't do that, since their flavor is so smooth. Along with an abundance of herbs, onion, garlic…and no cumin…this Lebanese falafel has become one of my favorite things to cook and eat and put on my table, hot from the frying pan. Homemade falafel has that irresistible crisp-fried exterior and tender fresh herb infused center, and a tahini sauce that brings how-good-is-this tears to your eyes.
Everyone around here, the little Lebanese crew of guys who taste test my work with no mercy, is in unison on this one: A+ for the falafel. Or as one of my darling cousins said: Valedictorian! Or as Dan puts it: MmmMMMMM!
Even if you love the Lebanese falafel you get from a restaurant, or the falafel made from a boxed mix at home (there's no shame), I invite you to take up the delicious mantle of making falafel from scratch. The difference is light years apart. I'll go out on a limb and say that even if you decide to put a pinch of cumin in your homemade falafel, if you handed a hot one from the fryer to me wrapped in a little pita? I'd wolf it down, and give it high marks.
Get the recipe for Authentic Lebanese Falafel!Save
(Visited 16,638 times, 1 visits today)