Easy Baked Brie with Fig Jam
Dec 30, 2021, Updated Jan 19, 2023
This is a must-know appetizer, Easy Figgy Baked Brie. Make for an elegant cocktail party or a quiet party of a family few. Always festive, fun, delectable. And easy!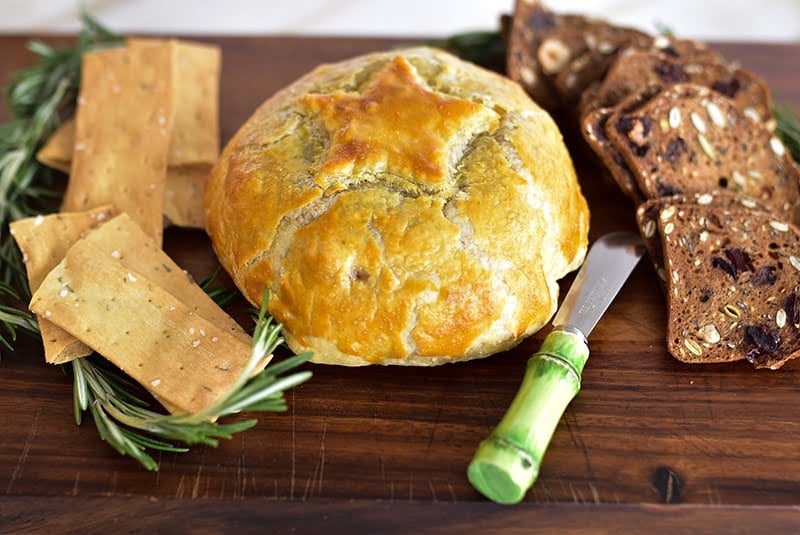 We love to have an evening of cocktails and "heavy apps." This means the food will be so sumptuous, so inviting and satisfying that no dinner is necessary. It's a cocktail party writ small, for the family or for just a couple of us. In any case we're dressed for it, like we did with Mom long after she could no longer leave the house. The sisters and cuzzy-caregiver would raid Mom's jewelry box and lavish on the necklaces, all to sit in the living room for sips and cheer.
An assembly project.
The "easiest" part of this recipe is that it's more about assembly than anything else. You have pieces and parts: a wheel of brie, a box of frozen puff pastry, a jar of jam (fig is my favorite here), an egg. Box of crackers.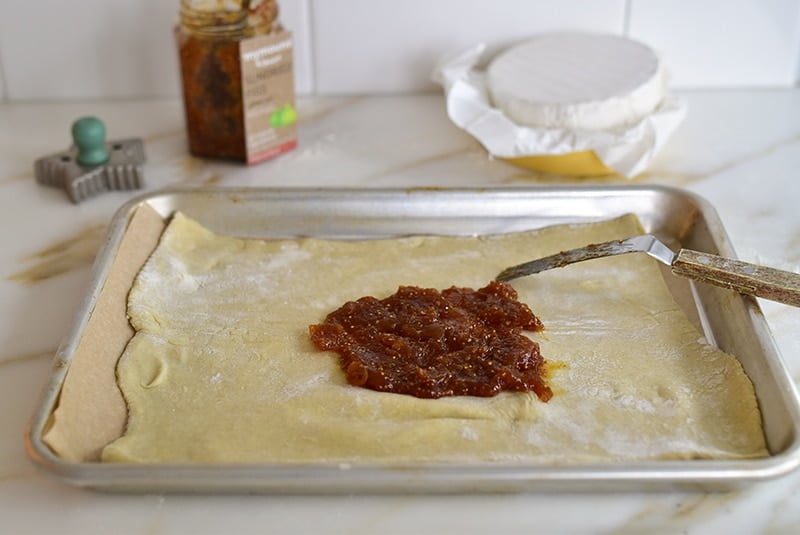 About puff pastry.
There are generally two types of frozen puff pastry readily available: Darfour, fabulous all-butter puff pastry that I find at Whole Foods or specialty markets. Or Pepperidge Farm, made with oil and found in the "frozen novelties" section of pretty much every grocery store. The Darfour is great because, well, butter. The Pepperidge Farm is great for this recipe because it does not release so much oil as it bakes as the Darfour does. It's cleaner.
The pastry does not take long to defrost for the baked brie. Thaw it on the counter for about a half an hour, taking care not to leave the pastry out much longer or it will get too soft to work with.
Jam it up!
The preserves add the perfect sweetness to every creamy, salty, cheesy bite here. I like to spread fig jam both on the pastry, then also on top of the brie, to get extra going on. Other flavors we love here are apricot jam or sweet jalepeno pepper jam.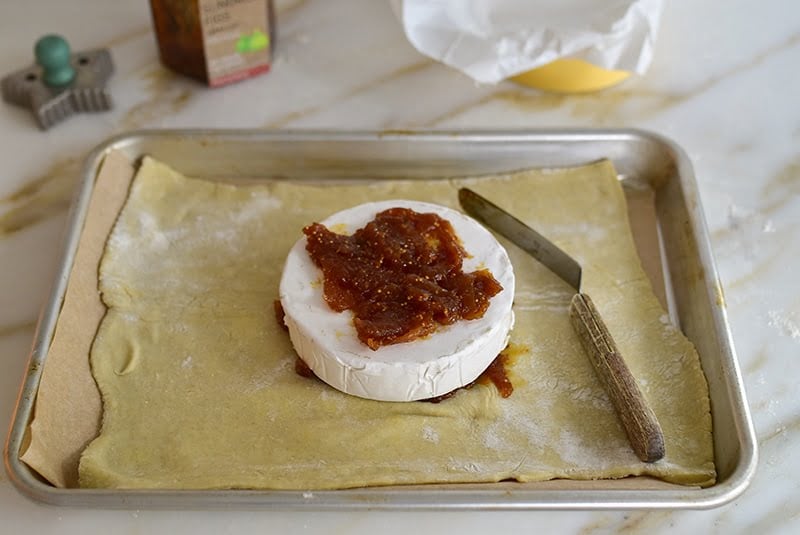 Fold it up and turn it over.
Baked Brie is super impressive and it's so easy to get there. The pastry is simply folded up around the brie, free-form galette-style. I always then flip the package over so the seams remain underneath.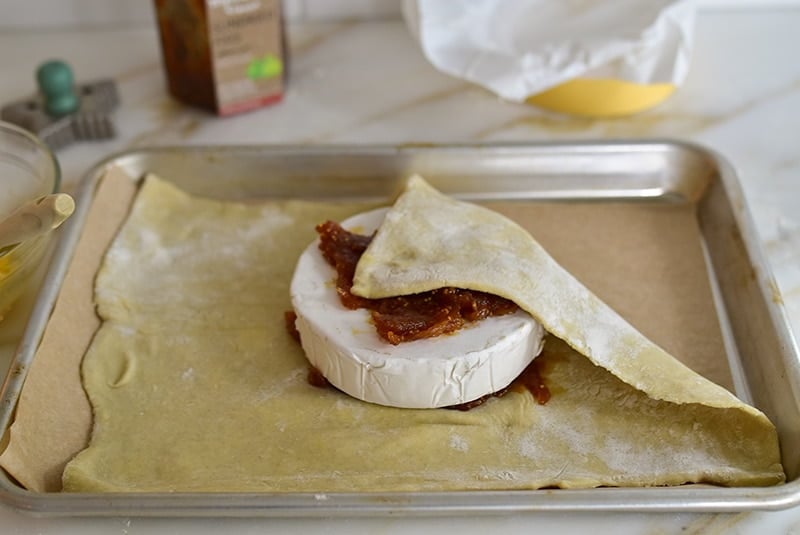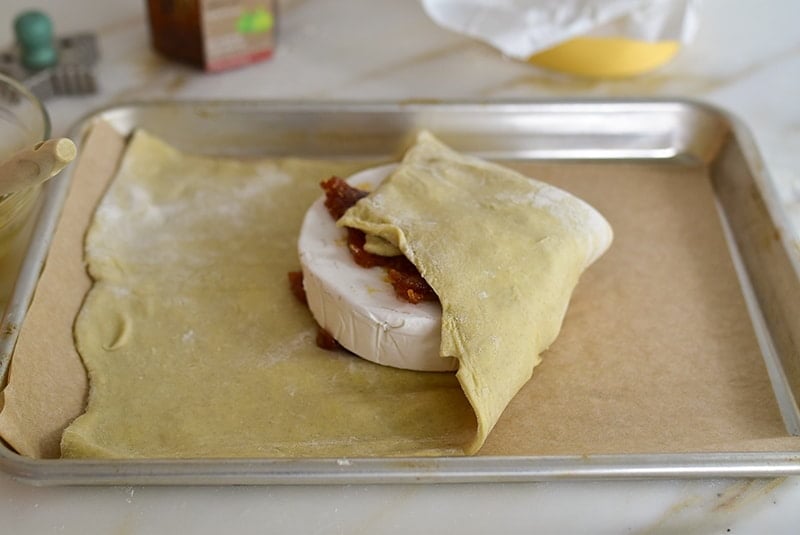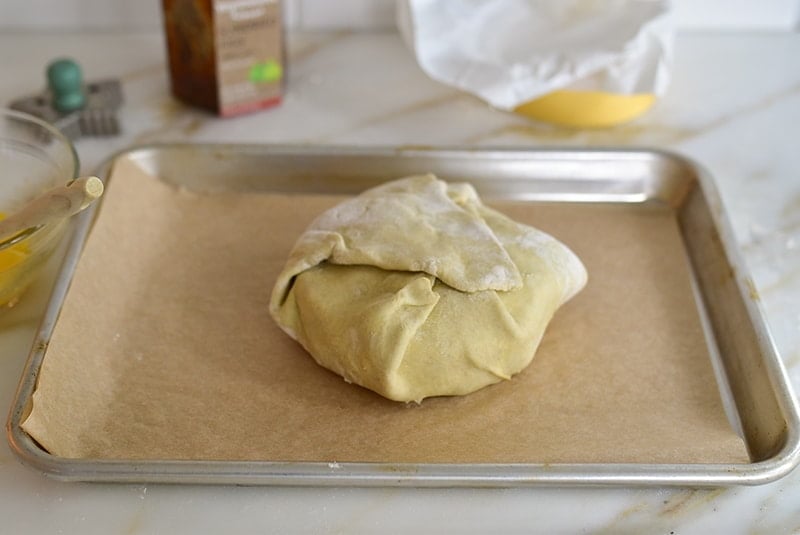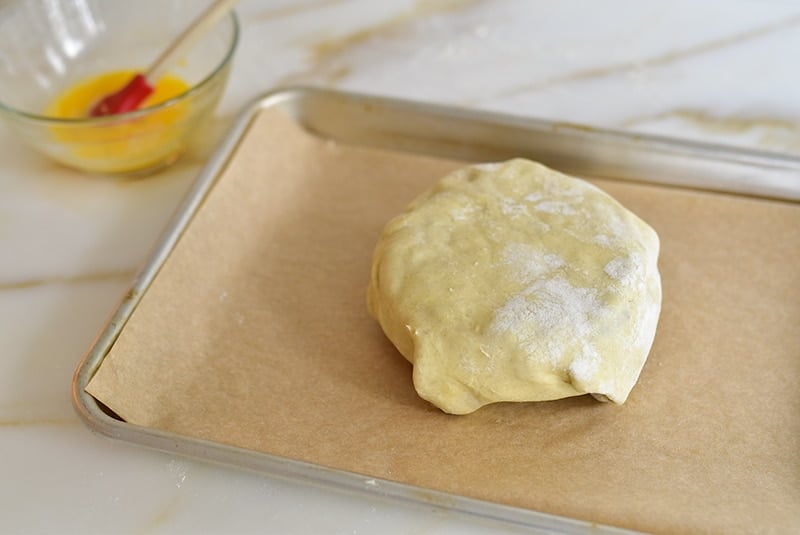 Gild the lily.
The egg wash brushed on the pastry imparts a gorgeous golden sheen over all. You can leave it at that and be happy! If you have another quick minute and a cookie cutter somewhere in the vicinity, take a scrap of the puff pastry and cut out a shape to lay on top. Pro!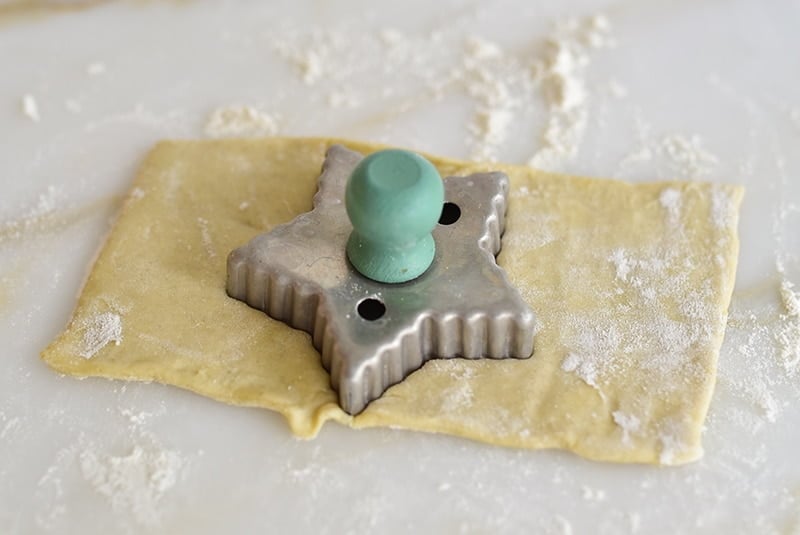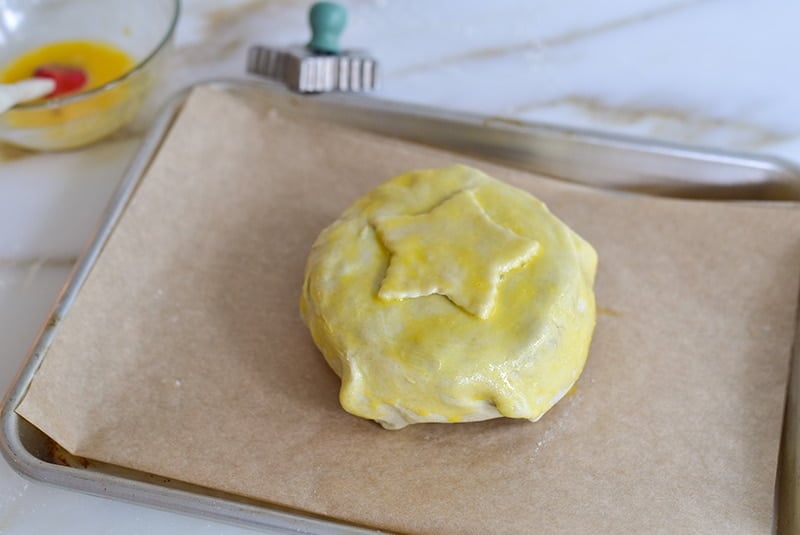 Serve with style. Or not….
The baked brie should be served immediately. Can you bake then reheat and serve later. Certainly. Will the pastry be just as perfect as when it first comes out of the oven? Not exactly, but we do what fits our schedule, no?
Transfer the baked brie to a board and jazz that up to whatever level you like. Rosemary sprigs, crackers, and a lovely cheese knife do it for me.
Extra easy is to place the brie in a pie plate with a basket of crackers nearby. Put out a spoon so eaters can spoon their heavy app on their plate, grab a cracker, and nestle back into the sofa.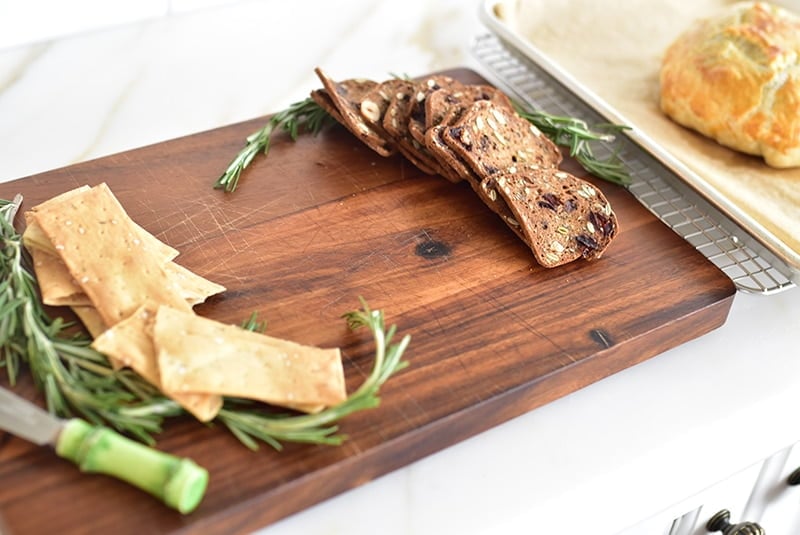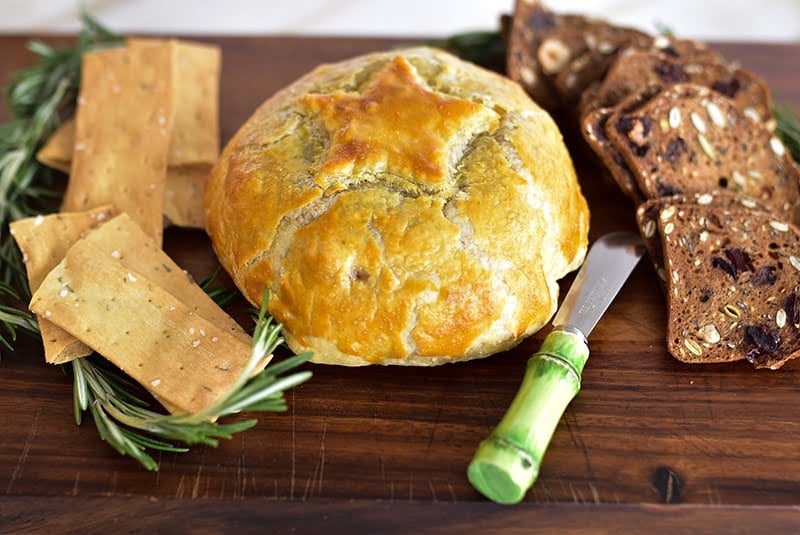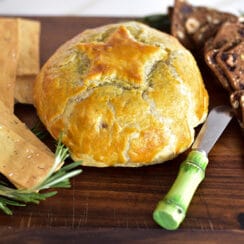 Easy Figgy Baked Brie
This is a must-know appetizer, so impressive and easy to pull together. Make baked brie for an  elegant cocktail party or a  quiet party of a family few. Always festive, fun, delectable. And easy! Other favorite jams for this are apricot or sweet pepper jalepeno.
Ingredients
1

sleeve

puff pastry, thawed 30 minutes in the box, at room temperature

1/2

cup

fig jam

1

8 oz.

wheel of brie, double or triple cream

1

egg

well-beaten with a teaspoon of water
Instructions
Heat the oven to 375°F. Line a sheet pan with parchment paper.

Unwrap and unfold the thawed puff pastry. If using all-butter puff pastry, roll the pastry to 1/4-inch thickness. Carefully lay the pastry on the parchment lined pan. Cut away a strip of pastry to fit the size of your cookie cutter for decoration, if using.

Dollop half of the jam in the center of the pastry and spread to a circle about the size of the brie wheel. Lay the brie over top, and spread the rest of the jam on top of the brie.

Take one corner of the dough and pull it up and over the brie. Repeat with the remaining three corners, pressing the dough down to seal it on top.

Flip the pastry-brie package over.

Use a cookie cutter to cut a shape out of the spare piece of pastry. Lay the shape on top of the package.

Brush the pastry top and sides with egg wash.

Bake for about 25 minutes, or until golden brown. Serve immediately.
Nutrition information is automatically calculated, so should only be used as an approximation.
Like this recipe? Leave a comment below!
(Visited 2,045 times, 1 visits today)