Coconut Oil Pie Crust
Nov 06, 2019, Updated Jan 03, 2023
Pie crust made with coconut oil is a dream to handle, and results in a rich, tender crust that holds its shape beautifully. A vegan recipe to count on!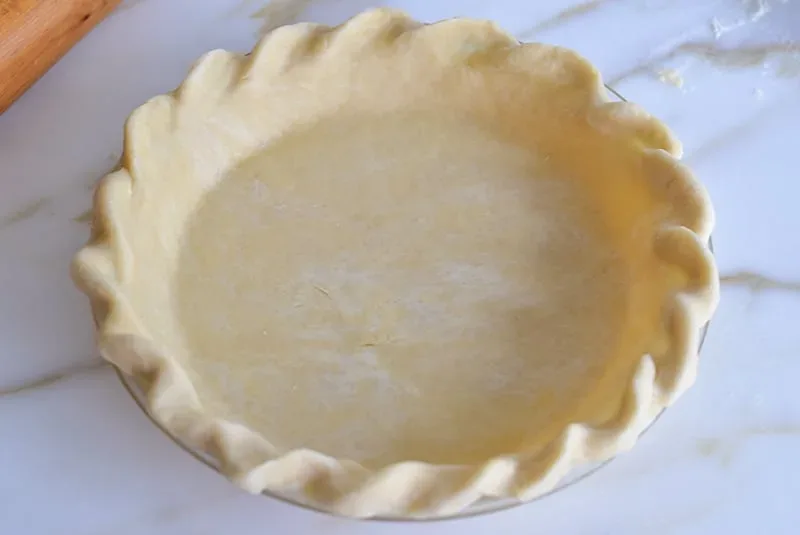 It's no secret around here that I'm hopelessly devoted to the pie crust I grew up with, a.k.a.: My Mom's Best Pie Crust. The flakiness of her crust reigns supreme. The salted-crisp effect of her oil-based crust rather than sugared-shortbread that is butter crusts just always, always proves my favorite. Both from a making and an eating perspective.
You would expect this next paragraph would begin with: But . . . . Or even: However . . . .
It's just that this is simply not how I think of the development of my new crust recipe: a Coconut Oil Pie Crust. I went after a coconut oil crust to supplement my oil-based crust go-to, and gain another way to approach the making of the crust in particular.
While the butter crusts don't do much for me from a flavor/texture perspective, butter dough is the thing bakers' dreams are made of: pliability. I have wondered for the past couple of years if a coconut oil crust might result in a similar texture as Mom's oil-based, but allow me to enjoy the fun of rolling out the crust directly on the countertop. Mom's crust requires a finessed roll-out between sheets of wax paper, the bottom one of which is "stuck" to the counter with a splash of water. Coconut oil is solid at room temperature, so I figured it ought to perform with the roll-out as butter does, or very similarly.
What I discovered in my many auditions of the coconut oil dough is that this dough boasts an even greater stretchiness than butter dough. The dough rolls like a dream with very little flour needed on the counter. You can roll, lift, and turn the dough all the way to a big (13-inch or so) circle.
Then, to my complete thrill (hey, simple pleasures…): the dough FOLDS with ease. Fold the dough, lay her gently into the pie plate, unfold and move her around 'til she sits just right in the plate.
My mom's pie dough doesn't have to be chilled before rolling out the dough, so I hoped that would play out similarly with the coconut oil. Results? The dough was much, much better with no chill time! Unlike butter, coconut oil remains solid at room temperature, whereas butter softens a great deal, requiring the chill to stand up to the roll-out.
The coconut crust is a different texture than either oil or butter crusts. I wouldn't call it "flakey" in the same way Mom's crust is flakey.
That's far from a deal-breaker though. The coconut crust is so rich, so tender, and holds its shape like a dream. Even Mom agreed: not a crumb of crust was left on her plate.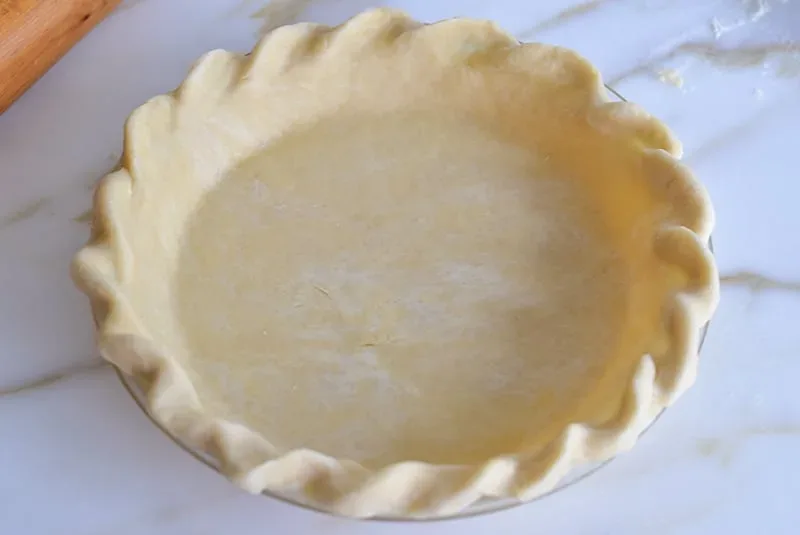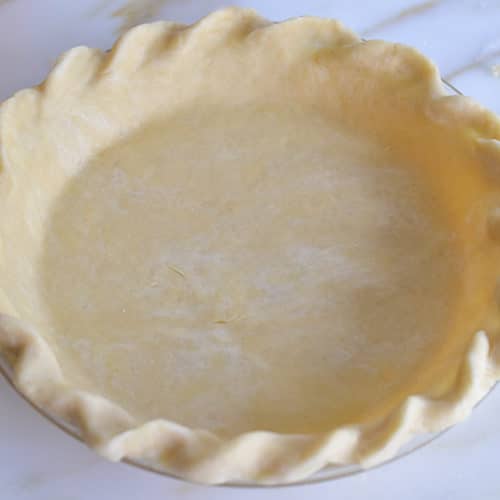 Coconut Oil Pie Crust
A fabulous vegan pie crust recipe! Take care when incorporating the coconut oil and flour; very even distribution of the solid coconut oil is the goal. A pastry cutter is ideal here, but combining by hand will work. A food processor can work but is more finicky. This crust can be frozen raw, wrapped well, for a few weeks before using. To parbake, prick the base of the raw crust with the tip of a knife or a fork to allow steam to escape. Double the recipe for a double-crust pie. This recipe makes one base crust for a single crust pie (as for pecan pie).
Ingredients
1 3/4

cups

unbleached, all-purpose flour

1/2

teaspoon

kosher salt (1/4 teaspoon if using table salt)

1/2

cup

coconut oil

5

tablespoons

ice water
Instructions
In a medium bowl with high sides, whisk the flour and salt. Using a pastry cutter or your hands, cut in the coconut oil to form very tiny granules with the flour (this is unlike a butter dough, which calls for pea-sized pieces). This step takes several minutes and some elbow grease.

Add the water one tablespoon at a time. For the last tablespoon or two, pull the dough together with your hands to form a ball, kneading the dough just a bit. Shape the dough into a flat disk.

Lightly flour the counter and rolling pin. Roll the dough out evenly to a 13-inch circle, stopping to lift and turn the dough after every few rolls.

Fold the dough in half and lay it into the pie plate. Unfold and arrange the dough evenly so that about two inches hang over all of the edges. Cut and add dough where it is too long or too short.

Tuck the overhang dough up under the top edge all the way around the pie. Take some time to make this even and as tall as possible, smoothing out creases. The nicer this edge is, the nicer your final crimp will be.

Crimp the dough. If parbaking, prick the bottom of the pie to let steam escape before baking (at 350 degrees for about 10 minutes). Or, flash freeze the crust, then wrap the crust well in plastic wrap, then foil, and freeze until you are ready to use it.
Nutrition information is automatically calculated, so should only be used as an approximation.
Like this recipe? Leave a comment below!
(Visited 5,061 times, 1 visits today)