Basil Dipping Oil
Jun 23, 2019, Updated Sep 28, 2023
Basil oil is the jewel of the table, and a perfect use for the profusion of herbs from gardens and markets in the heart of summer.
For the most part, we don't seek out Arabic or Mediterranean restaurants all that often. I figure this is because we eat so much of our great food at home that when we eat out, other cravings are satiated (hi, sushi).
But living in Michigan where the enclaves of Middle Easterners are so massive, there are unparalleled culinary experiences to be had especially out Dearborn way. I love perusing the menus, learning more about what's what in our cuisine, and of course comparing how they make versus how we make (you can guess who wins).
I have to say, though, that it's the first things, the little tastes with fresh bread that are quietly placed on the table before the feast begins, that have been the most enthralling for me.
It's a big statement. But I'm second generation and coming up on a hundred years since my family's immigration. I'm certain that, for example, if I hadn't been presented with toum at a restaurant one day near the Flint airport years ago, I might still not have the addiction-level love for the garlic spread that was inspired by what I tasted that day (and had not tasted before).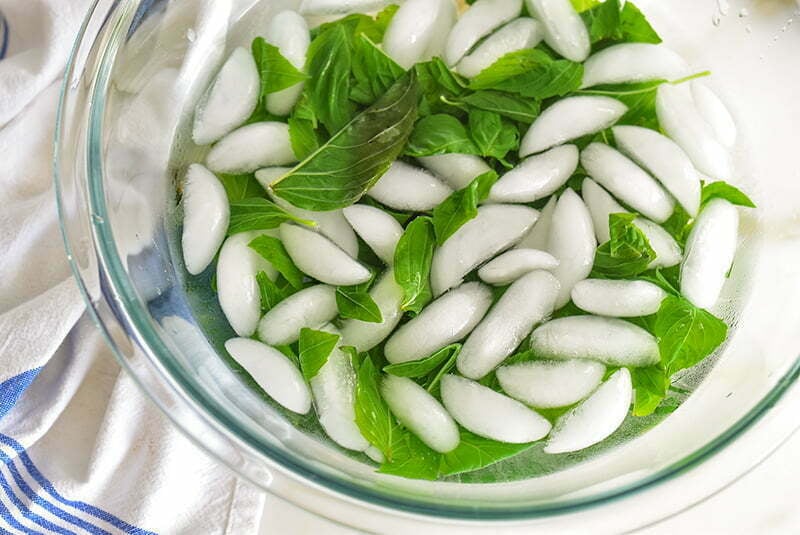 Same is true, really, of the ultra-smooth, lush hummus that I first had in a restaurant when I was a teen. This was loooong before Sabra et al were on offer everywhere. I was determined to understand and replicate that hummus. Hence, this.
Most recently, I've been inspired to chase down the meaning (a.k.a. "the recipe") behind the emerald green basil dipping oil presented with no fanfare whatsoever before dinner at Habib's in Dearborn. Drilling the server is always interesting in a restaurant like that. The last time, when I still hadn't been able to replicate the oil and wasn't getting the answers, I sent the server back into the kitchen for more info. There was something about ice cubes. And garlic. That was all.
I've forged through, realizing that the herbs need to be barely blanched. The oil has to be strained. And  it ought to be salted. I do believe we have arrived at Habib-level basil dipping oil. Know that the oil is wildly good made with basil, but that other herb oils (mint, terragon, or a combo of herbs) are also very much worthy.
There is nothing "quiet" about this oil. The raging green color is a thrill enough, but the pop of flavor? Your new favorite has arrived.
Basil Dipping Oil
This gorgeous oil is wonderful made with any herbs you love, including mint or dill or tarragon, or a combination. Drizzle the oil on a dish and eat with bread or vegetables; it's also great on crostini, eggs, labneh, soups, and anywhere you can think of! Store the oil in a jar in the refrigerator; it will last a good month or more. Use the herb puree that is left from straining, stirred into sauteed spinach or in vinaigrettes.
Ingredients
4

cups

basil leaves

2

cloves

garlic, halved

1

teaspoon

kosher salt

3/4

cup

neutral oil (such as safflower or canola), or light olive oil
Instructions
Make an ice bath in a large bowl with several cups of ice and a couple of cups of water. Set aside.

In a medium saucepan, bring a couple of quarts of water to boil. Plunge the basil and the garlic in the boiling water for about 15 seconds, then transfer the basil immediately to the ice bath. Set the garlic aside.

Once the basil is chilled in the ice bath, transfer the basil to a clean towel and wring out as much water from the basil as possible.

In a high-powered blender, combine the basil, garlic, salt and oil. Blend on high speed for about one minute, then a second time for about a minute.

Line a strainer with a layer of paper towel or a couple of layers of cheesecloth, and place the strainer over a bowl. Pour the blended oil into the strainer, and allow the oil to strain for a good half hour.

Pour the oil from the bowl into a jar; taste and add salt if needed. Use the remaining pureed herbs in some other dish that will be more delicious because of it.
Nutrition information is automatically calculated, so should only be used as an approximation.
Like this recipe? Leave a comment below!
(Visited 3,459 times, 1 visits today)