Michigan's Whitefish Dinner: the fish
Aug 16, 2012, Updated Jun 18, 2022
Fresh from the pristine waters of Lake Superior is Michigan's whitefish dinner. Restaurants often serve whitefish planked with duchess potatoes piped beautiful around the fish. At home we bake whitefish with a fabulous topping.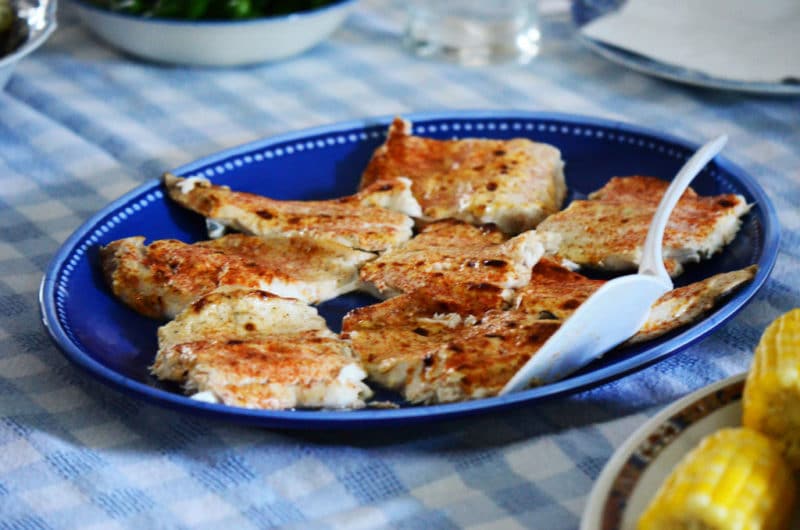 The key to excellent whitefish is not overcooking it—this seems to be our theme this week, from the new potatoes to the beans and corn, cooking times can mean the difference between delicious and not-so-much.
I always loved our trips to get whitefish up north—the best spot used to be right around the corner on Zoll Street in a long, narrow building where they sold the whitefish in the back. I felt so old-fashioned walking over to pick up the fish for dinner and carrying it back home. The building is still there, but no fish for a lot of years. The go-to spot then was Menken's, but this year they closed down for business. Even though all of the grocery stores carry Lake Superior whitefish, it was nice to buy directly from Menken's, where they brought in tons of fresh fish every day. Now you can get flash-frozen whitefish at the farmer's market and it's good. Someday I'll take a field trip to Cross Fisheries in Charlevoix, which seems to be supplying most of the area with its whitefish these days.
Michigan's Whitefish Dinner
Don't let the mayo atop this whitefish scare you off. It cooks up brilliantly and creates a golden, flavorful topping. Use this method on just about any flakey white fish. Serve with corn on the cob, new potatoes with dill, green beans, and good bread. A dessert of blueberry cobbler would be just fine too.
Ingredients
4

whitefish filets

1

lemon, halved

salt and pepper

1/3

cup

Hellman's (or homemade…) mayonnaise

Paprika
Instructions
Heat the oven to 400°F. Arrange the racks with one in the middle of the oven, and one near the broiler.

Clean the fish by very swiftly rinsing it under cold water, then patting it dry gently and thoroughly with a paper towel.

Line a heavy sheet pan with foil and place the filets on the foil lengthwise.Squeeze the lemon over the filets evenly. Season with salt and pepper. Stir the mayonnaise in a small bowl until smooth. Using the back of a spoon, spread the mayo over the fish (it will be slippery against the wet surface of the fish; keep spreading. It won't be perfectly even). Dust the fish with paprika.

Bake the fish for 10 minutes. Turn the broiler on and move the pan to the top rack. Broil until golden and bubbly, 1-2 minutes longer. Cut each filet into thirds and serve immediately.
Nutrition information is automatically calculated, so should only be used as an approximation.
Like this recipe? Leave a comment below!
(Visited 10,734 times, 4 visits today)