Lebanese Tomato Salad
Aug 31, 2011, Updated May 06, 2023
Lebanese tomato salad is perhaps the simplest, beloved salad we make. Use ripe summer tomatoes whenever possible, fresh and dried mint, sweet onion, and good olive oil. Tomatoes inspired my writing from the start, and that would explain why it made the cover of my Rosewater and Orange Blossoms cookbook!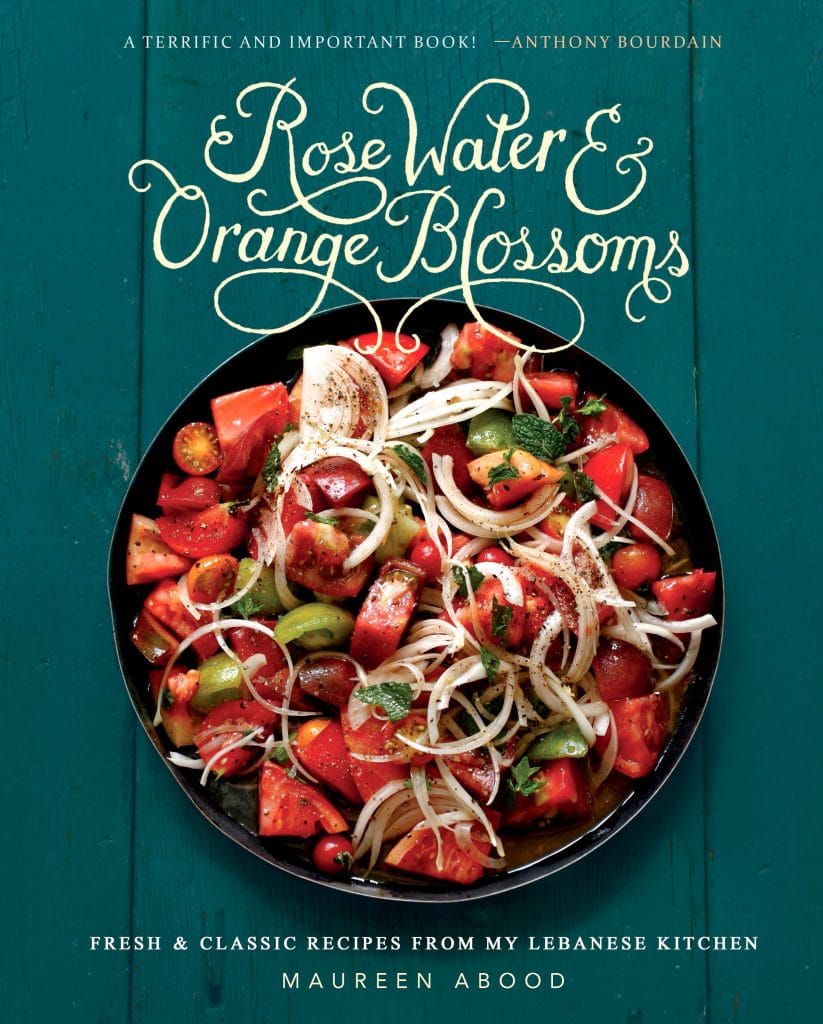 Lebanese tomato salad is the perfect example of the foods we make and eat that can go so much deeper than the plate! The flavor of this salad, which has all of the Lebanese favorites of ripe tomato, sweet onion, mint, lush olive oil, evokes sweet sweet memories of my father. Dad took great pleasure in his garden and especially his tomatoes. He did not hesitate to pick a ripe tomato and bite right into it there at the garden, still in his white shirt and suit from his day at the law firm
Wherever your tomato salad takes you, it is going to be so very good. Tomato salad this way is just the ticket alongside grilled chicken shawarma, Lebanese grilled kafta, a great big grilled vegetable platter with lemon, garlic and mint , or just on it's own with your own fresh pita bread. Here's how to get there with ease.
---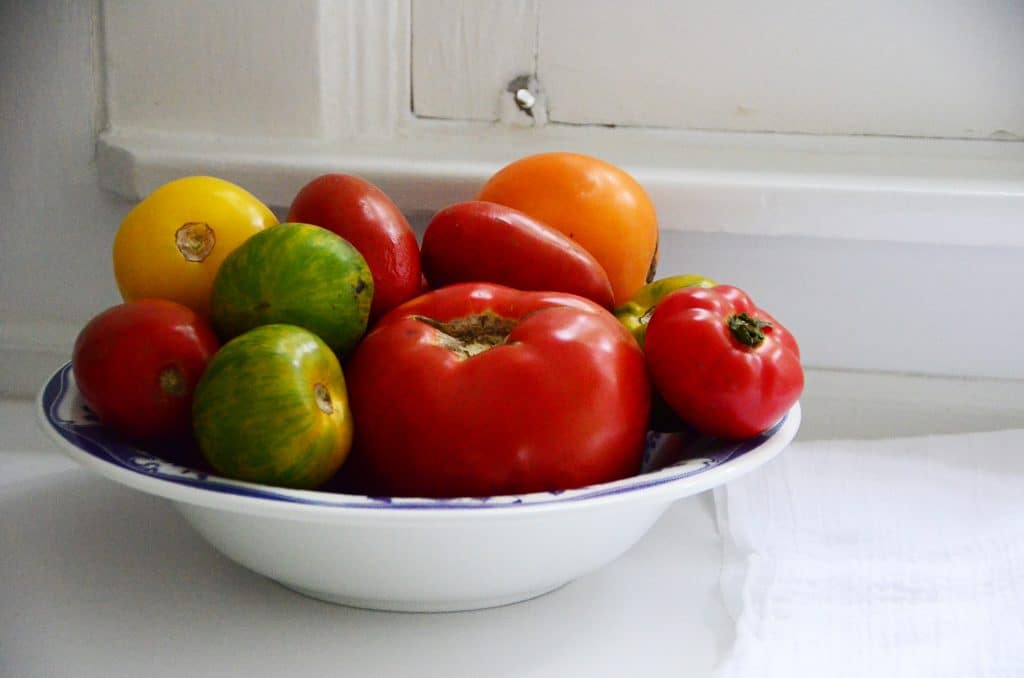 ---
Ingredients in Lebanese Tomato Salad
Ripe tomatoes. However you like them: great big beefsteak tomatoes, small sweet cherry tomatoes, you name it. A combination of colorful tomatoes makes this salad extra gorgeous.
Sweet onion. Vidalia onion is the best friend of this tomato salad.
Fresh Mint. Want your food to taste like the Lebanese food you love? Add fresh spearmint and you have it right there.
Dried Mint. Combine fresh with dried herbs and your salad finds another layer of delicious flavor.
Garlic. Use minced fresh garlic or for a more subtle garlic flavor, use granulated garlic powder.
Fresh Lemon Juice. To brighten the salad. Always use juice from a fresh lemon!
Good olive oil. And I do mean good! This is the moment for your best extra virgin olive oil to drizzle atop the salad. Try a world-class Lebanese extra virgin olive oil.
Salt and pepper are key here too!
---
---
How to make the best tomato salad
Step 1: Choose your ingredients wisely. That is, the tomatoes. If it is off-season or ripe seasonal tomatoes are nowhere in sight, choose sweet cherry or grape tomatoes. A variety of tomato sizes and colors are beautiful.
Step 2. Slice the tomatoes in wedges for large tomatoes, in half for smaller tomatoes. Do not keep cherry or grape tomatoes whole! They cause a squirt that can embarrass and surprise your eaters!
Step 3. Slice the onion. Thin slivers are best here, little half-moons.
Step 4. Chop the fresh mint. Stack a few leaves, roll them up from the short end, then slice thinly, Stop there at this "chiffonade"-style, or chop these ribbons into smaller pieces.
Step 4. Combine the tomatoes, onion, fresh and dried mint in a salad bowl. Season right in the bowl by adding the lemon juice, garlic, salt, pepper, and olive oil. Toss, serve.
---
---
Is Lebanese Tomato Salad the same as Lebanese Salad?
There are many styles of Lebanese salad, all so delicious and simple.
Lebanese Salad (Salata) is a crisp salad of romaine, cucumbers, onion, and tomato with a garlicky, lemony vinaigrette.
Lebanese Cucumber Tomato Salad with Mint is much like Lebanese tomato salad, but includes lots of fresh sliced cucumbers.
---
Lebanese Tomato Salad
This salad takes a hefty amount of mint to get that flavor to shine through. Don't be shocked about the garlic powder…trust me that it's delicious in this. Eat the salad with thin flatbread or thin pita bread; you just pick up the salad with a small piece of bread and eat the little bundle, Lebanese style. You may want a spoon to get all of the juices into your mouth when the tomatoes are gone, the way my niece Victoria does.

Ingredients
2

pounds

ripe tomatoes, any shape, size, or color (a variety is nice)

20

fresh mint leaves, chopped or torn in small pieces

1

medium

sweet onion, thinly sliced

Juice of 1 lemon

2

tablespoons

Extra virgin olive oil

1/2

teaspoon

granulated garlic powder

1

teaspoon

kosher salt

Few

grinds

black pepper
Instructions
To slice the tomatoes, use a very sharp or serrated knife and cut them in half through the core end. Cut out the cores. Slice the tomatoes into somewhat irregular 1-inch chunks rather than perfect wedges.


Place the tomatoes, mint, and onion in a bowl. Add the lemon juice, garlic powder, salt and pepper. Combine and taste. Has your life been changed yet? If not, let the salad rest for a bit, taste again, and adjust the seasonings to get you there.

Nutrition information is automatically calculated, so should only be used as an approximation.
Like this recipe? Leave a comment below!
An Up North favorite is Pond Hill Farm. The place just continues to amaze, from piglets and organic popcorn and squash rockets to wine tasting, harvest dinners, and barn dances. Not to mention the tomatoes.
Save
(Visited 9,131 times, 3 visits today)