Almond Graybeh
Mar 08, 2018, Updated May 01, 2023
Almond graybeh is a classic Lebanese butter cookie that is delicate, light, and pure white. Almond graybeh is baked especially for Easter and Christmas. The recipe makes so many cookies (4 dozen!) that it's perfect for weddings, graduation parties, or anytime you want lots of incredibly delicious cookies to share.
I've always been a huge fan of everything toasted. Deep golden brown rules my recipes, especially when it comes to baklawa, or nuts of any kind. More toast = more flavor.
So Lebanese graybeh, the melt-in-your-mouth butter cookie that nearly killed me when I was trying to develop the perfect recipe back in the day, poses a significant challenge to my toast-love.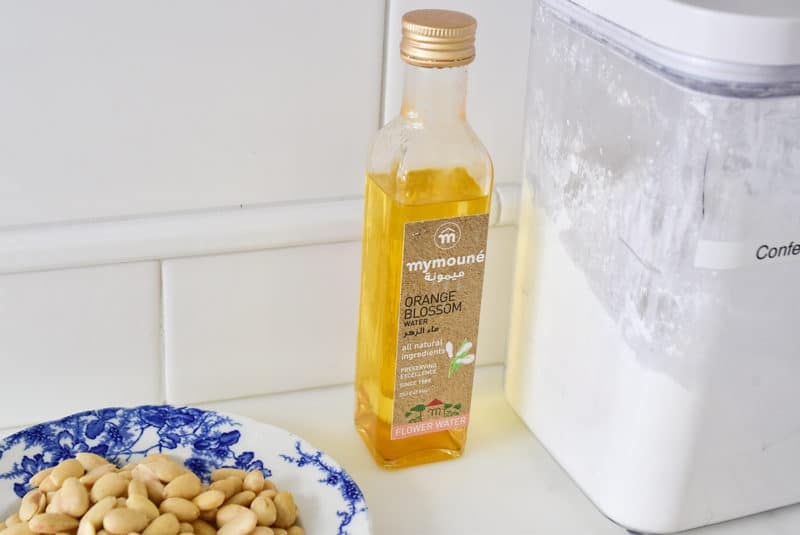 By its nature, graybeh is meant to be white as snow, absolutely pure white. Baked through, yet with no hint of brown on the bottom. Often graybeh is topped with a blanched almond, equally as white and pure. Never toasted. Though yes, the nut does toast some during the baking of the cookie (so there, graybeh!).
While I was forming the little balls of graybeh dough, a softer than soft dough that hugs the almond into it like a dream, I realized that it's possible my propensity for deep golden may not be just about flavor. It might be a sign of impatience, since for me it takes a lot more finesse (patience, thoughtfulness) to let the cookie be white than it does to go deep golden.
Maybe I need to use graybeh for, as it's said, an opportunity for growth. Maybe graybeh is like the cookie version of my spirit animal, offering me all of the healing, love and support I need to muster what it takes to bake a white cookie (if I used emojis here, now would be a good time for a sideways face with wacky eyes and tongue).
Amid my tests for how long it takes to bake a white-yet-baked cookie, I was reminded that actually, my love for the pure white has a lengthy and fabled history. In food, it's true that I could love very little more than a fluffy white marshmallow frosting (okay, it's great torched, but still).
In all other aspects of life, all that is white is very . . . Abood.
The great Dave O'Leary, Jr happened to call right while I had my hands in the graybeh dough recently. I told him what I was doing, trying to bake a white cookie.
"Ahhhhh, Abood WHITE!" he launched in with remarkable relish. "When white just isn't white enough, step up to Abood white. It's like an eclipse; it's so bright you've got to be careful and cover your eyes. This is purer than hospital white; this is extra clean white, white on white…."
And so on.
I was reminded immediately of this, where one of my favorite-things posts back in the day was all things. . . white. If there is ever a choice in color, where white is one of the options, Dan will say, "you know you're going to pick the white, so why even deliberate?"
Dear, dear graybeh, you are white on white! Turns out your lesson may be less about my impatience, and more about how perfect you are, if I can say it: how Abood you are, and how very delectable white on white really is.
Almond Graybeh
Take your time shaping the little balls for these adorable, delicious cookies. Taking your rings off will help keep the balls smooth. Graybeh is meant to be snow white, yet baked, so stay on top of your oven and lift a cookie up to see how the bottom is doing as you get toward the end of the baking time. Let the cookies cool completely before touching them, as the sides will firm up as they cool. The graybeh should be small; they'll expand some during baking, so the balls will be a little smaller than seems right. But they are.
Ingredients
3/4

cup

clarified butter, solid/cool room temperature

3/4

cup

confectioner's sugar

1

teaspoon

orange blossom water

1

teaspoon

vanilla (you can sub all vanilla, 2 teaspoons total, for the orange blossom water if you like)

1/4

teaspoon

kosher salt

1 3/4

cups

unbleached, all-purpose flour (fluff the flour up before scooping with a spoon into the measuring cup)

3/4

cup

blanched whole almonds
Instructions
Heat the oven to 325 degrees and place the rack in the center of the oven. Line two sheet pans with parchment or a silpat.

Using a mixer with the whisk attachment, whip the butter on high speed until fluffy, creamy and pale, about six minutes. Stop and scrape the sides of the bowl with a spatula for even whipping. Add the sugar, orange blossom water, and vanilla and whip until well combined and fluffy.

In a small bowl, whisk the flour and salt. On low speed, slowly blend in the flour, ½ cup at a time.

To shape the cookies, pull off a heaping teaspoon of dough and roll it between the palms of your hand into a smooth ball. Smoothness is key here to avoiding cracks in the cookies when they're baked. Form balls to fill one sheet pan with them (about an inch and a half apart; they don't need much room to expand).

Press an almond into the top of each ball.

Bake the cookies for about 22 minutes, or until they are baked through but only ever-so-slightly golden and still pale on the bottom. At about 18 minutes, start checking the cookies by lifting one up with a spatula.

Make the remaining cookie balls while the first pan bakes.

Remove the cookies from the oven and allow them to cool completely before handling them, as they will firm up as they cool.

The graybeh will keep in an airtight container for a couple of days. They're better eaten soon after they're baked.
Nutrition information is automatically calculated, so should only be used as an approximation.
Like this recipe? Leave a comment below!
(Visited 9,723 times, 6 visits today)