Cream Puffs with Strawberries, for Mom
May 10, 2012, Updated Jan 04, 2023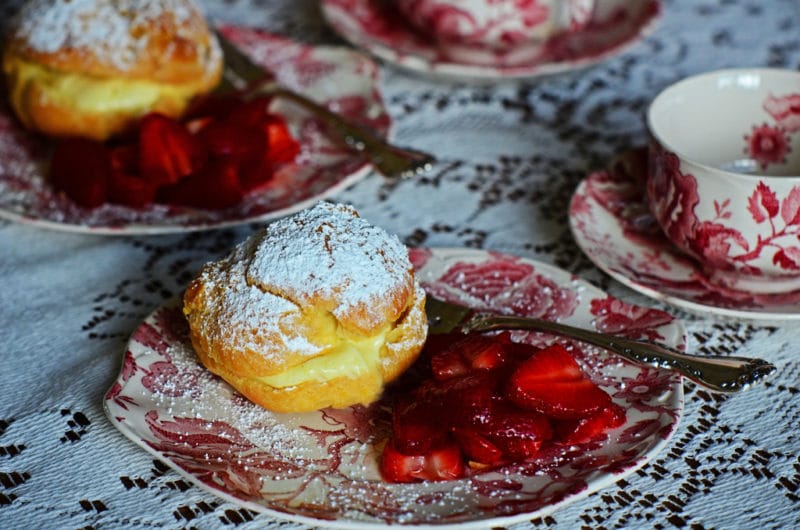 As you can imagine, exam time in culinary school can be stressful. We had three of them, and the first was in some ways the most challenging. That's because we just didn't know what to expect, having never taken a culinary practical exam and having watched far too many episodes of Iron Chef.
The initial exam assessed, among other things, our ability to make profiteroles, tiny cream puffs made of choux paste and filled with pastry cream. I really wanted to knock this one out of the ballpark because these are my mom's favorite, and I wanted to make them perfectly for her.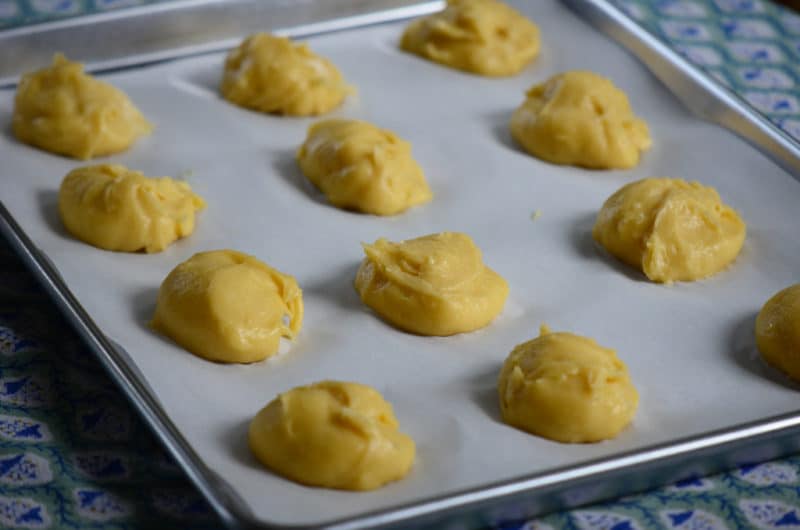 Our instruction was to maintain complete silence in the kitchen, which wasn't easy when navigating shared ovens for our profiteroles and anything else that needed the heat. We were all trying to be nice about sharing, about whispering "behind" whenever we slid behind someone so they wouldn't turn around and find a collision waiting to happen. After all, our kitchen etiquette was also being observed.
Choux paste was the first pastry we had learned, and we learned it in such a way that it would be forever emblazoned in our minds: the number to remember is four. So you have 4 eggs, 4 oz. butter, ¼ teaspoon salt, 400 degree oven. Also 1 cup water, 1 cup flour. I'm still amazed at what divine savory (add grueyere and you have gougeres, delicious with a glass of wine) or sweet pastry (cream puffs, eclairs, profiteroles) comes of these few ingredients, properly incorporated with one another.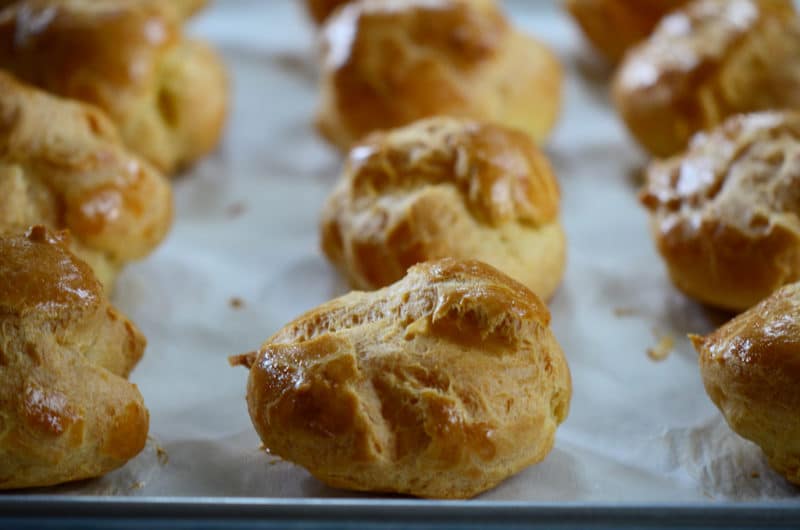 The puff effect must be had during the baking process, or whatever you are making with choux has failed. And there is only one sure way to get the puff: bake the dough at 400 degrees completely undisturbed for 15 minutes before turning down the heat for continued baking. Which means: do NOT open the oven.
But when you're rushing against the clock and there are only two ovens for four people and if you don't get your profiteroles in right this very second you'll be S-O-L ….that oven's going open. I'm not saying it was me, I'm just saying I can see what would lead someone to open the oven on someone else even though they know it's not right. Desperation can also make one delusional about their ability to be stealth. When one of the ovens, then, was opened during the critical puff stage, all hell broke loose. The monk-like silence was shattered amid a barrage of what-the-hells and if-mine-don't-puff-you-die outrage.
I just remember at that moment thinking how much money I could make launching a culinary school reality television show…the narrating student telling how things were going so smoothly, then that b—- opened my oven and wrecked my puffs, the vow for revenge during the next exam. I'd watch it; wouldn't you?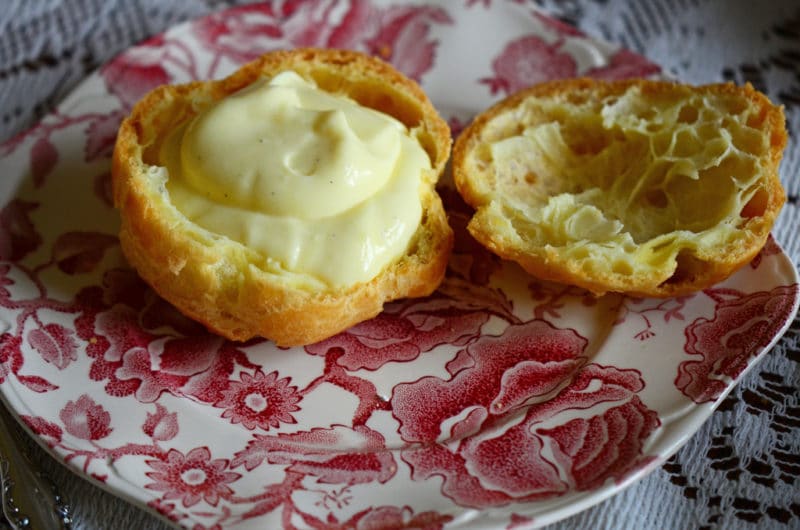 How did my puffs turn out that day? Not bad, not bad at all. My pastry cream had great consistency and vanilla flavor. My profiteroles were slightly too big and my chocolate sauce slightly too thin.
Sometimes I think I went to culinary school for the sole purpose of making these cream puffs for my mother. They were the first thing I made for her when I came home from school, showing off my ability to make the whole thing without a recipe. I make them for her whenever possible because she always says she'd love a cream puff when I ask what she'd like me to make for a treat. When I do, she eats them as though they are the best thing she has ever tasted, and I know she'd say so even if the oven door had been opened and they deflated before their time.
Cream Puffs with Strawberries, for Mom
These cream puffs are filled with vanilla pastry cream that is lightened with whipped cream. You can fill the puffs with just whipped cream or with ice cream. The choux paste dough is very soft and can be piped or spooned into the "choux," which means "little cabbages" in French. Choux paste is versatile in that when it is shaped into long logs, you have eclairs, or small balls for profiteroles. I love to include seasonal fruit like strawberries or raspberries, either on the side or tucked right into the puff. Make the pastry cream in advance (at least two hours and up to three days) so that it has time to chill.
Ingredients
For the pastry cream:
2 cups whole milk
1 vanilla bean, scored and scraped, plus 1 teaspoon vanilla extract
5 egg yolks (save the whites for another use)
¾ cup sugar
¼ teaspoon salt
2 tablespoons flour
2 tablespoons corn starch
2 tablespoons unsalted butter
For the choux paste:
1 cup water
4 oz. unsalted butter (1 stick), cut into 1-inch pieces
¼ teaspoon salt
¼ teaspoon sugar
1 cup flour
4 eggs, beaten
½ cup whipping cream
Strawberries and powdered sugar, for garnish
Instructions
For the pastry cream:
In a medium heavy saucepan, scald the milk with scraped vanilla beans plus the pod over medium heat. Meanwhile, whisk the 5 egg yolks until they are lightly beaten. Add the sugar and salt and whisk until the mixture is smooth and light yellow in color. Add the flour and corn starch and whisk until thick and creamy.
Temper the eggs by pouring in about 1 cup of the hot milk. Whisk briskly to incorporate, and slowly add the remaining milk, whisking until fully combined. Pour the mixture through a sieve, discarding the vanilla bean and pod, back into the saucepan and return to medium heat. Whisk constantly until the mixture begins to thicken, 5-10 minutes. Take care not to burn the bottom of the pan while the pudding is cooking by whisking non-stop.
When the pastry cream is thick, remove from heat and add 1 teaspoon of vanilla extract and 2 tablespoons of butter. Pour into a small bowl and cover with plastic wrap directly against the surface to prevent a skin from forming. Refrigerate until completely cool.
For the choux paste:
Preheat the oven to 400 degrees. Line a half-sheet pan with parchment paper.
In a small, heavy saucepan, melt the butter and salt with the water over low heat, then bring to a boil for a few seconds. Take care not to boil this mixture until the butter has melted, to ensure less moisture is lost.
Remove from heat and add the cup of flour all at once. Beat heartily with a wooden spoon, until no more flour is visible. Return to medium heat and beat until the mixture is warm and shiny, about a minute. Remove from the heat again (and for good). To add the eggs, do so a small amount at a time (about ¼ cup), beating thoroughly with your wooden spoon after each addition. The mixture will separate and become very wet and slippery with each addition of egg, but continue beating through this after each addition until the mixture incorporates and emulsifies into a smooth, moist dough. Reserve about 1 tablespoon of the egg at the end, which will be used as egg wash for the cream puffs before they are baked.
Spoon the choux paste in 12 evenly-sized rounds (about 2 ½ inches each) onto the prepared pan, about 2 inches apart. They are not going to be perfect in shape, which is to be expected. Using a small pastry brush, coat the top of each ball of dough with egg wash.
Bake in the middle of the oven at 400 degrees for 15 minutes. Do not open the oven during this time, to allow for the dough to puff up properly. Reduce heat to 350 degrees and bake for another 35 minutes, or until the puffs are golden and the crevices are no longer pale yellow. Remove from the oven and make a small cut in each puff with the point of a sharp knife to release steam from them. Turn the oven off and return the pan to the oven to allow the puffs to dry out for another 15 minutes. Remove from the oven and cool the puffs completely.
When ready to serve, reconstitute the chilled pastry cream by whisking it until smooth. Whip the heavy cream with a hand mixer until stiff peaks form. Fold the whipped cream into the pastry cream until fully combined.
Slice the strawberries, sprinkle with a tablespoon of powdered sugar, and allow to macerate for five minutes. Use a serrated knife to slice the top off of each puff. Remove any excess eggy dough from inside the puffs. Fill each puff with a large spoonful of pastry cream. Place the top on the puff, place the puff on a plate, and sift powdered sugar over the puff and the plate. Spoon the strawberries alongside the cream puff, and devour!